An ultra-rare $100 bill worth up to $1 million will cross the auction block next month during the American Numismatic Association World's Fair of Money in Chicago.
The Triple-Signed 1882 $100 Gold Certificate will be offered for auction by Stack's Bowers Galleries on Friday August 16, with an estimate of $800,000 – $1.2 million
The note is one of just three in existence, and the only example of its kind in private hands.
The other two surviving examples are housed in the permanent collections of the Federal Reserve Banks of New York and San Francisco.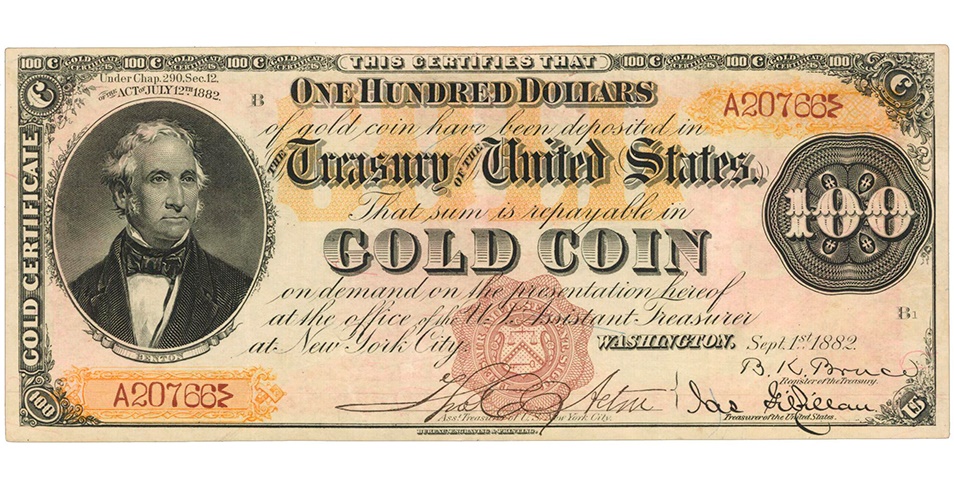 The note comes with superb provenance, and a history that traces back to the collection of Detroit businessman Albert A. Grinnell.
Grinnell sold his collection through a series of auctions in 1946-48, and today it is regarded as the most important collection of paper money in the history of the hobby.
"The fact that this note is the only surviving example makes it rare in and of itself," said Brian Kendrella, President of Stack's Bowers Galleries.
"History has shown that the value of extremely rare and desirable collectibles, like this 1882 Gold Certificate, tend to outperform over time."
In 1998 the note was sold at auction for $253,000 as part of the Levitan Collection; and in January 2014 it sold at Heritage Auctions for $822,500.
Achieving its top estimate of $1.2 million would mean the rare note has more than quadrupled in value during that period.
The Gold certificate series of 1882 was the first series of notes that were payable to the bearer, meaning they were transferable and anyone could redeem them for their equivalent in gold.
This note bears the portrait of Missouri Senator Thomas Hart Benton (1782-1858), a champion of the 19th century westward expansion whose nickname was 'Old Bullion'.
It also bears the signatures of Treasury officials James Gilfillan; Blanche K. Bruce, the first African American to have his signature featured on U.S. paper currency; and Thomas Acton, Assistant U.S. Treasurer at New York.
Gold certificates remained legal tender in the U.S until the Great Depression, when the 1933 Emergency Banking Act made it illegal for private citizens to own gold (with the exception of jewelry).