Our featured auction this week is the landmark Sotheby's 'Stadium Goods' sale, featuring 100 pairs of the world's rarest and most sought-after collectible sneakers.
From historic prototypes and futuristic designs to rare designer collaborations, here are 10 highly desirable pairs of shoes we'd love to own (and wear)…
2018 Nike Air Max 1 'Parra' Friends & Family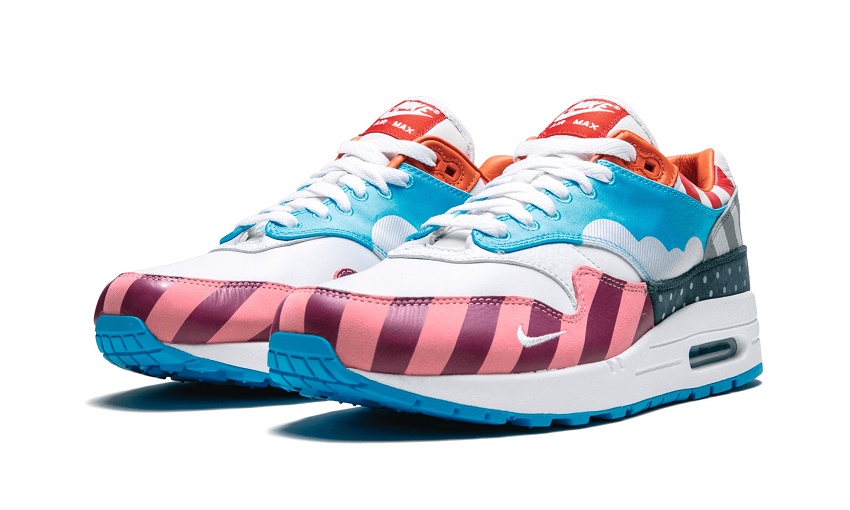 Estimate: $3,500 – $5,000
A pair of 2018 Parra x Nike Air Max 1 sneakers created in collaboration with Dutch graphic artist Pieter Janssen, better known as Parra.
This extremely rare version is known as a 'Friends and |Family' edition: a term which refers to Nike sneakers given to a select few in the designer's close circle, and never officially released for retail.
2006 Nike Air Max 180 Eminem 'Shade 45'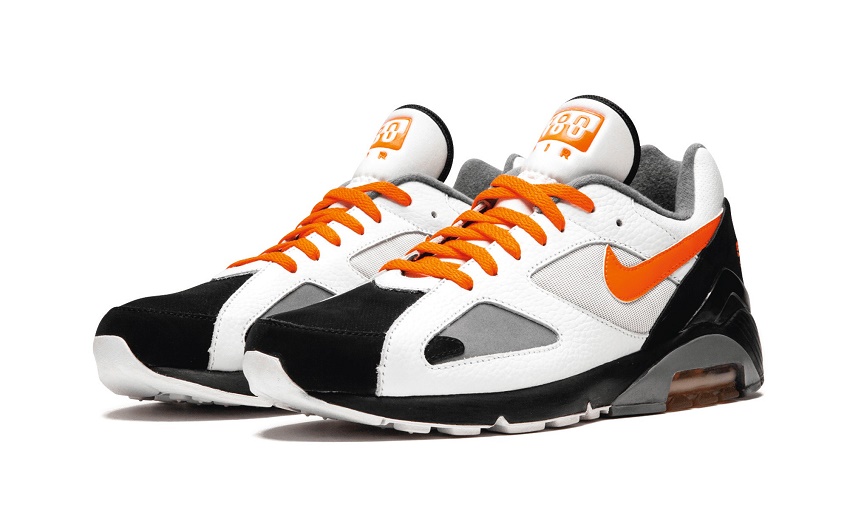 Estimate: $4,000 – $6,000
A pair of 2006 Shade 45 Nike Air Max 180s sneakers, designed as part of a collaboration with US rapper Eminem.
The shoes were part of Eminem's 'Charity Series collection, sold to benefit the Marshall Mathers Foundation, and were designed to commemorate the rapper's Shade 45 satellite radio station.
2007 Nike SB 'What The Dunk'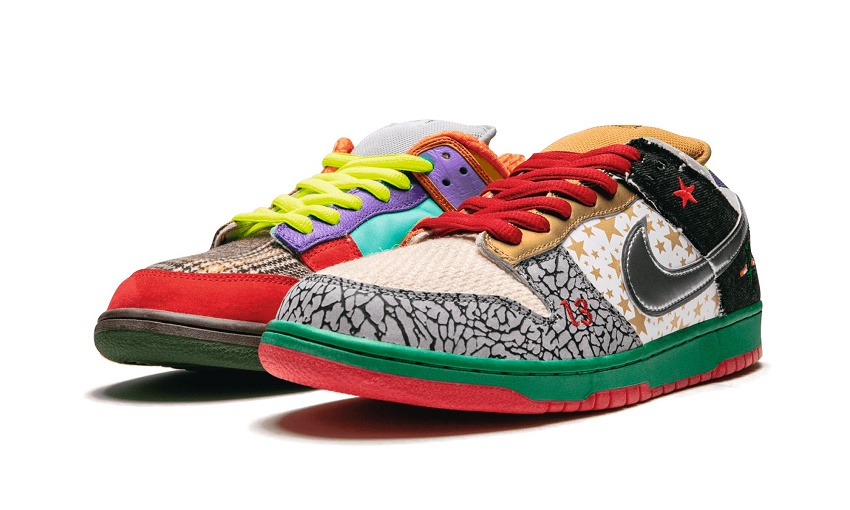 Estimate: $8,000 – $12,000
A pair of 2007 Nike SB 'What the Dunk' skate shoes which combine a variety of colourways, prints and materials from across the entire SB Dunk series to create a "now legendary" pair of mismatched skate shoes.
2018 Nike Air Jordan 5 'Fresh Prince Of Bel-Air' Friends & Family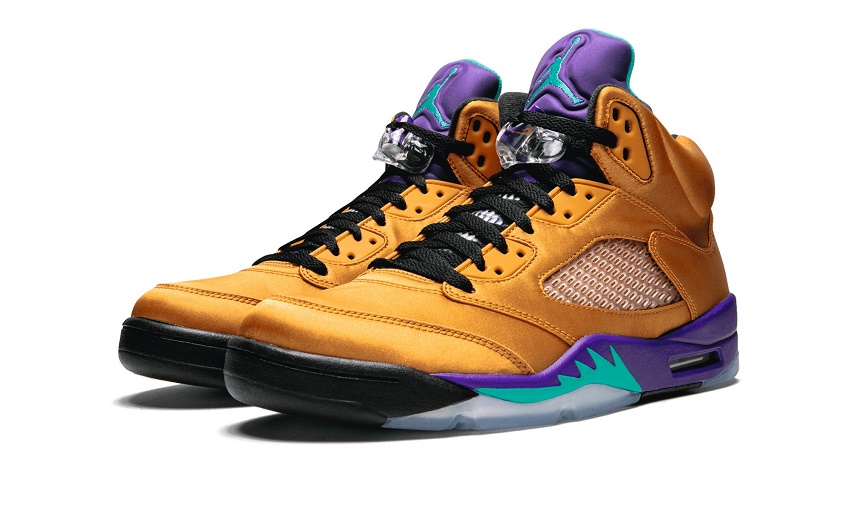 Estimate: $7,000 – $9,000
A pair of Air Jordan 5 Fresh Prince of Bel-Air sneakers, created in 2018 to celebrate the 50th birthday of Hollywood star and rapper Will Smith.
It's believed that just 23 pairs of the metallic gold shoes were ever produced, specifically as gifts for Smith's friends and family, in colors which mirror the logo of his 1990s breakthrough TV show.
Nike Air Yeezy I & II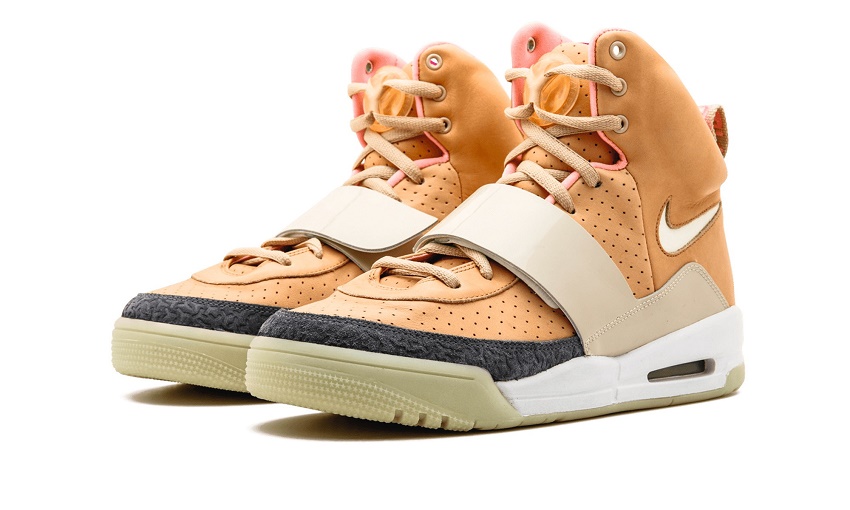 Estimate: $22,000 – $32,000
Four pairs of rare Nike Air Yeezy sneakers, designed in collaboration with rapper Kanye West and released between 2009 and 2014.
Two editions were released, the Air Yeezy (2009) and the Air Yeezy II (2012-2014) in a variety of limited colorways and designs, and all were instantly sought-after as highly collectible.
In each case, the sneakers originally retailed for around $200 – $250 and sold out almost immediately, with pairs quickly hitting the secondary market for more than $4,000.
Nike 'Entourage' Friends & Family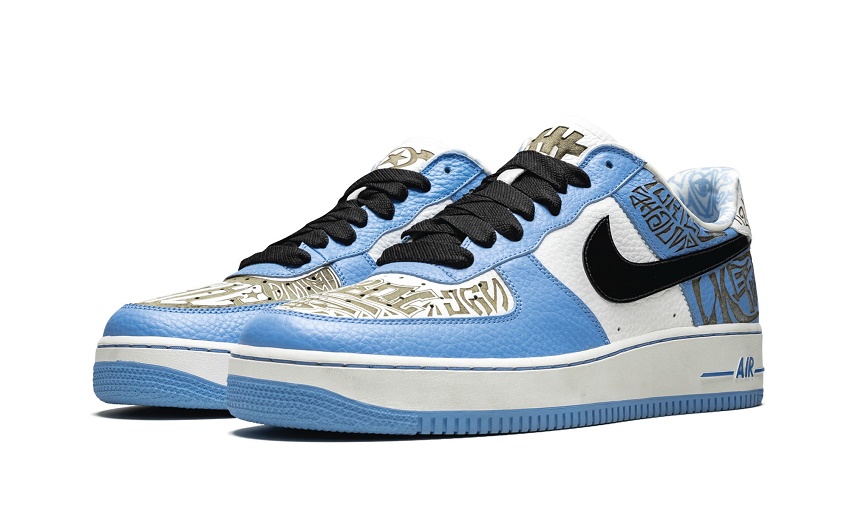 Estimate: $26,000 – $35,000
Two pairs of Nike sneakers produced for the hit TV show Entourage: a pair of 2006 Air Force 1 'Entourage' shoes and a pair of 2011 Dunk Low Premium SB 'Entourage Lights Out' shoes.
The first pair were created in 2006, to mirror a storyline in which Turtle and Vince are tasked with acquiring a pair of rare sneakers by the fictional Japanese designer Fukijama. Nike produced around 100 pairs to be used as props in the show, and as gifts for the show's cast and crew.
The second pair, which feature the Entourage logo and insoles declaring 'The End', were made in a run of just 50 pairs to celebrate the show's final season.
2018 Nike Air Jordan 4 'Wahlburger' Friends & Family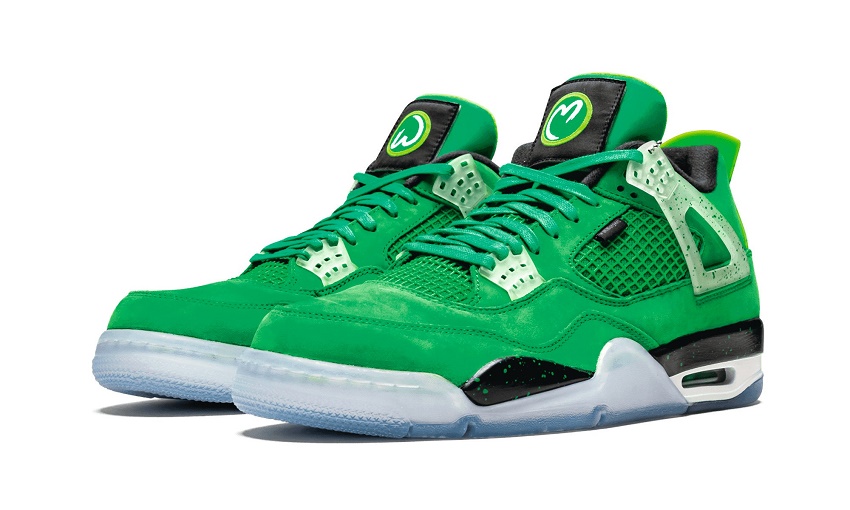 Estimate: $15,000 – $20,000
A pair of 2018 Nike Air Jordan 4 Wahlburger sneakers, created exclusively for Hollywood actor Mark Wahlberg and his family's Wahlburger fast food chain.
The sneakers feature the company's vivid green colorway and logo, and were only made available to Wahlberg's family and friends in highly limited numbers.
2002 Nike SB Dunk Low 'Paris'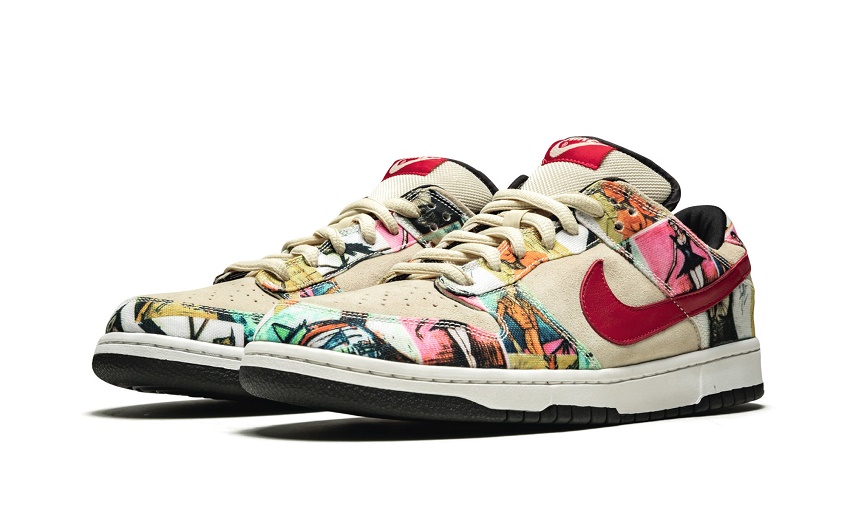 Estimate: $24,000 – $30,000
A pair of 2002 Nike SB Dunk Low featuring artwork by French painter Bernard Buffet (1928-1999), described as "one of the most sought-after sneakers of all time".
Approximately 150 – 200 pairs were produced in this limited-edition run, with some collectors queuing for days outside a select number of Parisian fashion retailers to acquire a pair.
2016 Nike Mag 'Back To The Future'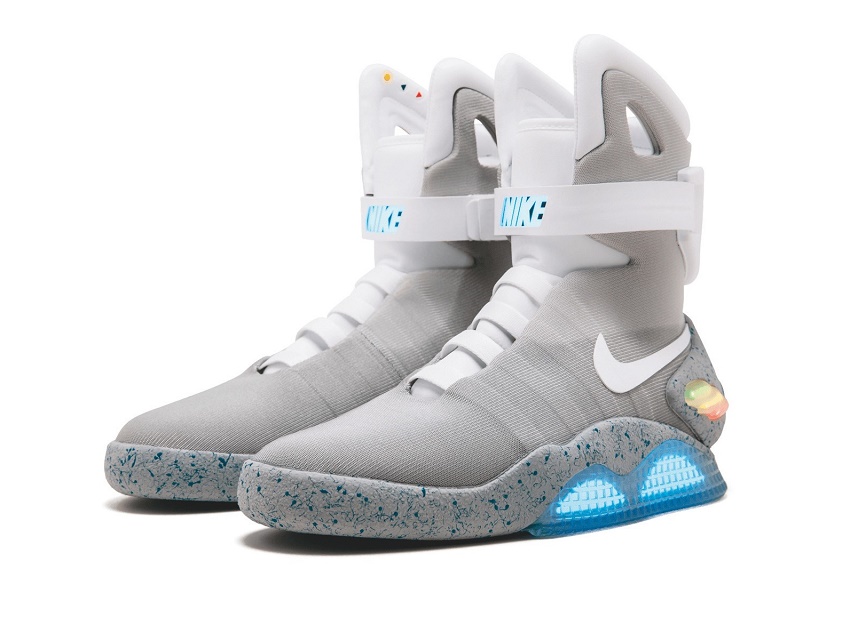 Estimate: $50,000 – $70,000
A pair of 2016 Nike Mags, the fictional futuristic sneakers originally worn by Marty McFly in the 1989 movie Back to the Future Part 2.
Fans called for the iconic sneakers to become a reality for over 20 years, before Nike finally released the first series in 2011. However, those first shoes didn't include the self-fitting 'power laces', which were created in the movie using special effects.
In 2016 Nike finally perfected the technology, and the second series featured real-life power laces which automatically tighten to fit the wearer's feet.
Just 89 pairs were produced, with all proceeds benefiting the Michael J. Fox Foundation for Parkinson's Research.
1972 Nike Waffle 'Moon Shoe'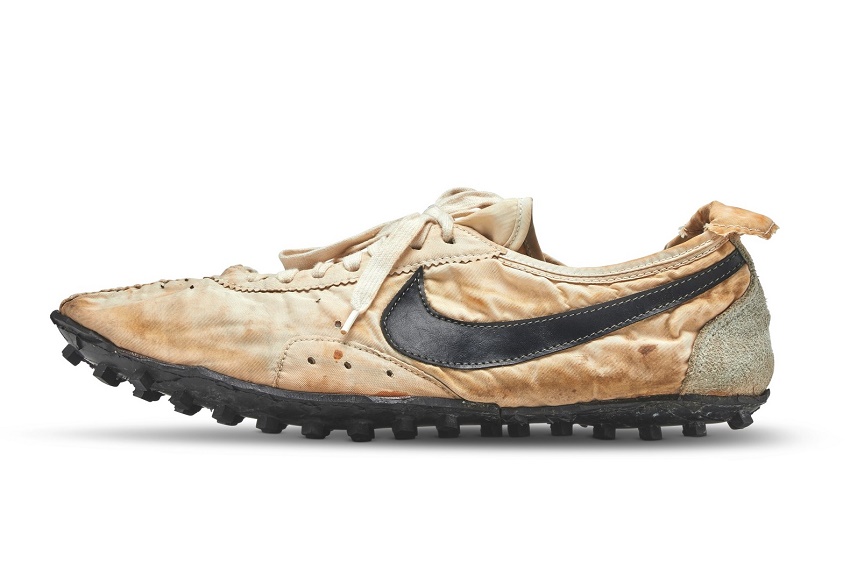 Estimate: $110,000 – $160,000
A pair of historic prototype Nike 'Moon Shoes' created by company co-founder Bill Bowerman in 1972 for athletes at the US Olympic Trials.
Only 12 hand-made pairs were produced, and this pair is the only one which remains in unworn condition more than 45 years later.
Bowerman created the design's unique waffle soles, which gave runners greater traction, by pouring liquid rubber into a kitchen waffle iron.
The shoes were the first Nike running shoes to feature the company's iconic Swoosh logo, and were an instant hit when they were released in 1974.
This success paved the way for Nike to build their brand as an innovator in sports shoe technology, and laid the foundations for the $15 billion empire of today.