Heritage Auctions could set an unusual new auction record this month, as it prepares to sell the world's rarest and most valuable bobblehead doll.
Modern bobblehead dolls have become one of the most popular sports collectibles, and can be found at almost every ballpark and stadium across the U.S.
But how much would you pay for a vintage bobblehead doll of your favourite team? $50? $100?
How about $50,000?
The doll heading for auction at Heritage is an ultra-rare 1961 New York Yankees nodder, one of only three examples known to exist, and has been described as "the most desirable nodder in the hobby, bar none."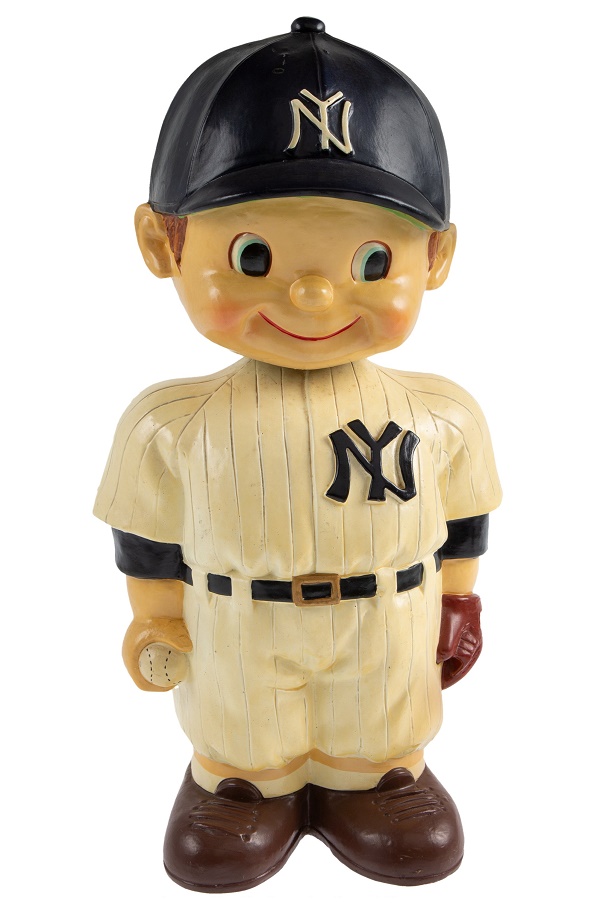 The doll is an oversized model standing 14″ tall, made in Japan by the Otagiri Mercantile Company to promote a line of smaller player dolls which became highly popular throughout the U.S in the early 1960s.
The manufacturer produced promotional dolls for each of the football teams in the NFL, but to promote their line of baseball nodders they chose a single baseball team, the New York Yankees.
At the time the Yankees were the obvious choice, flying high with a team including Mickey Mantle and Roger Maris, and in the midst of winning back-to-back World Series championships in 1961 and 1962.
Unlike the smaller dolls of that era – which are in themselves highly valuable and collectible – the oversized promotional dolls depicted a generic smiling mascot, rather than caricatures of individual players.
Back in 2015 another of the dolls stunned experts and made headlines when it sold for $59,650, establishing a new record price for a bobblehead doll by a considerable margin.
At the time just two of the 1961 oversized dolls were known to have survived, but now a third example has emerged from the family collection of the co-owner of the Otagiri Mercantile Company.
The recently discovered example is regarded as the finest of the three, remarkably preserved for a piece made from paper mache almost 60 years ago.
As the auction house states, "we engage in no hyperbole when we state that this is as perfect an oversized nodder that does or could exist. [It is] arguably the single most desirable nodder on Earth, period."
Although Heritage lists the doll's estimate at $40,000+, it seems likely to soar past the previous record and top $60,000 – a price that would certainly see the consignor nodding in approval.