A walking cane which survived the sinking of the Titanic is expected to sell for more more than $100,000 when it goes up for auction this month.
The cane, which features an electric light in the tip, was used by passenger Ella Holmes White to signal to other lifeboats after the ship sank on April 15, 1912, killing more than 1,500 people.
The historic cane will now be offered on October 19 at Henry Aldridge & Son, a world-renowned auction house which specializes in Titanic artifacts.
The cane will be offered with an estimate of £80,000 – £120,000 ($98,000 – $147,000), and has been described as "one of the most important three dimensional Titanic artifacts ever offered for auction".
Ella Holmes White boarded the Titanic at Cherbourg accompanied by her maid Amelia Bissette, her manservant Sante Ringhini and her companion Marie Young, along with their exotic and valuable French-bred chickens which were kept in the hold.
According to White's account she remained inside her cabin for the entirety of her journey, and only left when the ship began to sink.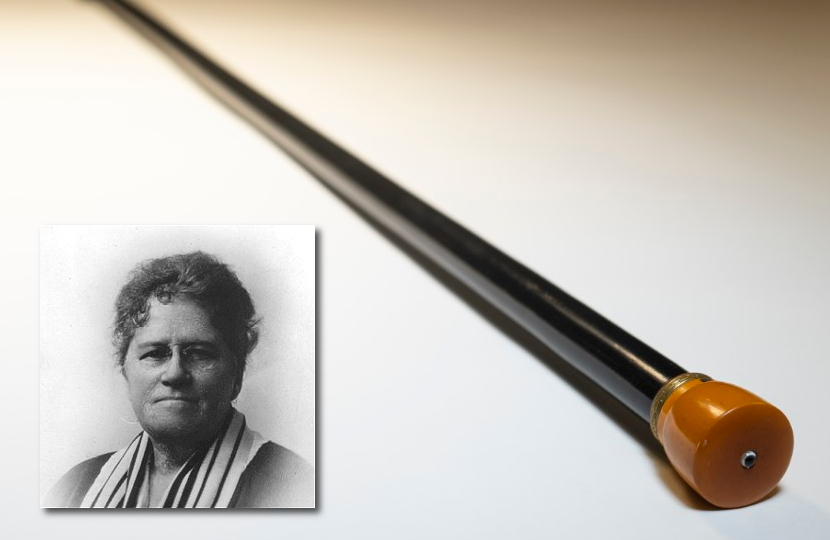 White later appeared at the public inquest into the tragedy in New York, where she recalled the moment the Titanic struck the iceberg:
"It did not seem to me that there was any very great impact at all. It was just as though we went over about a thousand marbles. There was nothing terrifying about it at all."
White, Young and their maid Amelia escaped in lifeboat #8, but sadly their manservant Sante Ringhini was forced to remain onboard and went down with the ship.
During the inquest White also described how she had used the light in her cane when the light aboard the lifeboat failed to work properly:
"…we turned and went back, and lingered around there for a long time, trying to locate the other boats, but we could not locate them except by hearing them. The only way they could locate us was by my electric lamp.
"The lamp on the boat was absolutely worth nothing. They tinkered with it all along, but they could not get it in shape. I had an electric cane – a cane with an electric light in it – and that was the only light we had. We sat there for a long time, and we saw the ship go down, distinctly."
However, White's account of her heroic use of the stick was at odds with the recollections of senior surviving officer Charles Lightoller, who later described her as a woman "…who achieved fame by waiving an electric light and successfully blinding us as we worked on the boats."
According to Lightoller, White had caused such as nuisance by waving the lighted stick that he had attempted to get rid of it during the night. He claimed:
"Arriving in safety on board the Carpathia, she tried to make out that someone had stolen her wretched stick, whereas it had been merely taken from her, in response to my request that someone would throw the damn thing overboard."
However helpful – or unhelpful – May's walking can may have been to the survivors, it remains a distinct artefact that appears in several accounts of the tragedy, such as Walter Lord's book 'A Night to Remember' and Michael Davie's recent book 'Titanic – The Death and Life of a Legend'.
It is also one of the handful of surviving objects that was used onboard the Titanic, in one of the lifeboats, onboard the Carpathia and finally on the dock in New York, tracing the entire timeline of the tragedy.