Two rare and significant Lou Gehrig items will lead Heritage Auctions' Platinum Night sports collectibles sale in Dallas on February 22-23.
First up is a highly rare Lou Gehrig bat used during the earliest years of his professional career, circa 1922 – 1924.
In 1923 Gehrig was spotted by a New York Yankees scout whilst playing for Columbia University, and signed a contract with the team on April 30.
He made a handful of MLB appearances for the Yankees that season as a pinch hitter, and signed an endorsement contract with bat maker Hillerich & Bradsby in October 1923.
For the rest of his career, the company supplied him with bats bearing his signature burned into the barrel.
But the bat offered at Heritage features Gehrig's name in simple block letters, which dates it prior to his endorsement contact – making it one of the earliest-known Gehrig gamers in existence.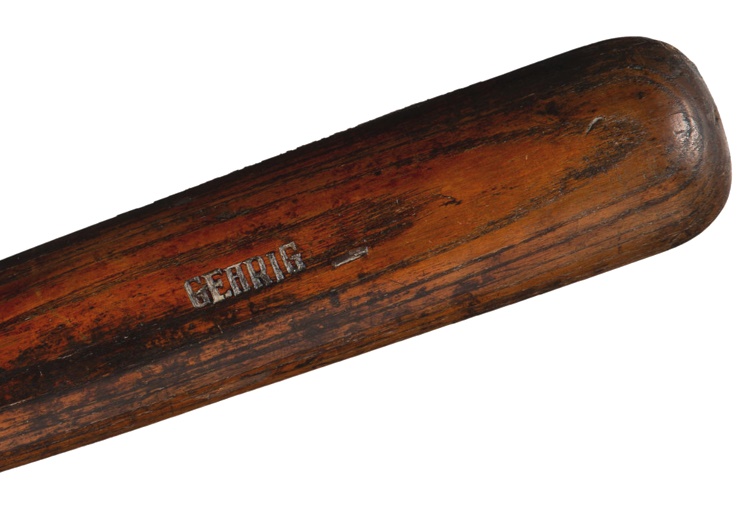 This dating suggests Gehrig used the bat whilst setting home run records with the Columbia University team, earning his call-up with the Hartford Senators, or making his debut in the big show with the Yankees – and possibly all three.
Having played an important role in Gehrig's rise to fame, the historic bat will now be offered with an estimate of $1 million+.
Only two baseball bats in history have ever achieved a seven-figure sum, and both of them were used by Gehrig's larger-than-life teammate Babe Ruth.
The first, used by Ruth to hit his 500th career home against the Cleveland Indians in August 1929, sold at SCP Auctions in December 2019 for $1 million.
And the second, with which Ruth hit the very first home run at Yankee Stadium on opening day in 1923, sold at SCP Auctions in 2004 for $1,265,000: a record price for a baseball bat which stands to this day.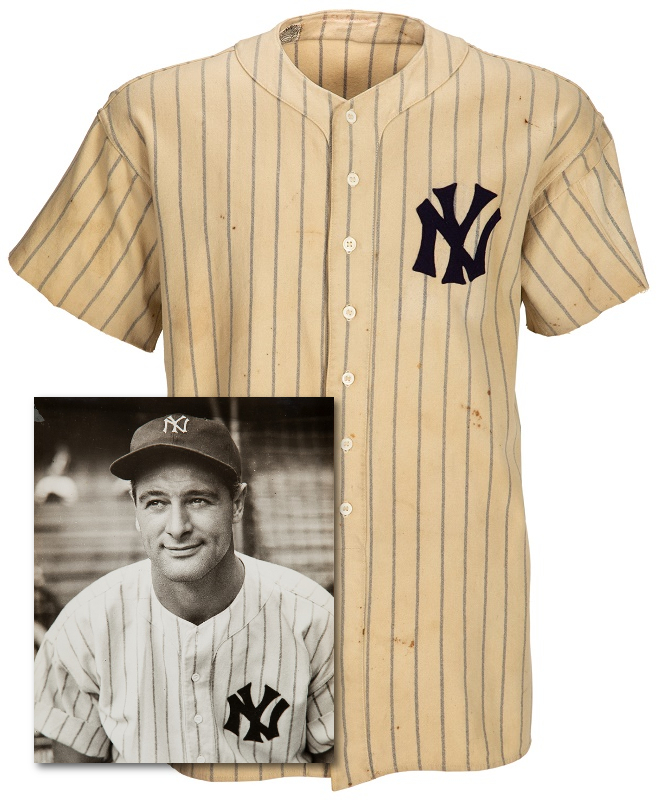 The second item is New York Yankees home jersey dating from the 1937 season, during which Gehrig won the World Series for the fifth time.
The jersey has also been photo-matched as the one worn by Gehrig in a famous photographic portrait, which was later used as the basis for his memorial plaque in Monument Park.
The same image appeared on the tickets for his memorial game in 1941, just weeks after his life was tragically claimed by the debilitating disease amyotrophic lateral sclerosis (ALS).
Back in 2017 the jersey sold at Heritage for $870,000, setting a new world record for a piece of Lou Gehrig memorabilia at auction.
But in August 2019 another game-worn Gehrig jersey dating from 1937 sold at Heritage for a remarkable $2.58 million, smashing that record and marking a significant leap in the value of Lou Gehrig memorabilia.
The 'Monument Park' jersey now returns to the block in the wake of that sale, in the hope that Gehrig will finally join Ruth as the second baseball legend to regularly attract million-dollar results at auction.