An original 1840 campaign pitcher for William Henry Harrison, America's shortest-tenured president, is set to cross the block at Heritage Auctions.
The November 10-11 sale will focus on selections from the Frent collection, one of the foremost American political memorabilia collections ever assembled.
Bidding on the present lot will start at $18,750. This is one of less than 10 known survivors, all of which were created by the American Pottery Company of Jersey City.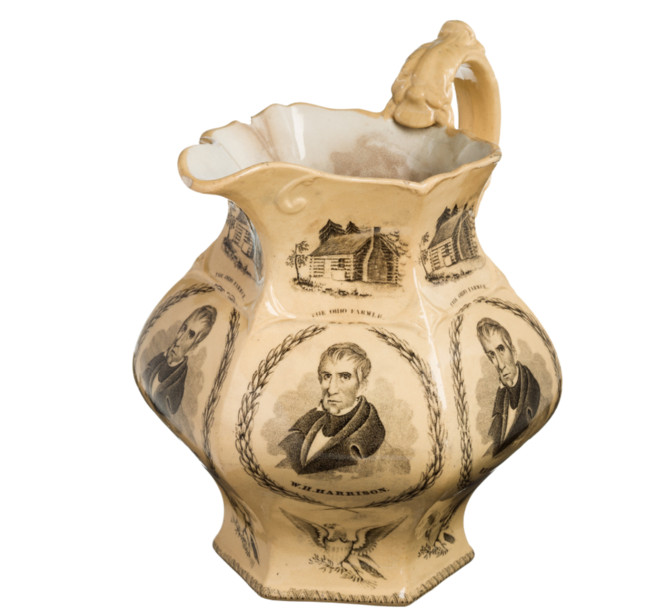 The design features four portraits of Harrison, as well as his famous log cabin. Harrison was old even by today's standards when he received the presidential nomination. One newspaper in Baltimore jokingly suggested that it might be possible to bribe him off with a log cabin and a barrel of hard cider.
This backfired spectacularly when Harrison used both as symbols of his campaign. It turned out there were rather a lot of Americans who still lived in log cabins and enjoyed a drink or two. Harrison was elected to the office on a populist wave in March 1841. But after 31 days in office, he died suddenly of pneumonia.
Harrison's unique and unfortunate position in US history has made him a sought after figure for political memorabilia collectors. Another of these jugs (from the Scott Doulson collection) sold for $37,500 in 2016.
Other highlights of the sale include a 27.5 inch cotton tyre cover produced by the Hinson Manufacturing Company of Waterloo, Iowa for Franklin D Roosevelt and John N Garner's 1932 campaign.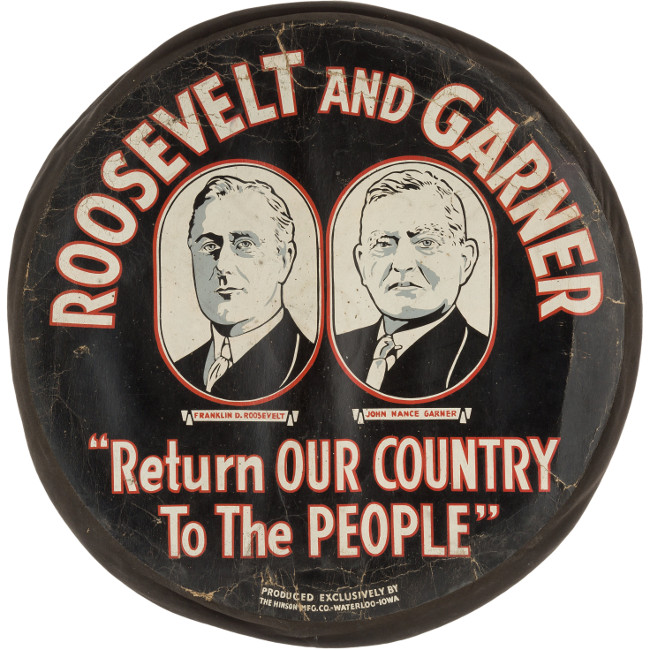 The stunning design is emblazoned with the words: "Return Our Country to the People". It goes without saying that this is a particularly rare piece. Heritage comments: "We can state, without fear of contradiction, that this is the VERY BEST political tire cover in the hobby!" It will open at $6,250.
Meanwhile an excellent example of the rare Theodore Roosevelt "Teddy in the Ark" jugate badge is offered with a starting bid of $5,000.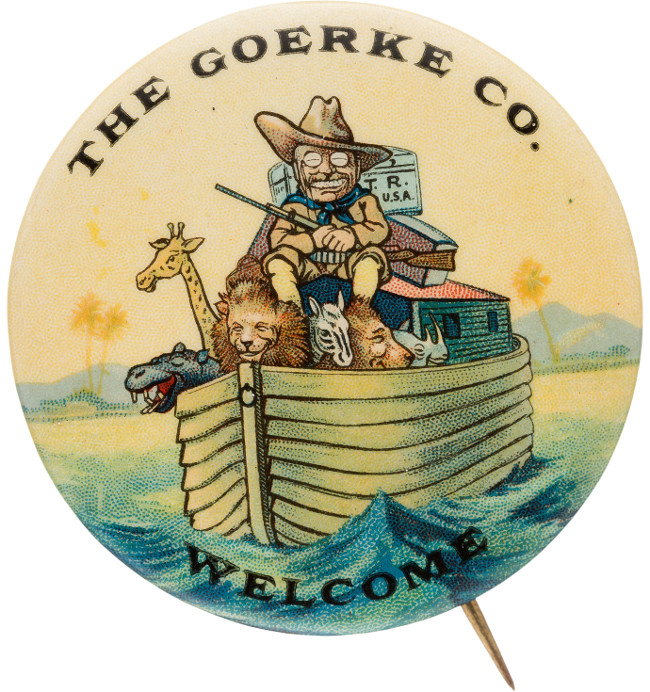 The design was produced for the Goerke Company to welcome the former president back from his expedition to Africa. Roosevelt was a huge lover of hunting and travelled to the continent in 1909 (shortly after his retirement) on a mission to collect specimens for the Smithsonian's Natural History Museum. He and his compatriots killed approximately 11,397 animals on the trip.
The animals on the boat look considerably more cheerful than the ones Teddy would have been bringing back.