Bela Lugosi's Dracula cape will star in The Dark Side of Hollywood, a sale hosted by Bonhams and TCM in New York on November 20
.
The theme
is inspired by
the movie industry's long horror tradition, with pieces on offer ranging from Tod Browning's Freaks (1932) to Michael Jackson's seminal music video for Thriller (1982).
Lugosi wore the cape in Abbott and Costello Meet Frankenstein (1948). The movie may have been a comedy, but Lugosi plays his classic role
totally
straight. It's a solid reprisal of his
subtly
menacing 1931 performance.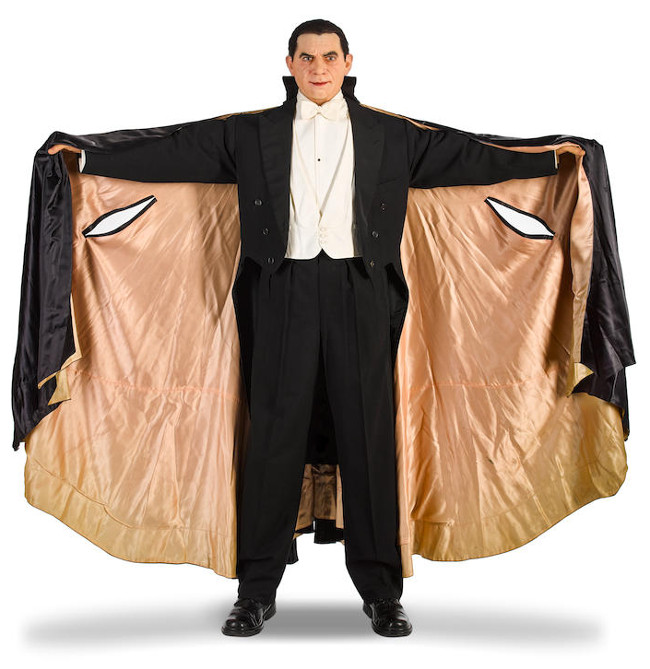 The cape itself
is made
from black satin, with a rose gold satin lining, and measures an astonishing 28 feet across
. It's presented on a life-size Bela Lugosi mannequin. This life-like figure
is finished
with real human hair. As a display piece, it definitely has the wow factor.
Bonhams has not disclosed an estimate for the lot. I
n 2011 a cape he wore in the 1931 movie was offered with a valuation of $1.5m-2m. It failed to sell that time around. The present specimen will go for a substantially lower sum.
Still, a ring Lugosi wore in the Abbott and Costello movie made $40,000 in 2009. That figure indicates the strength of demand for memorabilia associated with his performance.
Movie producer Darryl Zanuck's original script for The Jazz Singer (1927) is the next most valuable lot in the sale
. It's offered with an estimate of $100,000-200,000.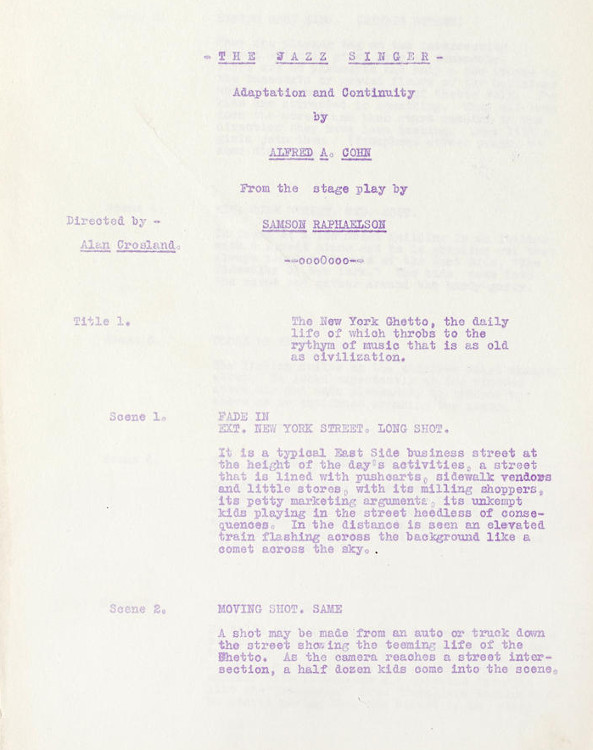 This musical, starring popular singer and comic Al Jolson, was the first "talkie". It made use of
newly
developed Vitaphone technology.
This technique employed a phonograph record synched up with the action onscreen – a revolutionary idea
.
While it didn't end the silent film market overnight, the box office take (a record $2.6m) was enough to convince most studios that this was the future
.
The script makes reference to the complexities of this new technology.
Under the heading for the song Mighty Lak a Rose are the words: "The various shots for this will have to be
in accordance with
Vitaphone technic [sic] and its necessities
."
Zanuck pushed hard for dialogue in the film as well as a score. He received an honorary Academy Award for his work on the movie.
A zombie outfit costumiers Kelly Kimball and Deborah Nadoolman Landis designed for Michael Jackson's Thriller will sell with an estimate of $20,000-30,000
.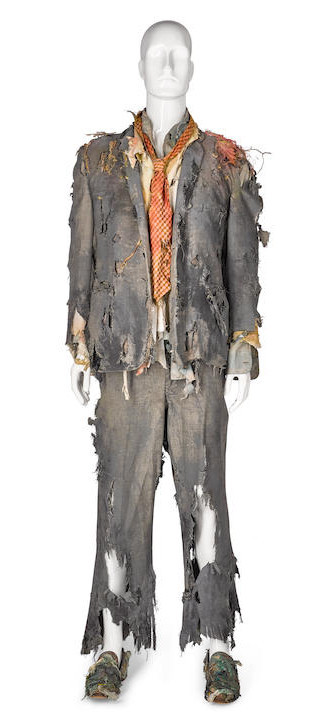 The pair went thrift shopping to find
just
the right kind of clothing for their undead clients. The result was one of the spookiest music videos ever produced.