A Vincent Black Lightning, one of the world's rarest and most desirable motorcycles, is heading for auction at Bonhams this week.
Just 30 examples of motorcycle were ever built by the renowned British manufacturer between 1948 and 1952, and it is often referred to as the "Ferrari GTO of two wheels".
Today it's believed that only 19 examples remain in existence, and those that do rarely appear on the open market, earning the Vincent Black Lightning the well deserved title as the "Holy Grail" for vintage motorcycle collectors.
The motorcycle offered at Bonhams, a 1949 Vincent 998cc Black Lightning Series-B, was just the second ever built, and is the earliest, most original Black Lightning in existence.
It's expected to attract interest from around the globe when it roars onto the block in Las Vegas on October 6, with a pre-sale estimate of $400,000 – $600,000.
Since rolling out of the Vincent factory in 1949, 'RC3548' has had just five owners, all of whom are fully documented in its extensive history.
It was originally shipped to Zurich and delivered new to Hans Stärkle, a German racer regarded as one of the finest of his era.
The three-time European Champion raced the bike in the 'Unlimited Class' with a sidecar attached, and it completed its racing career without accident, before being sold to its second owner in 1952.
Having changed hands a further two times, the bike was then acquired in 1968 by its present owner Ernst Hegeler, who spent the next three decades enjoying it out on the open roads across Europe.
In 2000 he began the job of having the motorcycle restored to its original racing condition, and finally completed the project in 2004.
Since then it has become a regular competitor at historic racing events throughout Germany, and is now set to find a new home after 50 years of Hegeler's passionate ownership.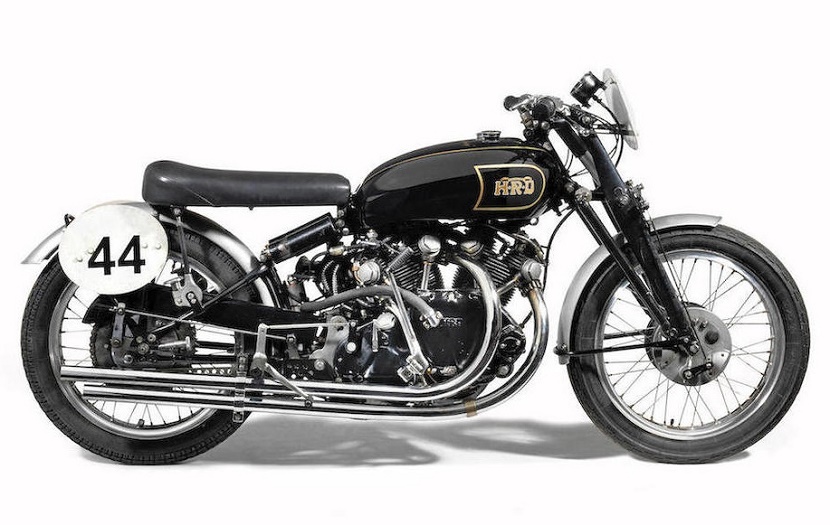 Another Vincent Black Lightning currently holds the record as the world's most valuable motorcycle.
That particular machine was used by racer Jack Ehret to break the Australian speed record back in 1953, when he achieved an average speed of 141.5mph at Gunnedah in New South Wales.
Ehret also kept his Black Lightning in his personal collection for 50 years, before selling it at Bonhams in January 2018 for a world record $929,000.
The upcoming Bonhams sale in Las Vegas will also offer some serious star power, in the shape of several celebrity-owned and ridden motorcycles.
Most notable are three bikes ridden by the Hollywood icon and renowned petrol-head Steve McQueen: a 1970 Husqvarna 400 Cross which appeared in the classic 1971 motorcycle documentary On Any Sunday; a 1953 Vincent Comet Series C; and an unusual Danish 1939 Nimbus Model C Luxus with Sidecar.
The line-up also includes a 1968 Bultaco Pursang 250 MkII ridden by Peter Fonda on-screen in the early scenes of Easy Rider; a 1970 Husqvarna 250 Cross owned by his co-star Dennis Hopper; and a 1967 CZ 250 ridden by Paul Newman in the movie Sometimes a Great Notion.