Basketball legend Kareem Abdul-Jabbar is set to sell his personal collection of memorabilia in a blockbuster sale at Goldin's Auctions later this month.
The online auction, which closes on October 27, includes championship rings, trophies, jerseys and game-used balls from his record-breaking 20-year career.
The sale is set to raise money for The Skyhook Foundation, a charity which offers educational opportunities to underfunded communities.
Abdul-Jabbar is regarded as amongst the greatest players in basketball history; a six-time NBA champion who still holds the record for points scored and career wins almost 30 years after his retirement from the game in 1989.
Since then he has forged a career as a best-selling author and cultural critic, and in 2016 President Barack Obama awarded him the Presidential Medal of Freedom.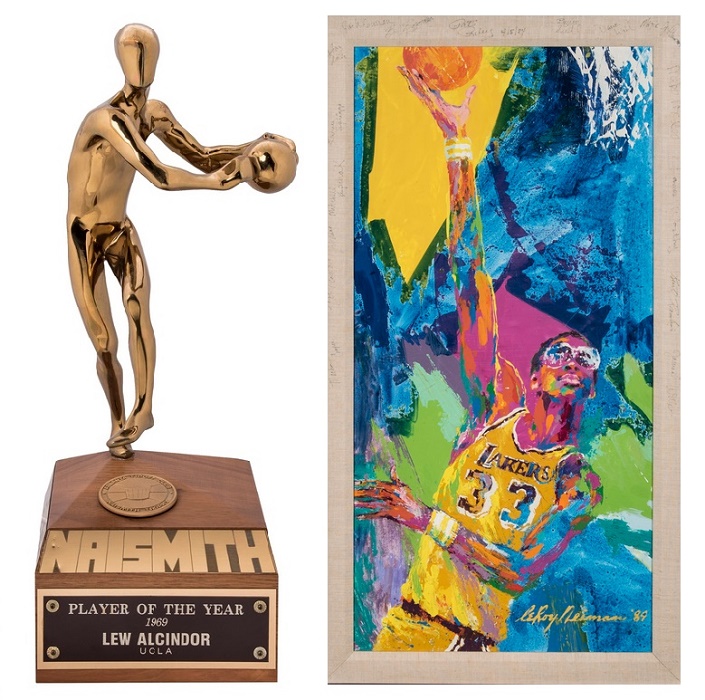 "For nearly two decades, Kareem Abdul-Jabbar was the most dominant basketball player in the world, first at UCLA where they changed the rules of the game to try and defend him, and then in Milwaukee and Los Angeles, where he won six MVPs and six NBA championships," said Ken Goldin, founder of Goldin Auctions.
"We have worked with Kareem several times in the past, so it is especially rewarding that he chose Goldin Auctions to bring this remarkable collection of his life's work to auction."
The auction will trace Abdul-Jabbar's career from his days as a college basketball star at UCLA to his title-winning seasons with the Milwaukee Bucks and the Los Angeles Lakers.
From 1967 to 1969 he helped UCLA to three consecutive championships, winning three NCAA Tournament MVP trophies and the 1969 inaugural Naismith College Player of the Year Award – all of which are offered in the auction.
The sale will also feature his 1969 UCLA National Championship Ring (est: $50,000+); his 1970-71 Milwaukee Bucks NBA World Championship Ring (est: $75,000+); and his 1981-82 Los Angeles Lakers NBA World Championship Ring (est: $75,000+).
Amongst the most notable lots of the sale is the very ball with which Abdul-Jabbar set the NBA scoring record back in April 1984.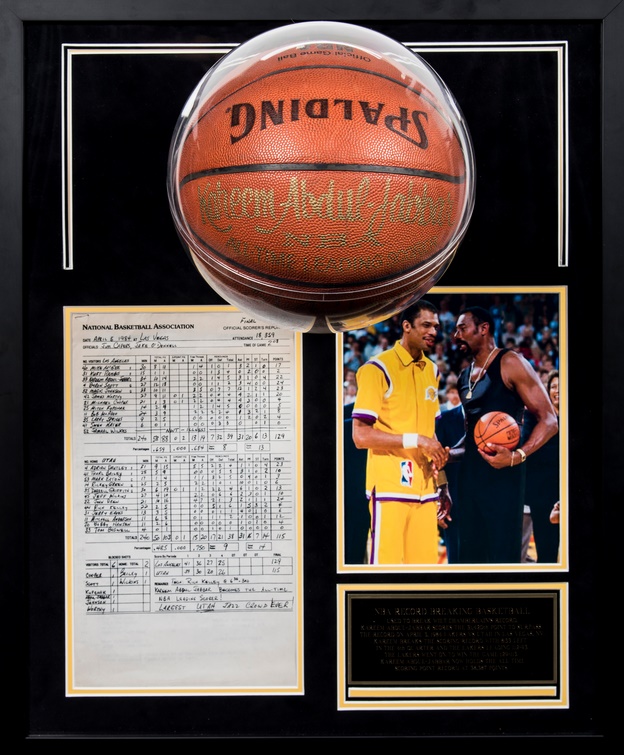 He scored his 31,421st point with one of his trademark 'skyhook' shots during a Lakers road game against the Utah Jazz in Las Vegas.
The game-used ball is described as "a truly historic and museum quality piece", and comes with an estimate of more than $50,000.
Further highlights include game-worn jerseys; pairs of his iconic protective goggles; his 1969 UCLA Letterman's jacket; the game-used cut-down nets from his three UCLA championships; and his Hall of Fame induction ring.
"My sports memorabilia has a history," said Abdul-Jabbar. "My history. My life. And, oddly, since my life is still happening and ever-evolving, I am less personally attached to those items than I am to my desire to create new history for myself—and futures for others.
"Much of the proceeds from my auction will go to support my charity, the Skyhook Foundation, whose mission is to give kids a shot that can't be blocked.
"So, when it comes to choosing between storing a championship ring or trophy in a room or providing kids with an opportunity to change their lives, the choice is pretty simple."