This week's featured auction is the Rago sale of 'Outsider & Fine Art, and Curious Objects', which takes place in Lambertville, New Jersey on October 20.
The auction includes a treasure trove of unique American folk art, outsider art, found objects and figural antiques – and here are 10 lots we'd love to own…
19th c. Pinecone rustic doll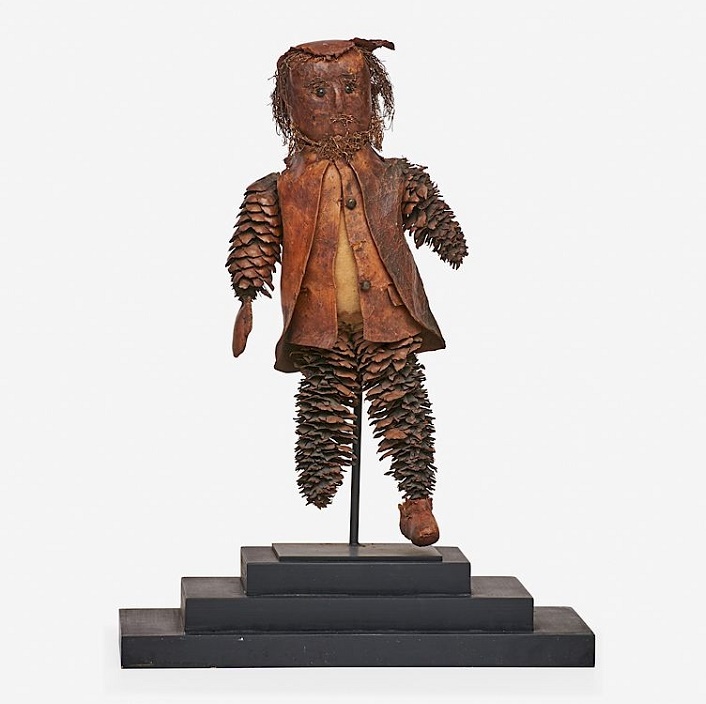 Estimate: $800 – $1,200
A rustic 19th folk art doll handmade from pinecones, carved wood, leather and natural fibres.
Head of a sabre-toothed tiger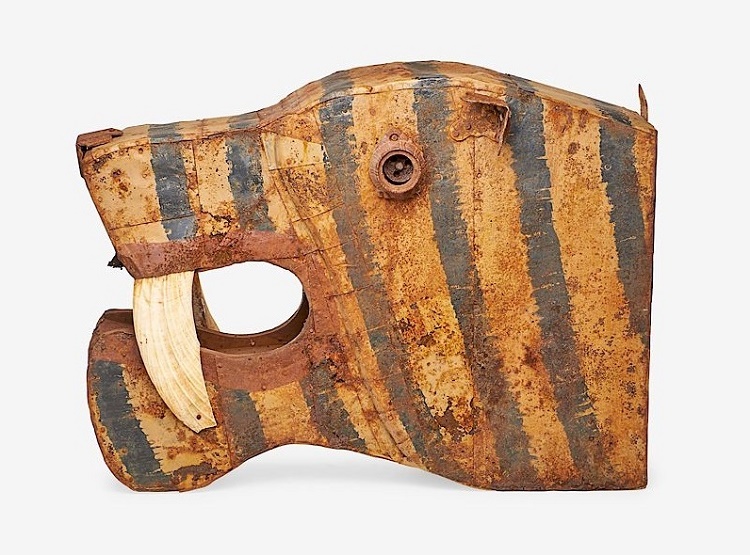 Estimate: $900 – $1,100
A painted wood and metal figural head of a Sabre Tooth Tiger, dating from the 20th century, and believed to have been made as part of an outdoor display of prehistoric animals.
Whitman Brothers vaudeville trunk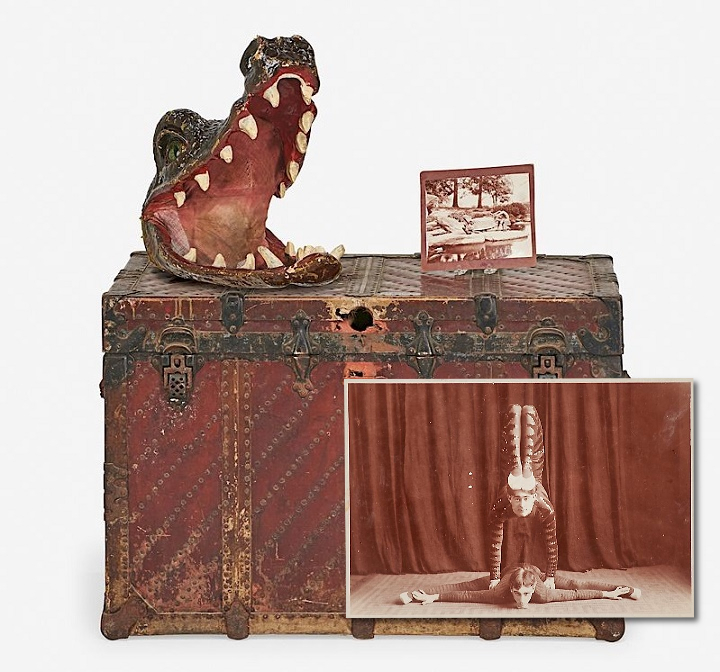 Estimate: $1,000 – $1,500
An original travelling trunk and memorabilia once owned by the Whitman brothers, a novelty contortion act from Philadelphia who performed on the vaudeville circuit circa 1905-1910.
The memorabilia includes antique photographs of both the Whitman brothers and other vaudevillians, along with a crocodile head mask from their act 'At Dawn in the Jungles'.
Amusement park funhouse skeleton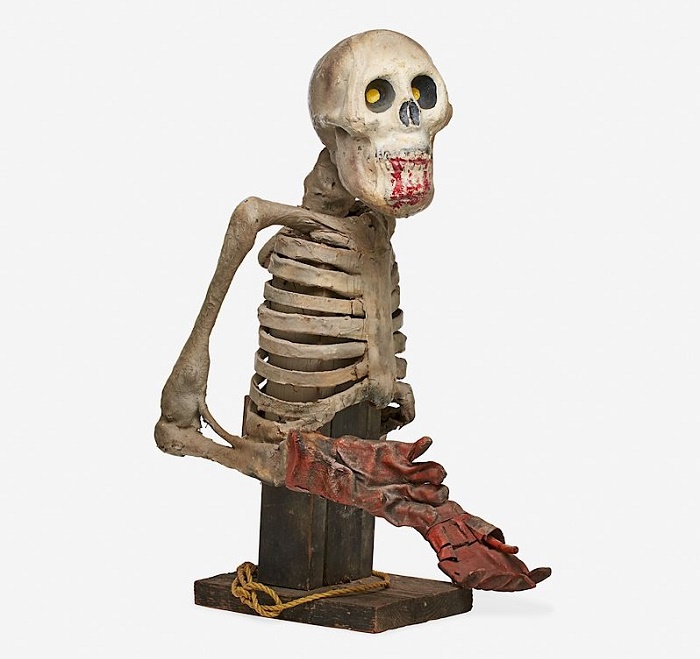 Estimate: $1,200 – $1,500
A mid-20th century amusement park funhouse skeleton figure, hand-painted and made from metal, wood and fibreglass.
Car sculpture by Chris Van Allsburg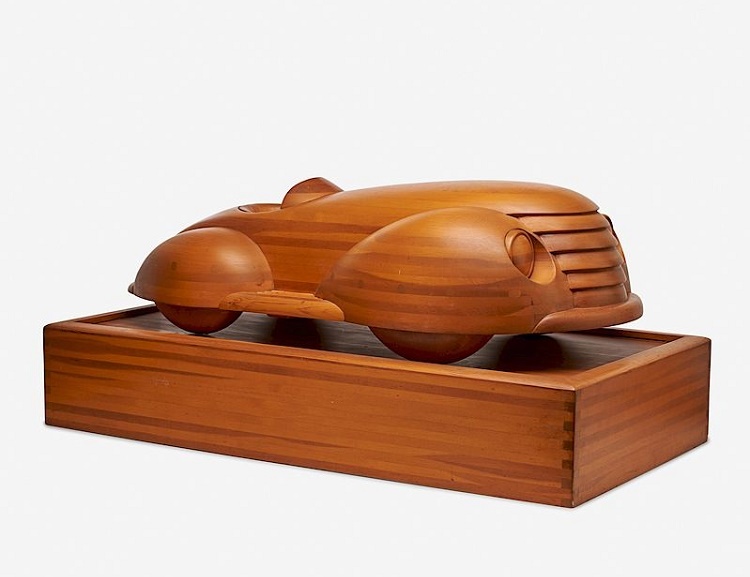 Estimate: $2,000 – $3,000
A carved wooden sculpture depicting a stylized automobile by Chris Van Allsburg, executed in 1976. Van Allsburg originally studied sculpture at the University of Michigan and the Rhode Island School of Design, but in 1979 turned his hand to writing children's books.
Today he is one of America's most celebrated children's illustrators and authors, and had twice won the Caldecott Medal for Jumanji (1981) and The Polar Express (1985).
Group of spirit photographs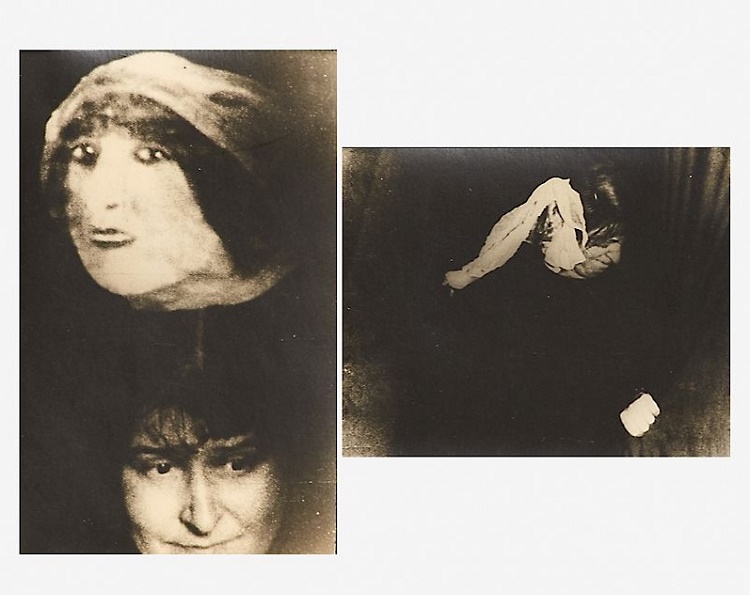 Estimate: $2,000 – $2,500
A group of antique 'spirit' photographs dated circa 1910-1912, depicting psychic mediums spewing ectoplasm and conjuring spirits of the dead.
The set includes two photographs of medium Eva Carrière, taken by psychical researcher Dr. Albert von Schrenck-Notzing, and five depicting a séance conducted by Linda Gazzera, taken by the Italian psychic researcher Enrico Imoda.
Articulated sailor-made whalebone doll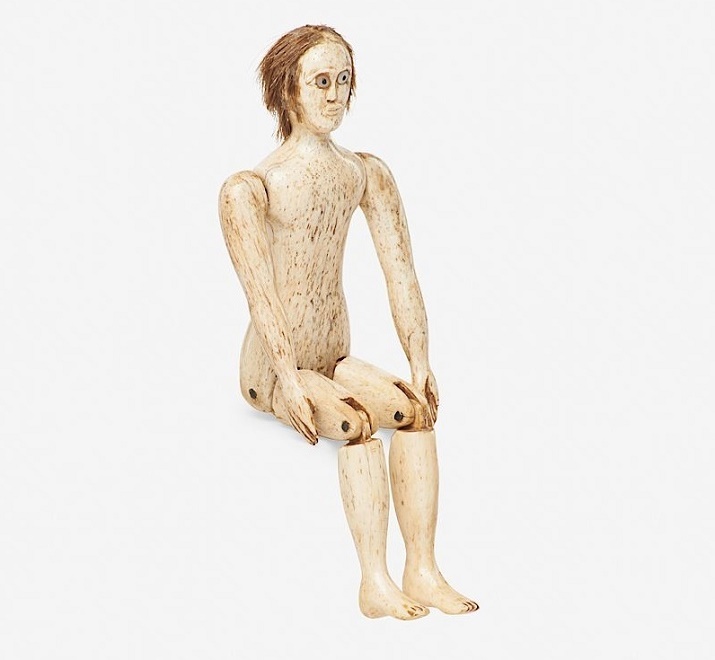 Estimate: $2,500 – $3,500
An articulated folk art doll complete with glass eyes and hair, carved from a whalebone by a sailor during the 19th century.
Rare and exceptional folk art carving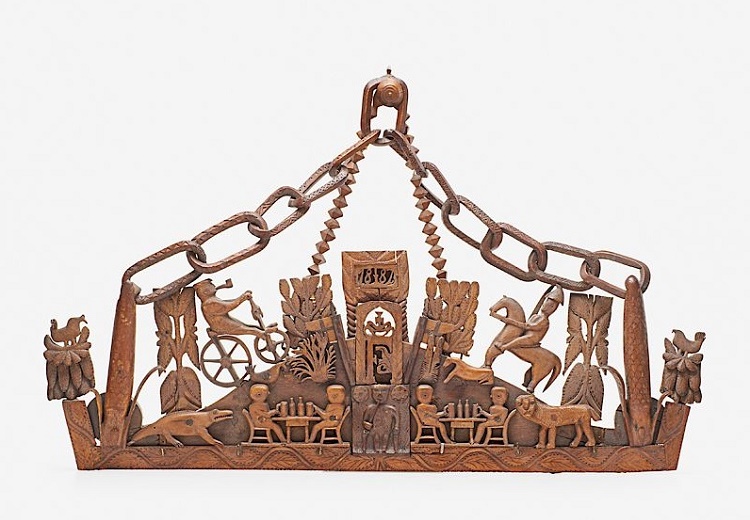 Estimate: $6,000 – $8,000
A unique, highly detailed wooden folk art carving believed to originate from Norway and dated 1882, depicting a series of figures, animals and flora on a hilltop and suspended by a carved link chain.
Taxidermy boxing squirrels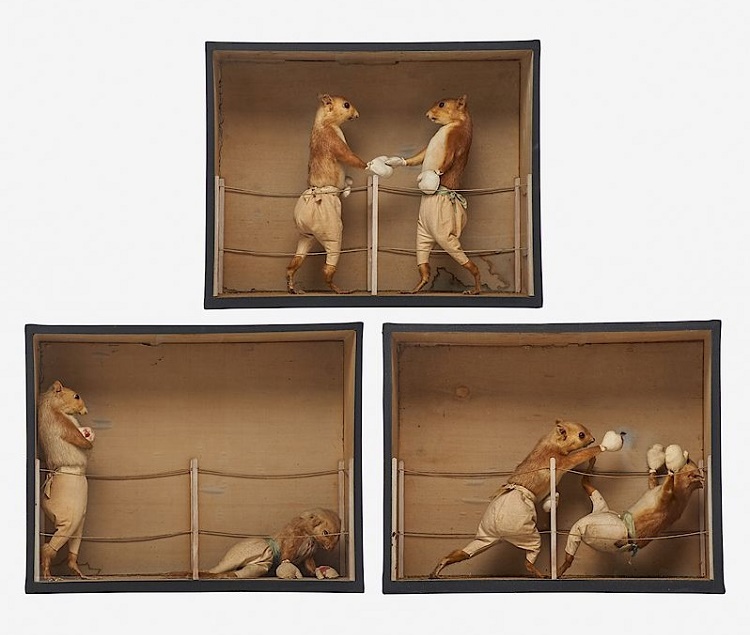 Estimate: $10,000 – $12,000
A set of three Victorian display boxes containing taxidermy squirrels posed as boxers from 'The Prize Fight' series. Made by the renowned taxidermist Edward Hart in England circa 1900, and missing two boxes from an original set of five.
Day-dreaming girl by Morton Bartlett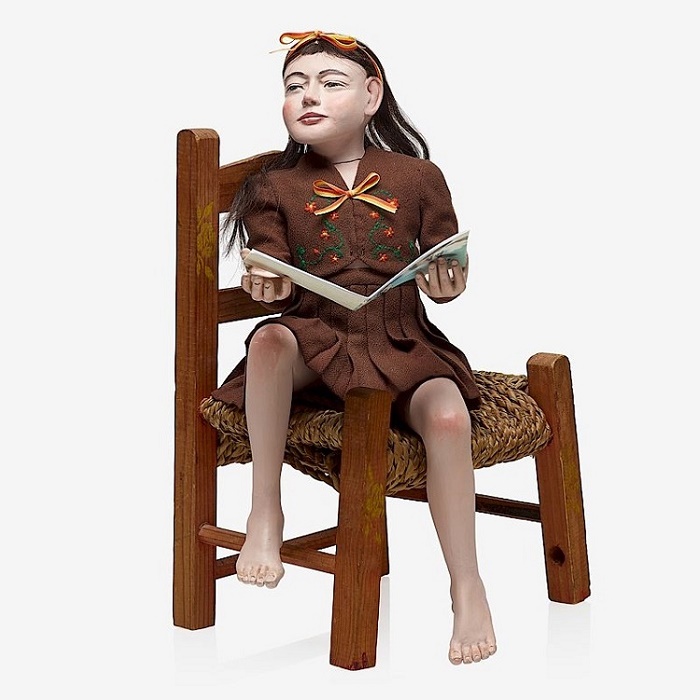 Estimate: $100,000 – $150,000
A unique, life-sized plaster sculpture of a young girl by the renowned Chicago folk-artist Morton Bartlett, complete with a natural hair wig and two sets of handmade clothes.
Between 1934 and 1963 photographer Morton Bartlett sculpted a series of life-sized, anatomically perfect child figures with ages ranging from 6 to 16. The figures included wigs, interchangeable heads and hands, and were outfitted in a series of hand-sewn costumes.
He crafted the figures with the sole purpose of photographing them, and produced hundreds of images until 1963, when he abruptly stopped and packed them away forever.
The figures and the photographs were later discovered in 1993 by a dealer at a New York antiques fair, and have since become regarded by collectors as iconic works of outsider folk art.
Daydreaming Girl, dated circa 1950, is the only remaining Morton Bartlett sculpture not owned by a major institution or private collection.