One of Winston Churchill's iconic cigars is heading for auction, after it was rescued from the floor by a cinema usherette and saved for over 60 years.
The rare piece of British political history is now expected to sell for up to £6,000 ($7,300) when it hits the block at Hanson's Auctioneers on December 11.
Churchill smoked the cigar during a visit to the London Coliseum cinema in St Martin's Lane, London, in January 1953, where he and his wife Clementine attended the film premier of the American musical Call Me Madam.
During the film he discarded the cigar on the cinema floor and it was swiftly cleaned up by usherette Violet King, who kept it for the rest of her life as a keepsake.
"My great aunt Violet saw Churchill drop the cigar which he'd been smoking," said Violet's great nephew Julian Lewis. "She picked it up and treasured it for the rest of her life.
"It was her claim to fame. She was very proud of the cigar. She liked to talk about it and show it to people.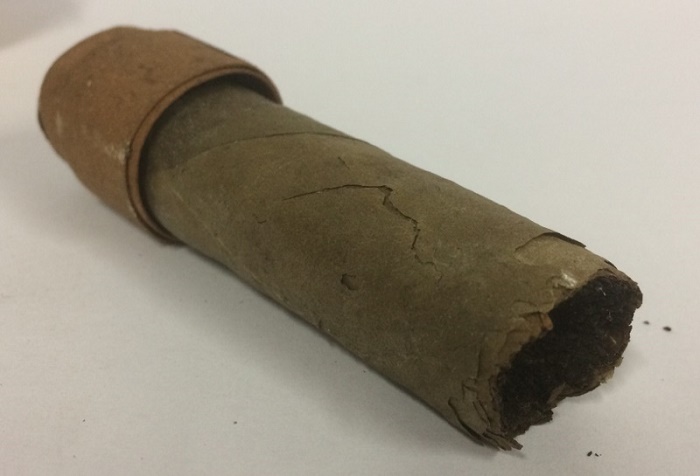 "In April, 1953, she wrote to Winston Churchill to ask if she could tell her friends she had his cigar. Amazingly, she received a letter on Downing Street-headed paper with a friendly note signed by Churchill's personal secretary Jane Portal."
The note, which corroborates the tale and provides superb provenance, reads:
"The Prime Minister wishes me to thank you for your letter of April 1. He has, of course, no objection to you telling your friends that the cigar you found is his and much appreciates your goodwill."
Today the cigar remains remarkably preserved, thanks to Violet's forward thinking and some cutting edge 1950s technology.
"Back in 1953, Violet's niece, Lillian Corbitt, owned a plastics company called Visijar which was pioneering plastic for baby incubators," said Lewis.
"She had the cigar, letter and newspaper cutting encased in this heavyweight material. That's why they've have survived so well. Churchill's DNA must still be on the cigar."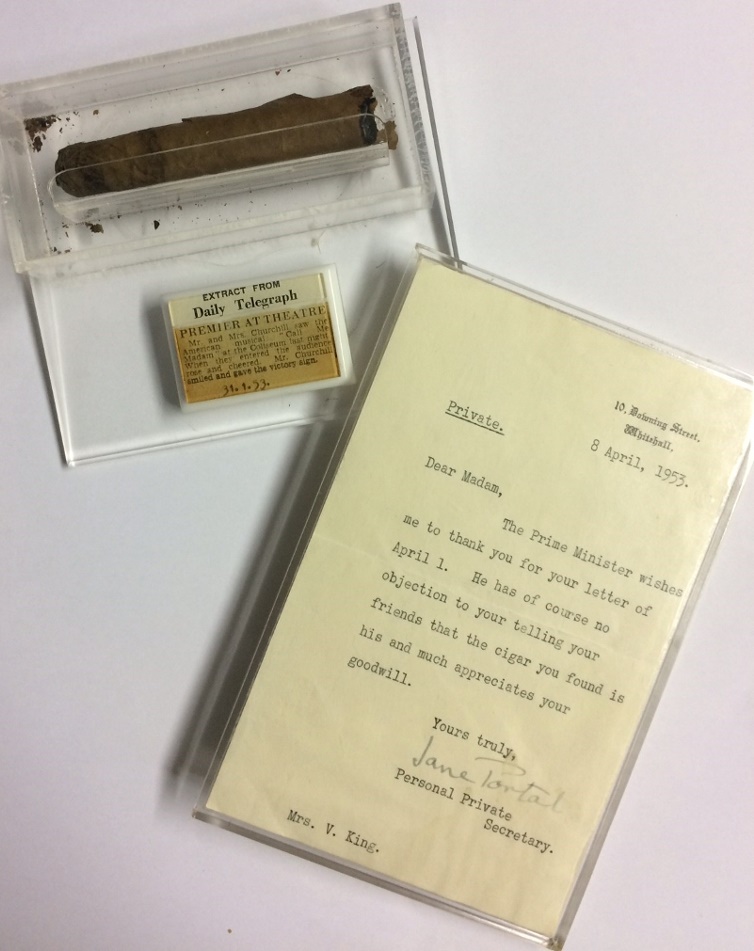 She also encased the letter of provenance from Churchill's office, along with a newspaper clipping mentioning his visit to the London Coliseum cinema.
The article, published in The Daily Telegraph, reads:
"Mr and Mrs Churchill saw the American musical Call Me Madam at the Coliseum last night. When they entered the audience rose and cheered. Mr Churchill smiled and gave the victory sign."
Although today the practice of encasing rare collectibles in plastic to preserve them is widespread, it was virtually unheard of in 1953, making Violet a truly pioneering collector years ahead of her time!
"The provenance with this find is exceptional," said auctioneer Charles Hanson. "The cigar was brought along to a free valuation day in Newcastle-under-Lyme and I couldn't believe my eyes – especially when I saw the letter from Downing Street.
"Churchill was renowned for his love of cigars which he was said to chew on as well as smoke. He puffed away at home, at work and, as we now know, even at the cinema.
"His cigars are said to have bolstered him through the major challenges he faced. Perhaps our current prime minister would benefit from owning this piece of Churchill memorabilia."