A rare sculpture by the mysterious American outsider artist Morton Bartlett is headed for auction at Rago later this month.
Daydreaming Girl is one of a series of lifelike child figures made in private by the freelance photographer between 1934 and 1963.
The figures were discovered after Bartlett's death, hidden in packing crates, and have since become highly sought-after by collectors of outsider art.
Daydreaming Girl is the only Bartlett figure not owned by a major museum or private collection, and is expected to sell for up to $150,000 on October 20.
Morton Bartlett (1909 – 1992) was born in Chicago and was tragically orphaned at the age of eight, before being adopted by a wealthy Massachusetts couple.
After serving in the Army during WWII he became a freelance photographer and graphic designer for a toy firm in Boston – but his creativity truly flourished as an entirely self-taught sculptor.
For almost 30 years he obsessively created a series of child figures aged 6 between 16, working meticulously for up to a year on each individual figure.
Not only were the plaster figures all poseable, with interchangeable heads and hands, but Bartlett also made their wigs and hand-sewed a collection of outfits for them to wear.
Bartlett never intended the figures to be publically exhibited; instead he created them with the sole purpose of posing them for a series of photographs depicting scenes from childhood.
Although Bartlett's motives for his hobby have been questioned for many years, experts believe the figures and photographs were his attempt to create a surrogate family: the imagined brothers and sisters that, as an orphan, he never had.
Of the 15 figures he created, 12 are girls of varying ages and three are boys aged around eight years old, the age Bartlett was when he was orphaned.
Morton Bartlett's work remained a largely private hobby, and was mentioned publically just twice in his lifetime.
In 1952 he contributed to a Harvard report celebrating the 25th anniversary of his graduating class of 1927, in which he wrote rather cryptically:
"My hobby is sculpting in plaster. Its purpose is that of all proper hobbies – to let out urges that do not find expression in other channels."
Then in 1962 his sculptures were featured in a two-page article in Yankee Magazine, entitled 'The Sweethearts of Mr. Bartlett', which included nine dolls dressed in a variety of costumes representing different ethnic heritages.
Bartlett personally authorized the article, but it seems the level of attention he subsequently received proved too much for him.
Soon after he left his studio in Boston's Bay Village, where he had worked for over a decade, and relocated to another part of the city.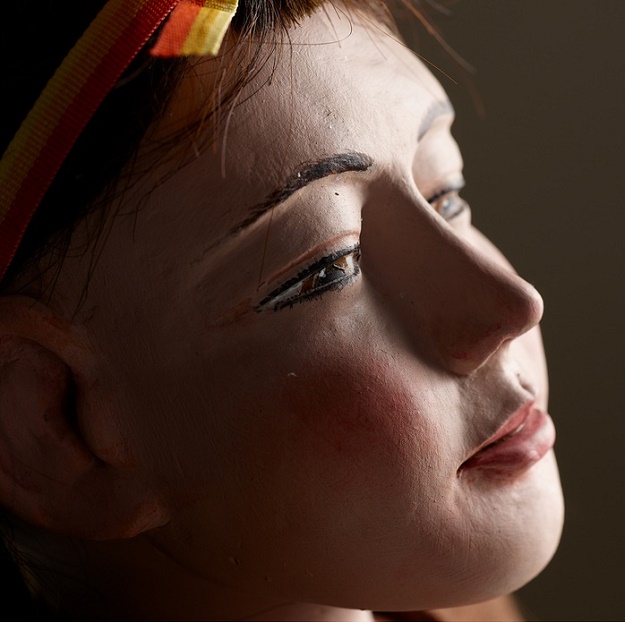 His dolls were packed away in wooden crates, and remained hidden away for the next 30 years. He never made any more, and he apparently never photographed them again.
When Bartlett passed away in 1992 he left the figures and photographs amongst his estate, still untouched and wrapped up in copies of The Boston Globe from 1963.
The following year they were discovered for sale at an antique fair in New York by dealer Marion Harris, who was immediately curious to learn their history.
She purchased the entire collection and set about assembling the figures from their separate parts, before introducing them to the art world in a catalog entitled 'Family Found: The Lifetime Obsession of Morton Bartlett'.
More than 25 years on, Morton Bartlett has become an icon of American outsider art and his sculptures are renowned by collectors around the world.
It's believed that fewer than five of his figures remain in private hands, with the majority owned by institutions and museums including the Metropolitan Museum in New York.
The sale at Rago will now offer collectors a rare opportunity to acquire a Morton Bartlett figure on the open market for the first time since 2003.
 The Rago sale of Outsider & Fine Art, and Curious Objects takes place in Lambertville, New Jersey on October 20.