This week's sale comes from Hake's Auctions, and features a catalogue packed with pop culture collectibles, political memorabilia, rare toys, comic books, vintage posters and everything in-between.
Here are 10 of our favourite lots from the auction, which runs online until March 11 – 12.
World War II "Know Your Airplanes" identification wheel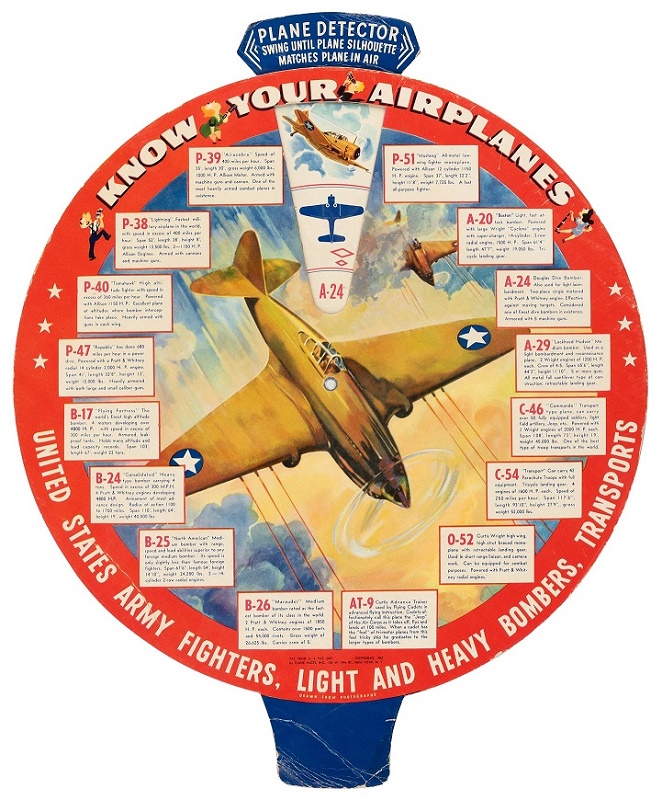 Estimate: $200 – $400
A WWII "Know Your Airplanes" detector wheel, produced by Plane Facts Inc. in 1942.
Following the United States' entry into WWII in 1941, people were encouraged to keep an eye on the skies to look for possible enemy aircraft.
Spotting U.S military planes also became a popular hobby, and guides such as this allowed civilians to identify different fighter planes, bombers and transport aircraft by their markings and silhouettes in the sky.
James Bond Secret Agent 007 Action Puppet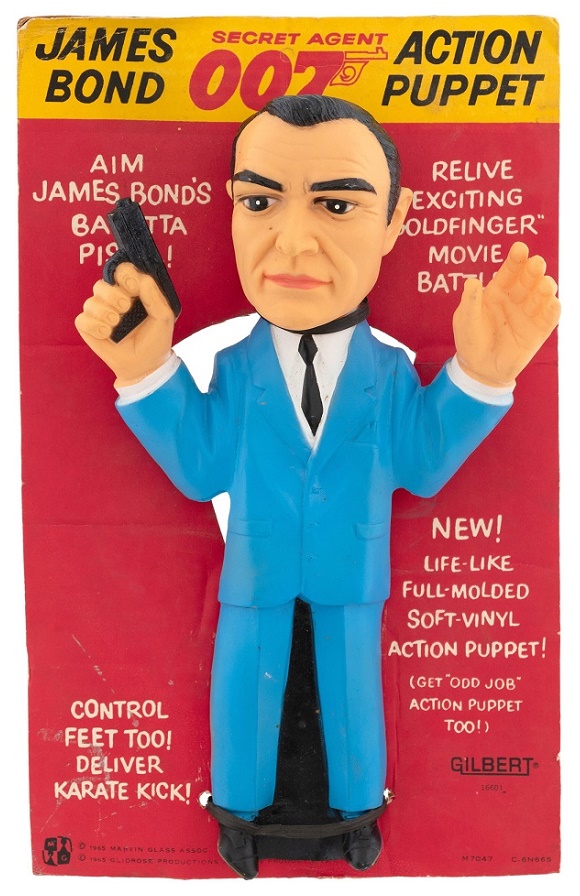 Estimate: $2,000 – $5,000
An incredibly scarce James Bond puppet produced by the Gilbert toy company in 1965 as a tie-in with the film Goldfinger.
The 14″ tall soft vinyl puppet remains on its original card backing, and offers the chance to "Relive Exciting Goldfinger Movie Battle", "Aim James Bond's Baretta Pistol" and "Deliver Karate Kick".
Black Panther "Dope Plus Capitalism Equals Genocide" poster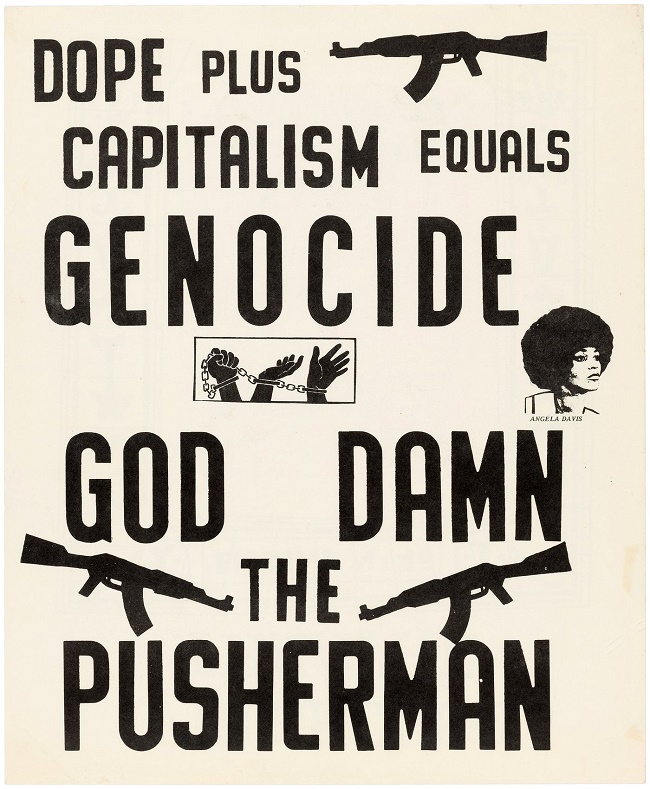 Estimate: $700 – $1,000
An original Black Panthers poster, dated circa 1970, which decries the effects of drug dealers targeting black youths, complete with images of machine guns and the American political activist Angela Davis.
Weird Tales" Vol. 1 #1 March 1923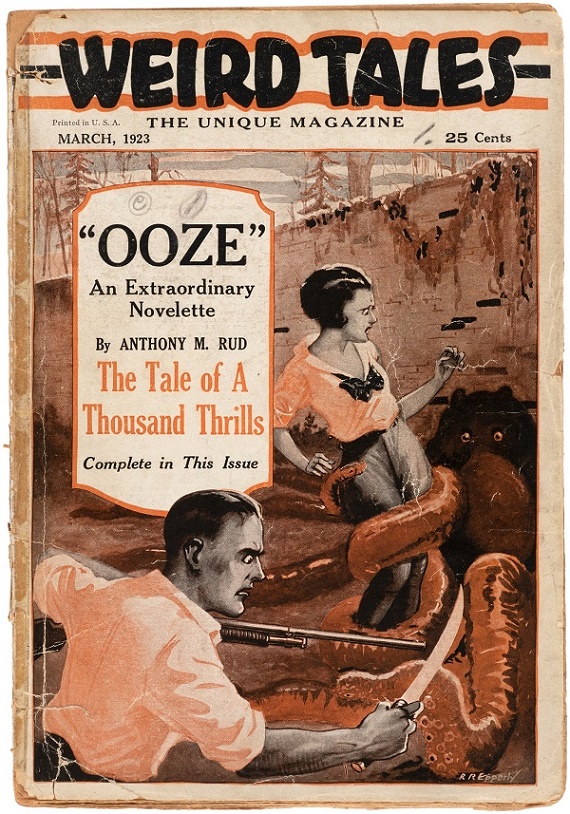 Estimate: $2,000 – $5,000
A highly rare first-state copy of 'Weird Tales' Vol. 1, #1, published in March 1923.
'Weird Tales' was a highly influential American fantasy and horror fiction pulp magazine which introduced readers to the work of writers such as H.P. Lovecraft, Seabury Quinn, Robert E. Howard and Robert Bloch.
Memorabilia from the 1881 trial of Presidential assassin Charles J. Guiteau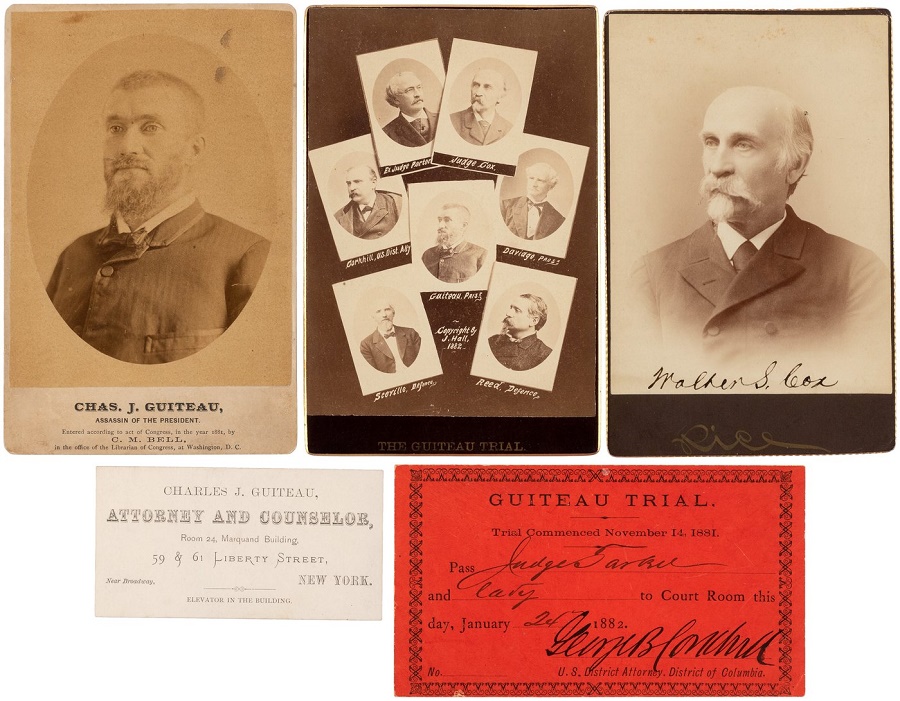 Estimate: $1,000 – $2,000
A collection of rare items relating to the trial of Charles J. Guiteau, who assassinated U.S President James Garfield in 1881.
The collection includes a Charles J. Guiteau "Assassin Of The President" cabinet card; a signed cabinet card of trial judge Walter S. Cox; a business card marked "Charles J. Guiteau Attorney And Counselor"; and a public ticket to the penultimate day of the trial on January 24, 1882, the day before Guiteau was found guilty.
Bill Graham Concert Poster – Lenny Bruce & The Mothers Of Invention, June 1966
Estimate: $2,000 – $5,000
An original Bill Graham poster for a concert featuring groundbreaking comedian Lenny Bruce and the psychedelic rock band The Mothers of Invention.
The shows, which took place on June 24-25, 1966 at the Fillmore Auditorium in San Francisco, CA, were the last two performances of Bruce's career before his death on August 3, 1966.
The poster is graded CGC 9.8 NM/Mint, and is the finest example of the poster ever offered at auction.
Original packaging art for the Remco 9″ Wolfman figure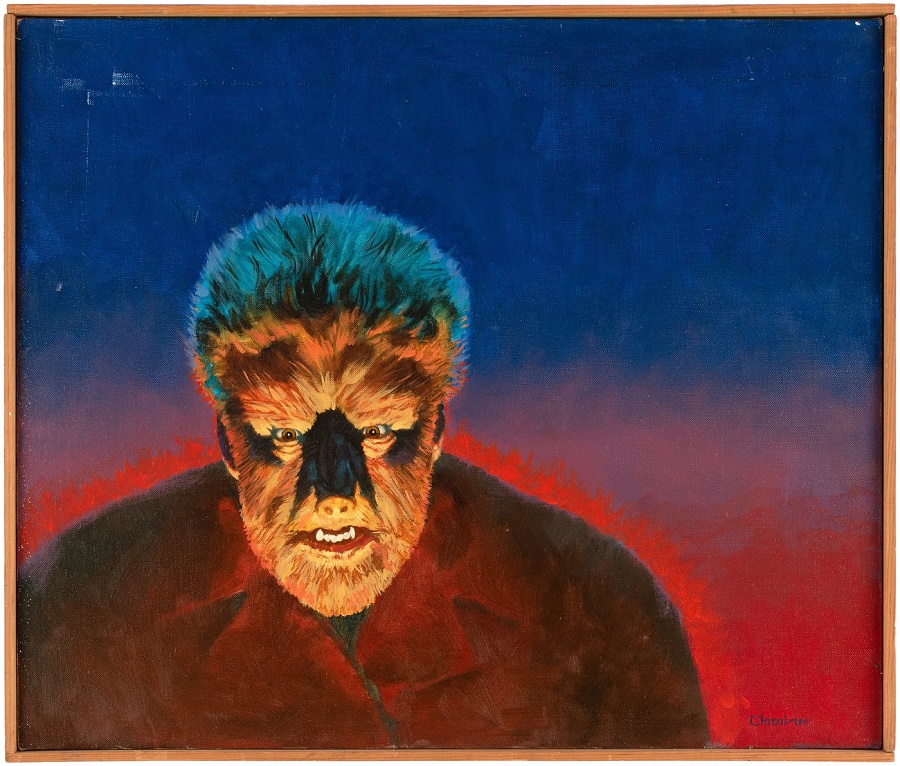 Estimate: $5,000 – $10,000
The original packaging artwork for the Wolf Man action figure, produced in 1980 as part of Remco's popular line of Universal Monster toys.
The oil painting on canvas by artist Chronister was reproduced on the window box packaging for the 9″ figure, and features a likeness of Lon Chaney Jr. in his role in the classic 1941 film.
Original 1969 Woodstock Festival bus advertising sign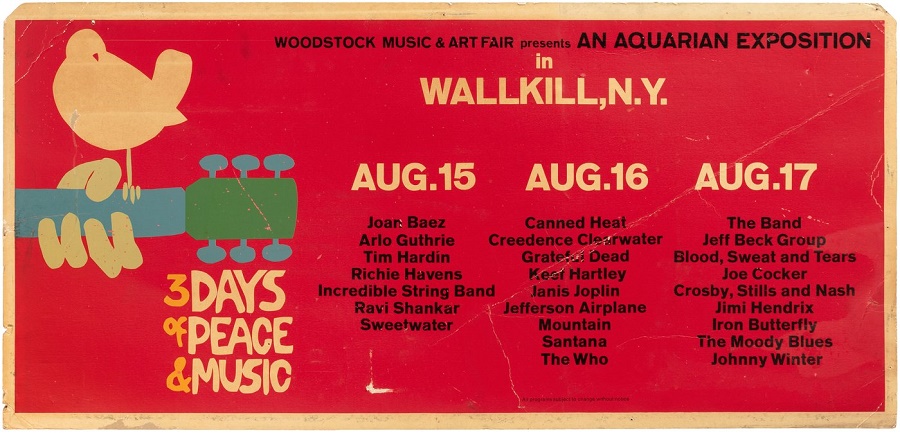 Estimate: $2,000 – $5,000
A rare original 1969 bus advertising sign for the Woodstock music festival, featuring the iconic Arnold Skolnick logo design and the tagline "3 Days Of Peace & Music".
This large poster includes the most famous acts on the line-up, such as Creedence Clearwater Revival, Grateful Dead, Janis Joplin, Jefferson Airplane, The Who, Crosby, Stills & Nash, and Jimi Hendrix.
It also features the festival's original location of Wallkill, New York, which was changed at the last minute to Max Yasgur's dairy farm in Bethel, New York when Wallkill town officials refused to grant the promoters a license.
Star Wars Darth Vader double-telescoping action figure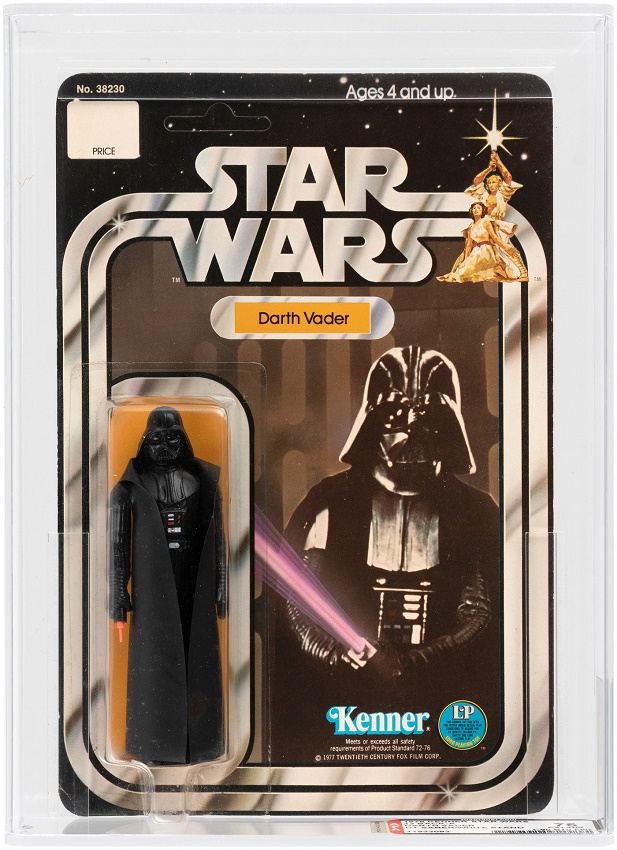 Estimate: $75,000 – $100,000
A rare 1978 Darth Vader 'double telescoping' action figure from Kenner's series of Star Wars toys, graded AFA 75 EX+/NM on its original card.
Early versions of the Darth Vader, Luke Skywalker and Obi-Wan Kenobi figures featured lightsabers which extended in two parts. However, these proved both expensive to produce and easy to break, and were quickly replaced by single pieces of plastic in later editions.
D.C Comics "Showcase" #4 September 1956 – the debut of the Silver Age Flash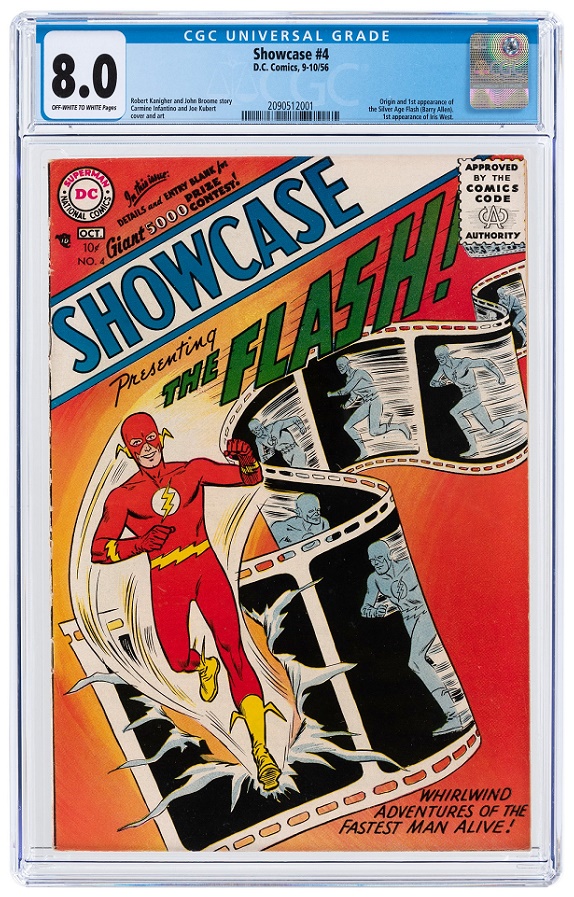 Estimate: $75,000 – $100,000
A CGC 8.0 VF copy of D.C Comics' "Showcase" #4, featuring the first appearance of the Silver Age Flash, Barry Allen.
Published in September 1956, the historically significant issue marked the birth of the "Silver Age" of comic books, following a decade of decline in popularity for superhero comics.
Barry Allen replaced Jay Garrick, the original Flash character, who first appeared in comic books throughout the "Golden Age" from 1940 until 1951.