Our featured auction this week is the Kimball Sterling Antique Cane sale, which takes place on June 22.
From folk art to flirting devices, symbols of wealth or even deadly weapons, the auction features 140 fascinating antique and comtemporary walking canes.
Here are 10 of our favourites…
Silver Skull and Crossbone Cane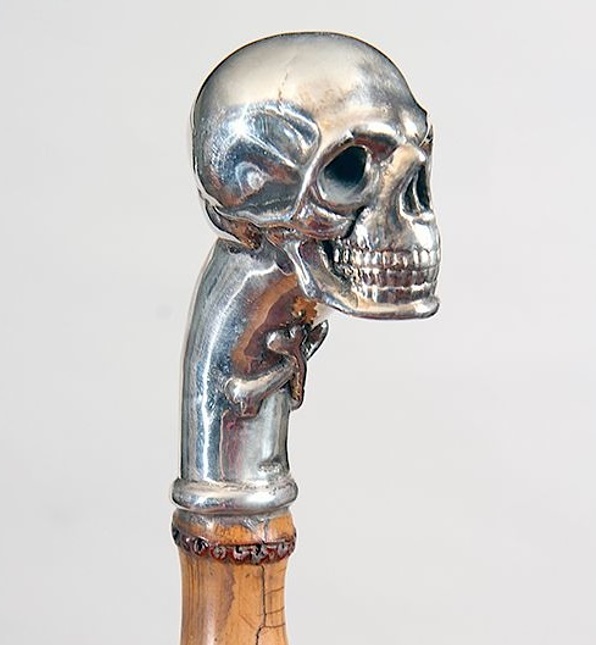 Estimate: $500-$600
A contemporary walking cane featuring a bamboo shaft and a signed, sterling silver skull and crossbones handle which also doubles as a rattle.
Mickey Mouse Carnival Cane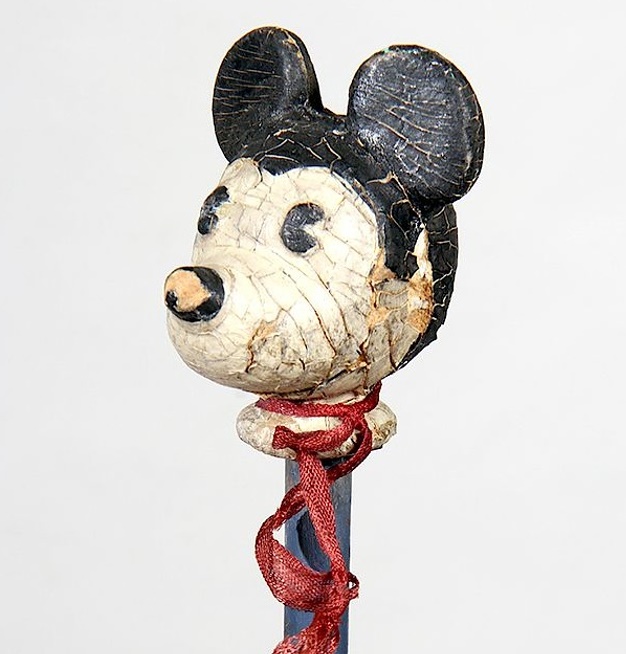 Estimate: $250-$500
An early Mickey Mouse novelty 'Carnival' cane, circa 1928-30, featuring a crackled antique plaster head, a worn cloth scarf and a wooden shaft marked "MICKEY MOUSE 1928-1930 by Walter Disney".
Silver Mermaid Dress Cane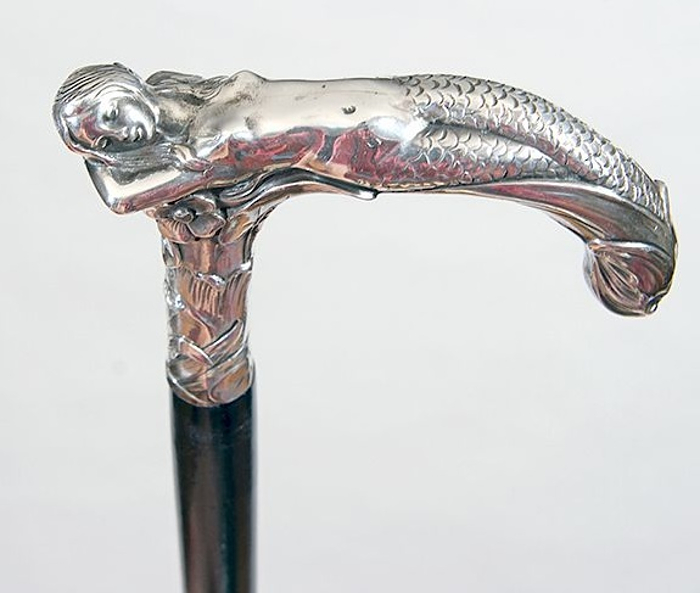 Estimate: $600-$800
A mermaid walking cane, circa 1900, featuring an ebony wood shaft and a polished silver handle, depicting a high relief mermaid figure reclining on a bed of lilypads.
Sterling Opera Cane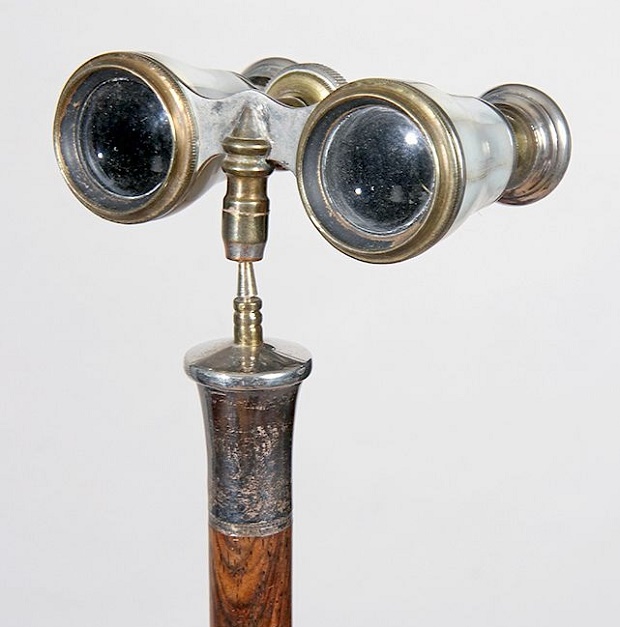 Estimate: $750-$1,000
A silver 'Opera' cane, circa 1900, complete with an exotic hardwood shaft and a set of swivelling mother of pearl opera glass mounted on the handle.
Naughty Leg Cane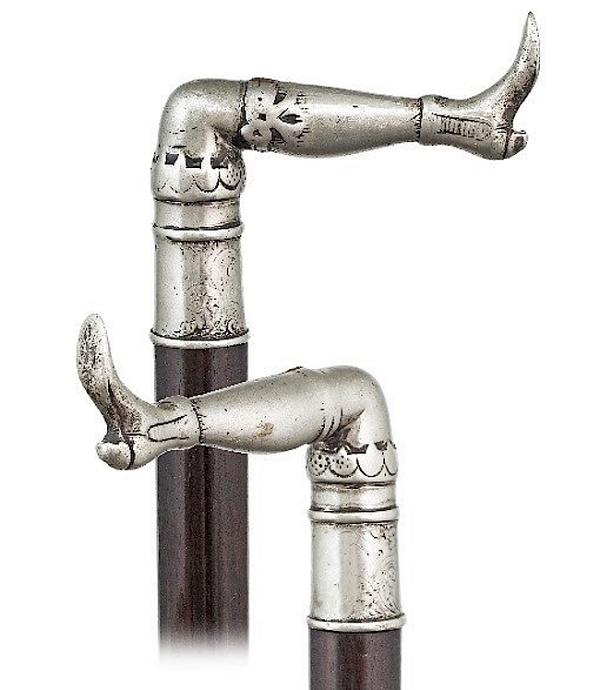 Estimate: $600-$700
A 'Naughty Leg' cane, circa 1870, featuring a mildly erotic female leg dressed in frilled underpants, a matching garter and boots. However, the pointed shape and heavy weight of the handle also made it a disguised weapon can known as a Knobkerrie, a Life Preserver or a Bludgeon.
Horn and Hoof Walking Stick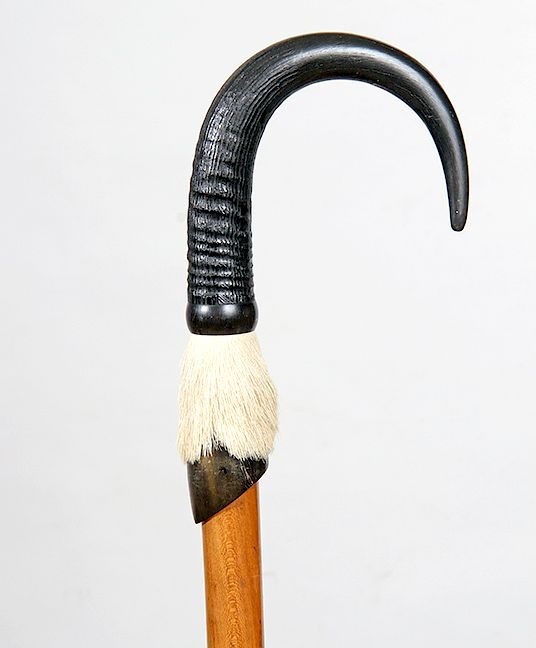 Estimate: $400-$600
A horn and hoof walking stick, circa 1890, featuring a hardwood shaft and a handle constructed from a taxidermy animal hoof and horn combination.
Silver Octopus Cane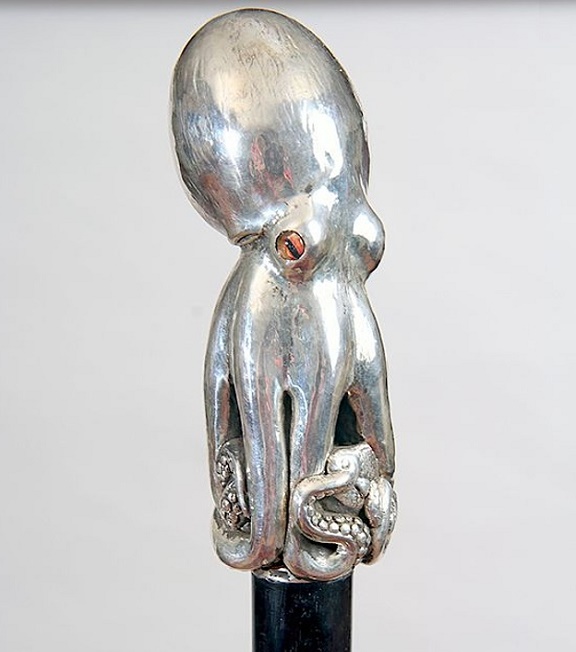 Estimate: $650-$750
A contemporary Octopus cane, featuring an ebony shaft and a sterling silver octopus handle, finished in high relief with a set of coloured glass eyes.
Horn Ear Trumpet Cane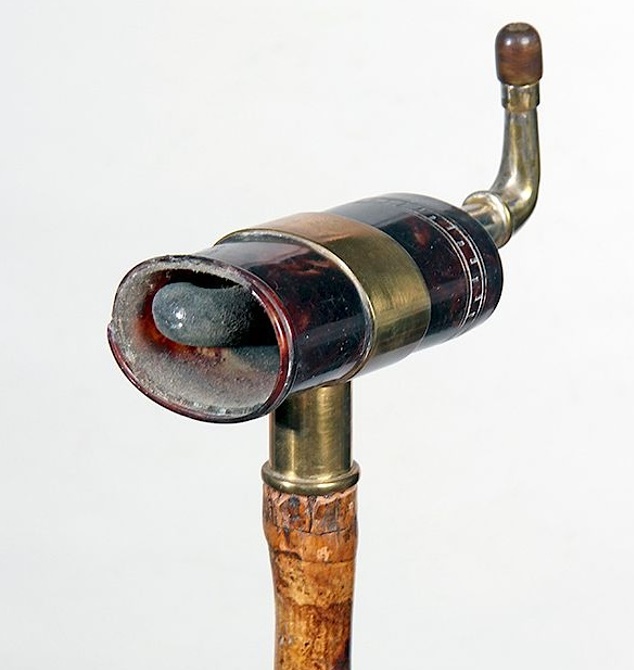 Estimate: $1,500-$2,000
An 'Ear Trumpet' walking cane, circa 1900, featuring a bamboo shaft and a gold metal ear trumpet handle designed for its hard-of-hearing former owner.
Giant Automated Dog Head Cane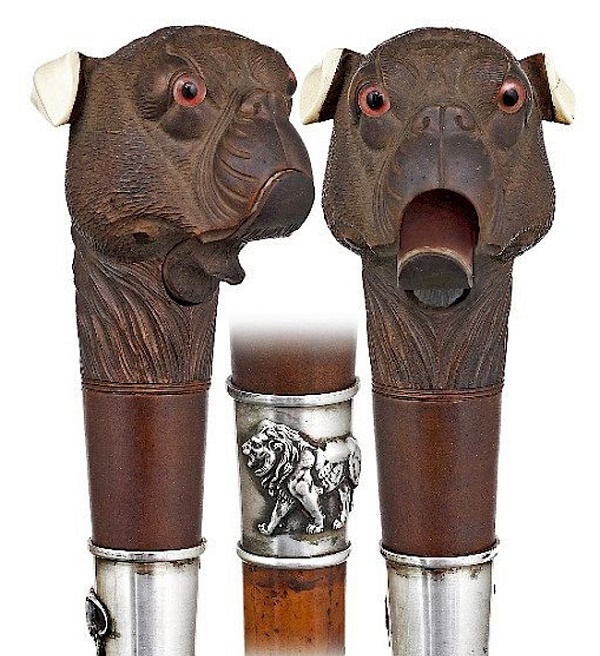 Estimate: $1,200-$1,800
A giant automated dog's head cane, made in Vienna circa 1900, with a large carved fruitwood French bulldog's head. The oversized head features glass eyes, a silver collar and a hinged jaw, which is operated with a lever under the chin.
These types of cane were apparently used by gentlemen to flirt surreptitiously with women, catching their attention across a room by way of a panting dog instead of a wink. Its large size also suggests it was made to attract customers as part of a store display.
Nephrite Rabbit Cane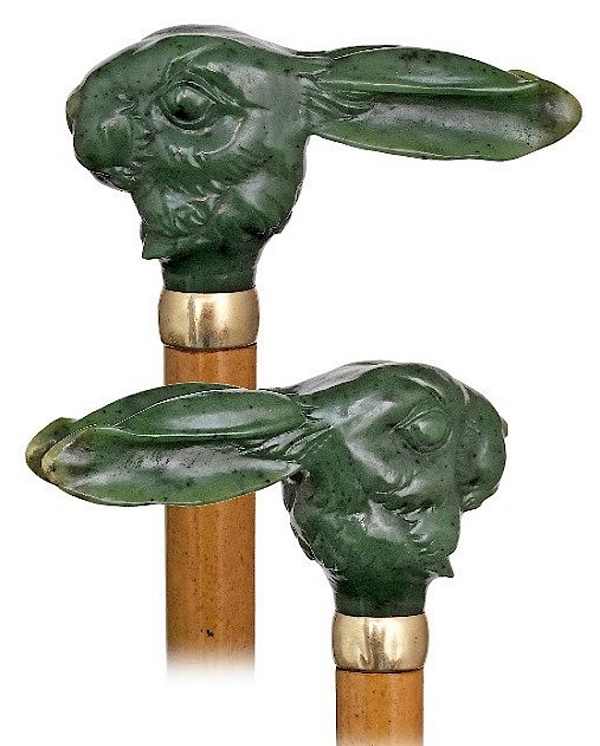 Estimate: $2,500-$3,500
A unique Rabbit walking can, circa 1900, featuring a highly details rabbit's head carved from the mineral gemstone Nephrite. The stone was a favourite of the celebrated Russian jeweller Carl Fabergé, and the cane "embodies the epitome of Russian taste" during the period.