The first appearance of Tintin on a comic book cover is expected to sell for over $1 million when it hits the auction block at Heritage later this week.
The illustration by Belgian artist Hergé dates from 1930, and the publication of the very first Tintin adventure 'Tintin in the Land of the Soviets'.
Having been rediscovered amongst a private European collection, the artwork will be offered for sale in Dallas on June 8 with an estimate in excess of $1.2 million.
"Tintin is a seminal character, who has been loved and admired for generations the world over," said Joe Mannarino, a Director of Comics and Comic Art at Heritage Auctions. "His popularity is as great now as it has ever been."
Tintin made his comic strip debut on January 10, 1929, in Le Petit Vingtième, a children's supplement to the Belgian newspaper Le Vingtième Siècle.
Hergé had initially wanted to set his debut story in America, but publishers insisted it take place in the Soviet Union, as they wanted to use the strip as a piece of anti-Soviet propaganda.
The story proved a hit with readers, and in January 1930 its success led Le Petit Vingtième to double its length from eight to sixteen pages.
On January 23, 1930 it also included an illustration on the cover for the first time: the same image of Tintin now offered for sale at Heritage.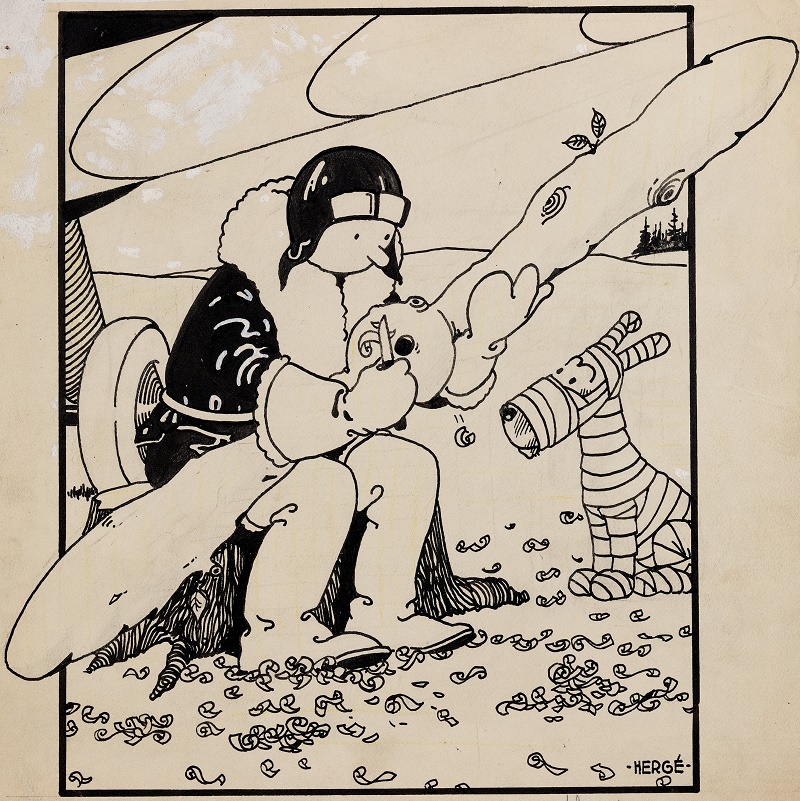 The black-and-white illustration, measuring 21 by 26 centimetres, depicts Tintin carving a new propeller for his damaged aircraft from a tree trunk, alongside his faithful dog Snowy who sits wrapped in bandages.
Original Hergé illustrations of Tintin are amongst the most valuable and collectible pieces of comic book art in the world.
The artwork offered at Heritage is one of only a handful of Tintin covers signed by Hergé remaining in private hands, with the majority owned by the Hergé Museum in Louvain-la-Neuve, near Brussels.
Over the past five years, nine original Hergé artworks from the Tintin series have sold for more than $1 million at auction, and many others have achieved six-figure sums as the market soared in value.
They include the current world record holder: a double page spread of illustrations dating from 1937, which appeared inside the covers of Tintin books published until 1958.
This spread sold at the French auction house Artcurial in 2014 for $3.14 million (including buyer's premium), and its record has remained intact – perhaps until now.
Mannarino believes the historic nature of the present Tintin cover means it has the potential to surpass that record.
And with bidding already past the $1 million mark (as of June 4), it could well be on course to become the most valuable piece of Tintin artwork ever sold.