Our featured sale this week comes from Hake's Auctions, and features more than 2,000 lots of vintage pop culture and historic memorabilia.
The huge auction runs online until November 6 – 7, and here are 10 lots that we'd love to own…
Ato McBomb button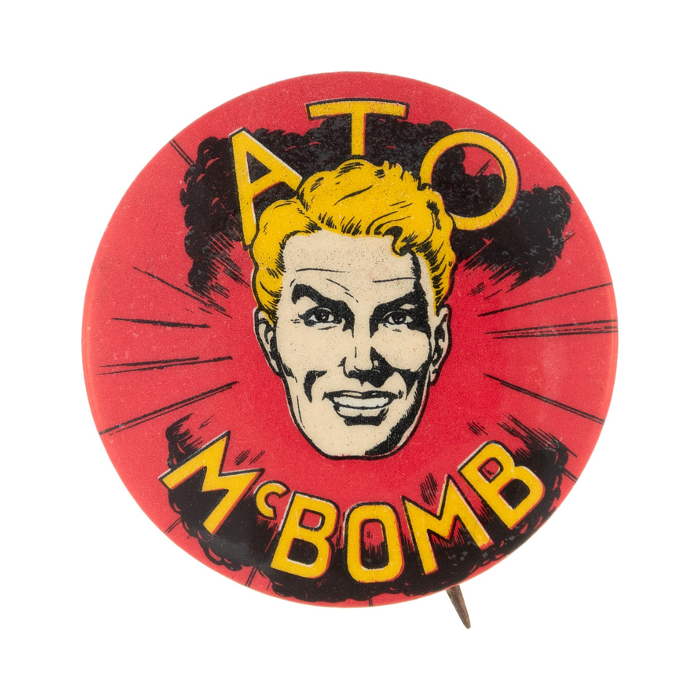 Estimate: $200 – $400
A 1940s-era button featuring the atomic bomb-inspired character Ato McBomb. The character was the creation of Clarence Matthew Baker (1921-1959), one of the comic book industry's first successful African-American artists.
The button is rare, as although Ato McBomb featured in one of Baker's illustrated storybooks it was never actually published.
Teddy Roosevelt 'African Sportsman' decanter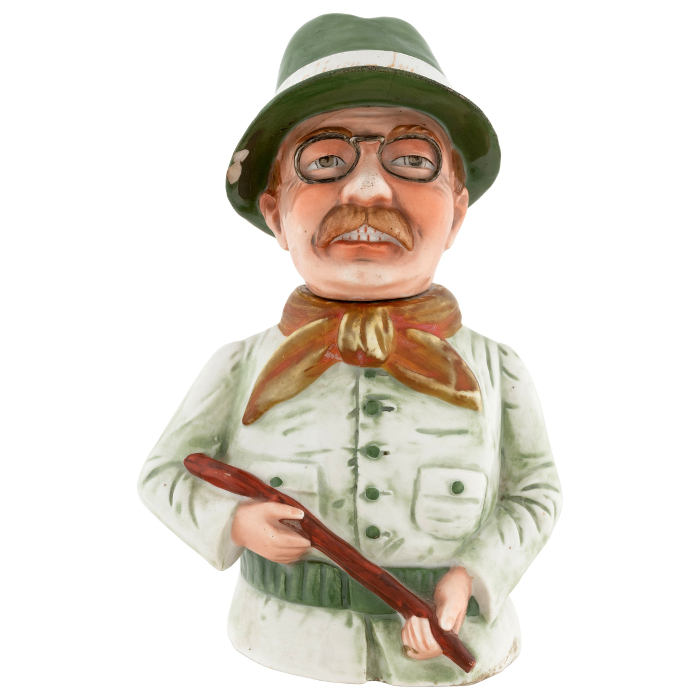 Estimate: $400 to $1,000
A rare figural porcelain decanter depicting U.S President Theodore Roosevelt as 'Teddy the African Sportsman', dated circa 1910.
Roosevelt was a dedicated naturalist and hunter throughout his life, and following the end of his presidency in 1909 he embarked on a two-year African safari known as the Smithsonian-Roosevelt African Expedition.
Roosevelt's party killed or trapped approximately 11,400 animals for study and display during the trip, many of which remain on display in U.S museums to this day.
WWII anti-Hitler carnival game target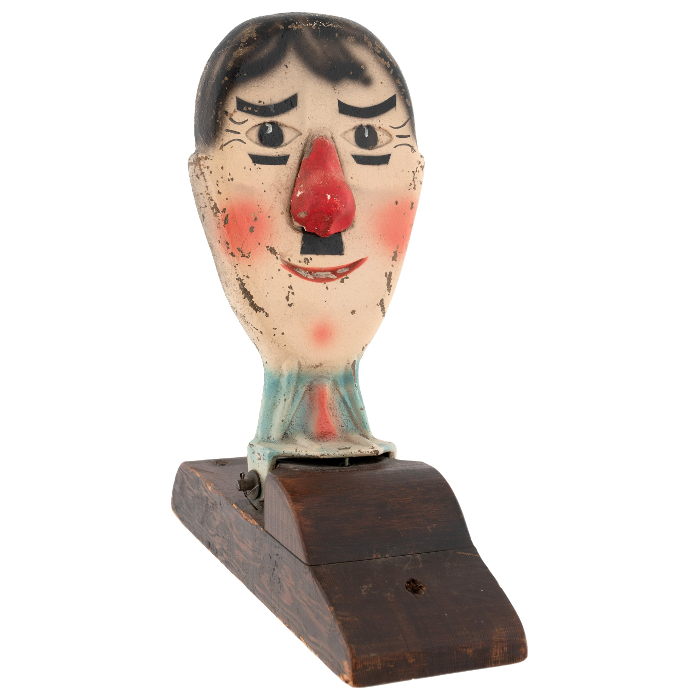 Estimate: $700 – $1,000
A World War II-era carnival game target depicting Adolf Hitler. The spring-loaded cast-iron target features a composition nose, which could be replaced when smashed to pieces with a direct hit.
1950s Slinky mechanical store display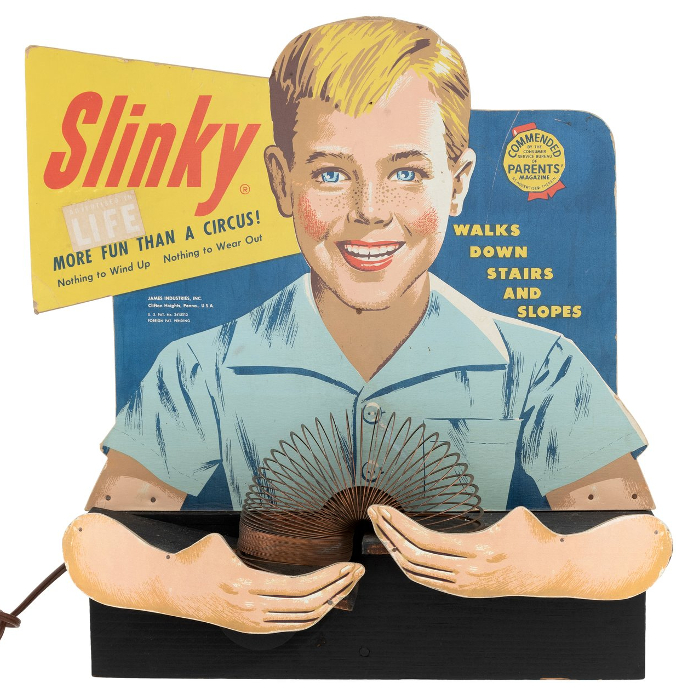 Estimate: $1,000 – $2,000
A vintage motorized Slinky store display created by James Industries, Inc. of Clifton Heights, Pennsylvania in 1953.
When switched on, the boy's arms move up and down to activate the Slinky toy, which the company describes as being "more fun than a circus".
The Elvis Presley Game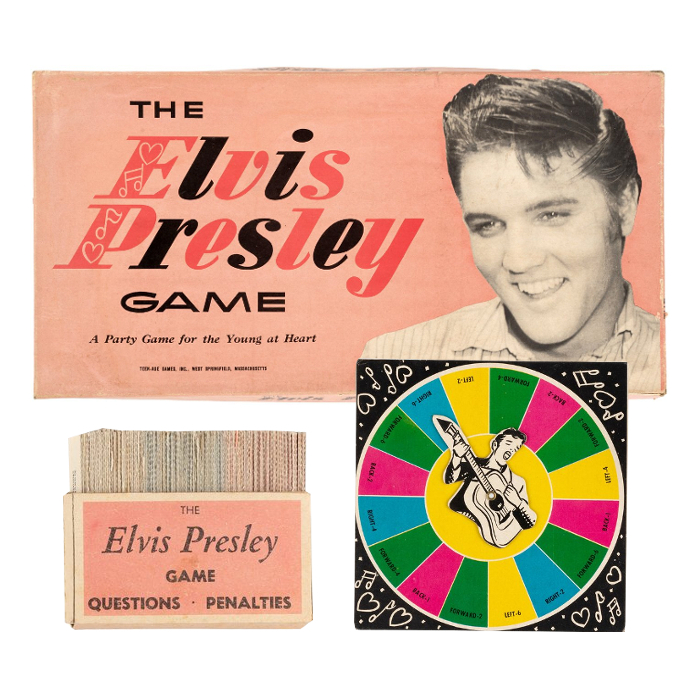 Estimate: $1,000 to $2,000
An Elvis Presley board game dating from 1956, considered one of the rarest and most sought-after of all vintage Elvis merchandise, with less than half a dozen copies known to survive in good condition.
The makers describe it as "a game designed to give you the thrill of forecasting who your future sweetheart will be", and suggest it could be a useful icebreaker at parties.
James Meredith Mississippi March Civil Rights buttons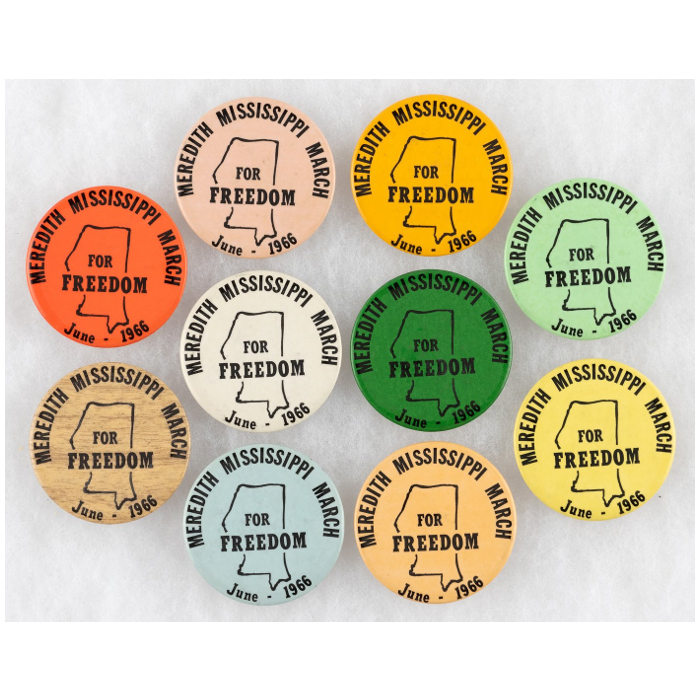 Estimate: $1,000 – $2,000
A complete set of 10 official buttons created to mark the 1966 Meredith Mississippi March, an important event in the history of the U.S Civil Rights Movement.
In June 1966 James Meredith, the first African American student admitted to the University Of Mississippi, began a 220-mile walk from Memphis, Tennessee to Jackson, Mississippi to protest racial inequality.
Meredith was shot and wounded by a white sniper James Aubrey Norvell on the second day of the walk, and a number of major civil rights organizations continued the march in his honour.
On June 26 15,000 marchers arrived in Jackson, making it the largest civil rights march in the history of the state.
The badges were sold by organizers of a rally during the march, at which activist Stokely Carmichael gave his famous 'Black Power' speech.
Masters Of The Universe Castle Grayskull playset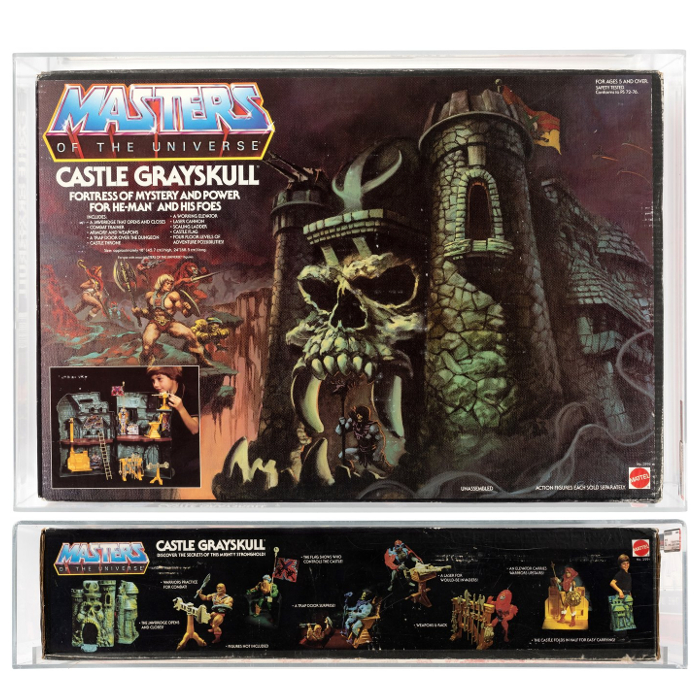 Estimate: $2,000 – $5,000
An AFA-graded 75 EX+/NM example of the Masters Of The Universe Castle Grayskull playset, one of the most iconic and collectible children's toys of the 1980s.
Supermen of America contest prize ring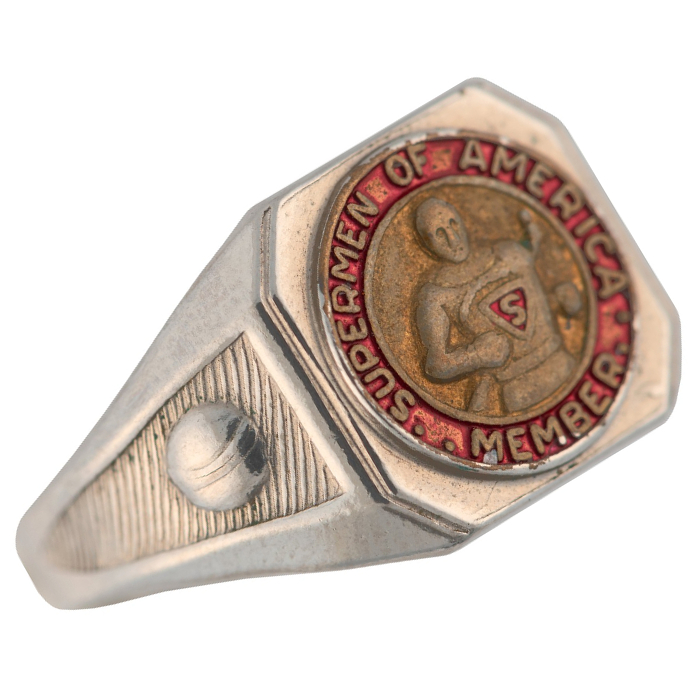 Estimate: $5,000 – $10,000
A highly rare 'Supermen of America' member ring, the first Superman ring ever produced, dating from 1940.
The rings were presented as prizes in an essay competition open to club members only, in which entrants had to explain in 100 words or less "What I Would Do If I Had The Powers Of Superman".
The rings is remarkably preserved, retaining some of its original red paint, and is one of just two dozen examples known to exist.
Grateful Dead 'Skeleton & Roses' concert poster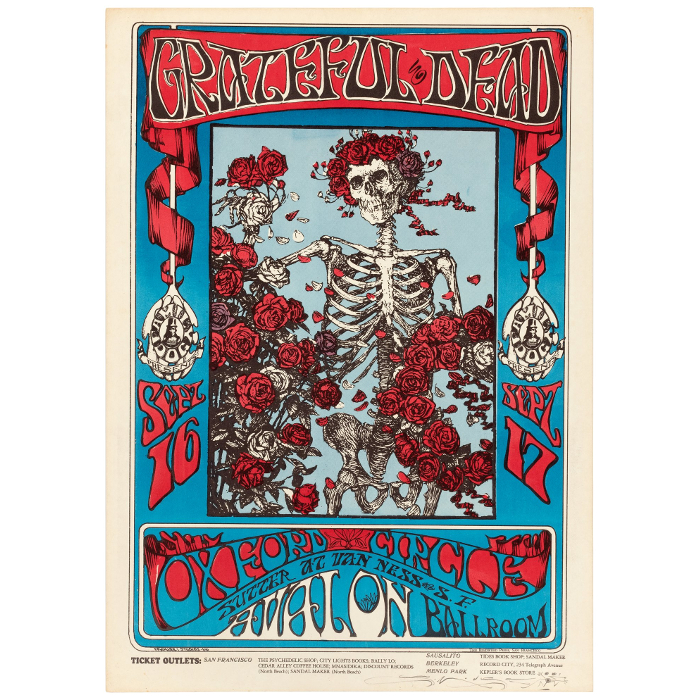 Estimate: $20,000 to $35,000
A 1966 Grateful Dead poster for a gig at the Avalon Ballroom in San Francisco on September 16-17, organized by the legendary concert promoters The Family Dog.
The iconic 'Skeleton & Roses' poster was designed by artists Stanley Mouse and Alton Kelley, and has become one of the defining images of both Grateful Dead's career, and 1960s rock music in general.
This rare first printing of the poster is also signed by Mouse, and is described as "a seminal piece of American art".
Star Wars Boba Fett rocket-firing prototype action figure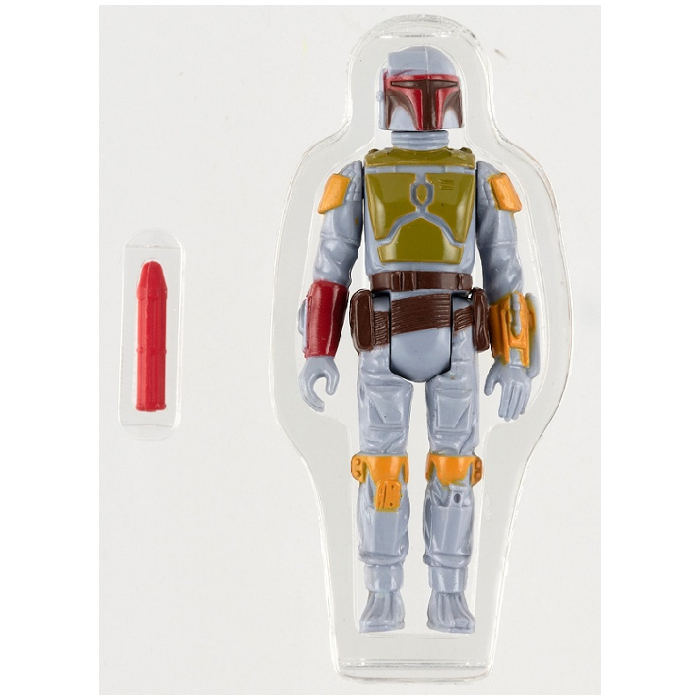 Estimate: $200,000 – $500,000
An incredibly rare rocket-firing Boba Fett prototype Star Wars action figure, produced by Kenner in 1979.
This fully-painted prototype figure was amongst 80 – 100 examples sent to Kenner for safety testing, before the figure could be sent into production.
The spring-loaded rocket and 'J-Slot' firing mechanism was deemed to be a hazard for kids, and the rockets were fixed firmly in place before Boba Fett reached toy store shelves in 1980, following the release of The Empire Strikes back.
Today around 25 examples are known to survive, and high grade examples such as this (AFA 85+ NM+) are regarded as the 'Holy Grail' for action figure collectors.