Robert Crumb's original artwork for his famous comic strip 'Stoned Agin' will be offered for sale at Heritage Auctions next month.
The 1971 illustration has been described as a "cultural icon", and will hit the block for the first time in Dallas on November 21 – 24 where it's expected to fetch a high six-figure sum.
"Heritage is extremely proud to bring this amazing artwork to auction, the importance of which can't be overemphasized," said the auction house.
"This is a mesmerizing image that people will immediately recognize even if they have not heard the name R. Crumb – in fact, as an incredibly popular poster, this classic, hippy-era defining artwork is one of the most recognizable images to ever appear in one of our auctions!
"We have no doubt that interest will be higher than a kite on what will surely be not only the crowning piece of any Underground Comics art, but a key artwork from an entire era of American cultural history!"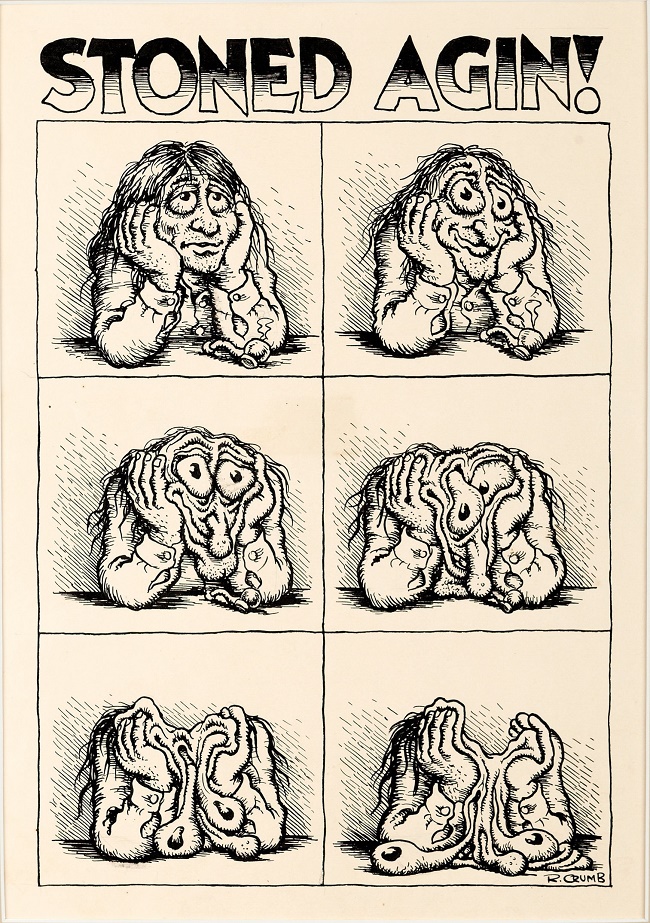 The single page cartoon strip originally appeared inside the back cover of Crumb's Your Hytone Comix, published by Apex Novelties in 1971.
It was soon reproduced as a popular poster which appeared on the walls of teenage bedrooms, college dorms and crash pads around the world.
For almost 50 years Crumb fans and collectors had speculated on the whereabouts of the work, and whether it had survived intact.
According to the consignor, he acquired the illustration directly from the artist himself in 1971, through a trade for some rare old 78rpm blues records, of which Crumb is an obsessive collector.
For the next 48 years he kept the artwork hidden away, only showing it to a handful of friends, and to this day it remains in the cardboard portfolio Robert Crumb gave it to him in.
In May 2017 another Robert Crumb work set a new auction record as the world's most expensive piece of original U.S comic book art
Crumb's illustration for the cover of his 1969 comic strip album Fritz the Cat stunned experts when it sold at Heritage for $717,000, soaring past its estimate of $150,000 – $250,000.
Although the auction house is yet to list an estimate for 'Stoned Agin', it seems likely that it could reach a similar price or even surpass it, setting a new world record in the process.
And as the market for Crumb's work, and original underground 'comix' artwork in general, has continued to grow since 2017, some speculate it could even become the first Robert Crumb artwork to pass the $1 million mark.