The baseball bat used by Babe Ruth to hit his 500th home run could be set to sell for over $1 million at auction later this year.
The historic bat will hit the block at SCP Auctions, having been hidden away in the same private collection for almost 75 years.
Bidding in the sale begins on November 27, and runs until December 14.
"Rightly proportionate to his status as baseball's most beloved and iconic player, Babe Ruth is the king of the sports collectibles marketplace," said SCP Auctions President David Kohler.
"When a fresh Ruth item of such quality and historical importance as this one surfaces, it generates tremendous excitement throughout our industry. We are honored and privileged to introduce this museum-worthy artifact to the public."
Babe Ruth's game-used bats and uniforms are the 'Holy Grails' for baseball memorabilia collectors, and those with proven connections to significant games come with the highest premiums.
For Ruth, there were few more significant moments in his career than on August 11, 1929, when he became the first man in baseball history to hit 500 career home runs during a game against the Cleveland Indians at League Park.
According to reports, Ruth hit the ball so hard it flew over the stadium fence, bounced off a door step and rolled down Lexington Avenue.
Ruth was determined to keep hold of his milestone ball, and ballpark officials were quickly sent out to find the person who had retrieved it.
The ball had landed at the feet of 49-year-old Jake Geiser, who was then escorted inside and convinced to part with the ball in return for two new balls signed by Ruth and a crisp $20 bill.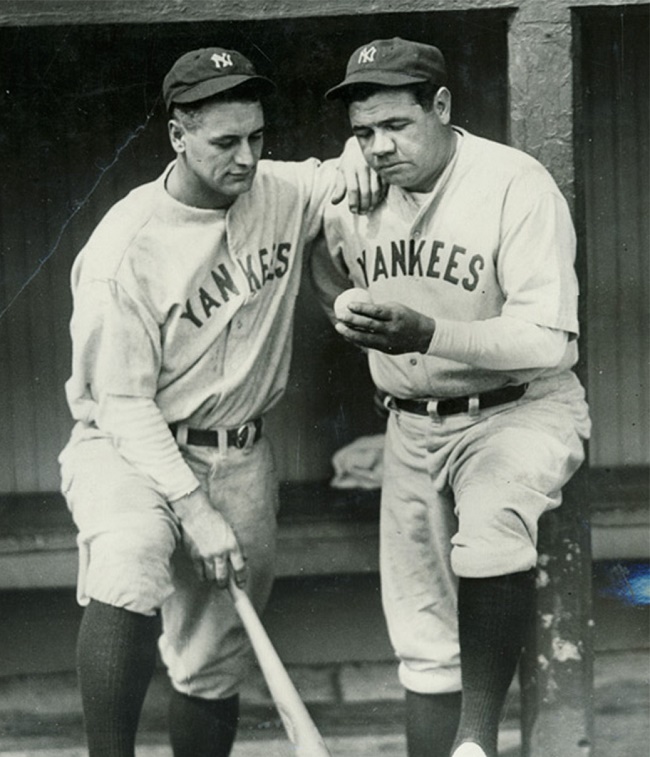 Although the present whereabouts of that ball are unknown, the history of the bat he struck it with is unbroken: since the mid-1940s it has remained hidden away in the family collection of Ruth's friend Jim Rice.
Rice was the long-serving mayor of Suffern, New York, and became close friends with Ruth following his retirement from baseball.
The pair often played golf and bowled together and Ruth became a regular guest for dinner at the Rice family home, where he also became close with Rice's wife and three children.
During their friendship Ruth gave Rice and his family numerous gifts, the most significant being his 500th home run bat which he presented to them in the mid-1940s.
The family treasured the bat for decades, as it passed from Rice to his wife after his death in 1983, and then down to their son when she passed away in 1997.
Never previously exhibited, it remained hidden away from public view in a cupboard, with its existence unknown to experts until recently.
After expert examination, the bat has now been authenticated and graded PSA/DNA GU 10, the highest possible score, due to its condition and provenance.
Hailed as a "monumental discovery in the field of sports memorabilia", the bat will be offered at auction for the first time in its history – and it could be about to rewrite the record books.
The current auction record for a baseball bat has stood since 2004, when SCP Auctions sold another Ruth gamer for $1,265,000.
That bat had been used by Ruth to hit a home run in April 1923, during the opening day at Yankee Stadium, which was nicknamed 'The House that Ruth Built' in his honour.
In the fifteen years since that sale the market for historic baseball memorabilia has soared in value, and Babe Ruth has remained on top of the tree.
In 2017 Leland's Auctions sold Ruth's 1927 World Series ring for $2,093,927, and the infamous 1919 contract which took him from the Boston Red Sox to the New York Yankees for $2,303,320.
And in June this year, Hunt Auctions sold Ruth's 1928 game-worn Yankees jersey for $5.64 million, making it the world's most valuable piece of sports memorabilia.
With prices like that, it would be no surprise if bidding on the 500th home run bat flew past the $1 million mark quicker than a home run ball down Lexington Avenue.