A collection of 'holy grail' Star Wars action figures is up for sale at Hake's Auctions, which could potentially rewrite the record books.
The online sale, which runs until November 6-7, includes hundreds of vintage Star Wars toys amongst its catalogue of rare pop culture and historic memorabilia.
Leading the sale is a rocket-firing Boba Fett prototype figure, widely considered the most valuable and sought-after Star Wars figure in existence.
These unreleased prototypes feature a spring-loaded rocket, which was later deemed a safety hazard and fixed in place before the figures hit toy store shelves in 1980.
Back in July 2019, another rocket-firing Boba Fett prototype made headlines when it sold at Hake's for $113,000, setting a new world record price for a Star Wars figure at auction.
However, that figure was an unpainted example – whereas the figure now on offer at Hake's is one of the final, fully-painted prototypes.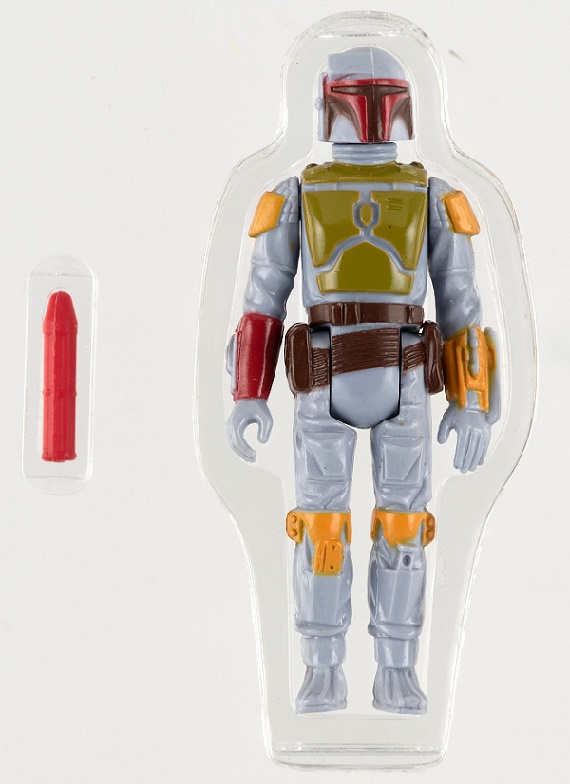 Between 80 and 100 of these painted prototypes were shipped to Kenner from Hong Kong for safety testing purposes in 1979, prior to a full production run being approved.
The extensive tests included heating, freezing, and generally attempting to destroy the figures, which left many of the prototypes in fairly battered condition.
In the end the rocket-firing mechanism failed the tests, and the rockets were firmly fixed into place before the figures were sold to the public.
It's thought that between 26 – 26 painted prototypes survived, and the current figure is remarkably preserved in AFA-graded 85+ NM+ condition, which suggests it avoided the most rigorous tests.
Due to its rarity and condition, the rocket-firing Boba Fett prototype figure will now hit the block at Hake's with a potentially record-shattering estimate of $200,000 – $500,000.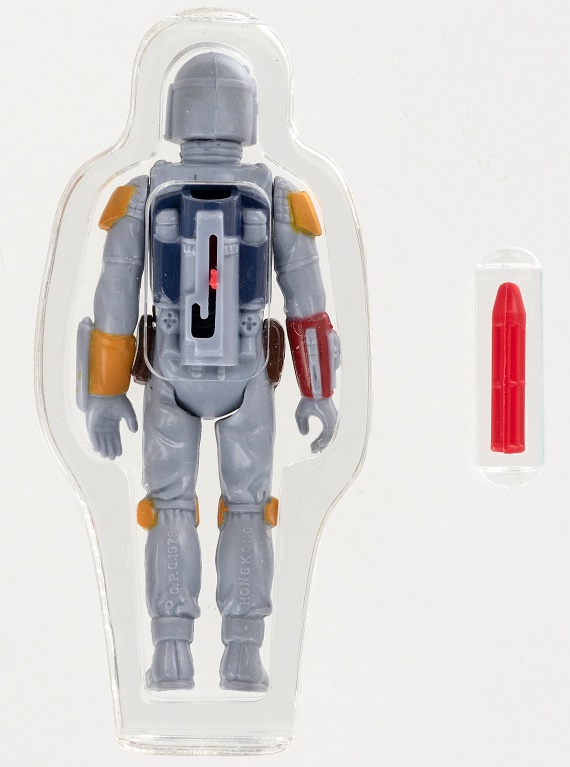 The online auction will also include a trio of original figures all wielding one of the rarest Star Wars accessories: the fabled 'double telescoping' lightsabre.
The first wave of Star Wars figures released in 1978 featured lightsabres that extended in two sections, but the production cost proved too high and Kenner soon changed the design of the lightsabre to a single piece of molded plastic.
Today those early originals are amongst the most highly prized by collectors, and high-grade examples in their original packaging can sell for tens of thousands of dollars.
Hake's will offer an AFA 70 EX+ grade Obi-Wan Kenobi figure and an AFA-graded 75+ EX+ grade Darth Vader figure, each estimated at $75,000 – $100,000; along with an AFA 80 NM grade Luke Skywalker figure valued at $10,000 – $20,000.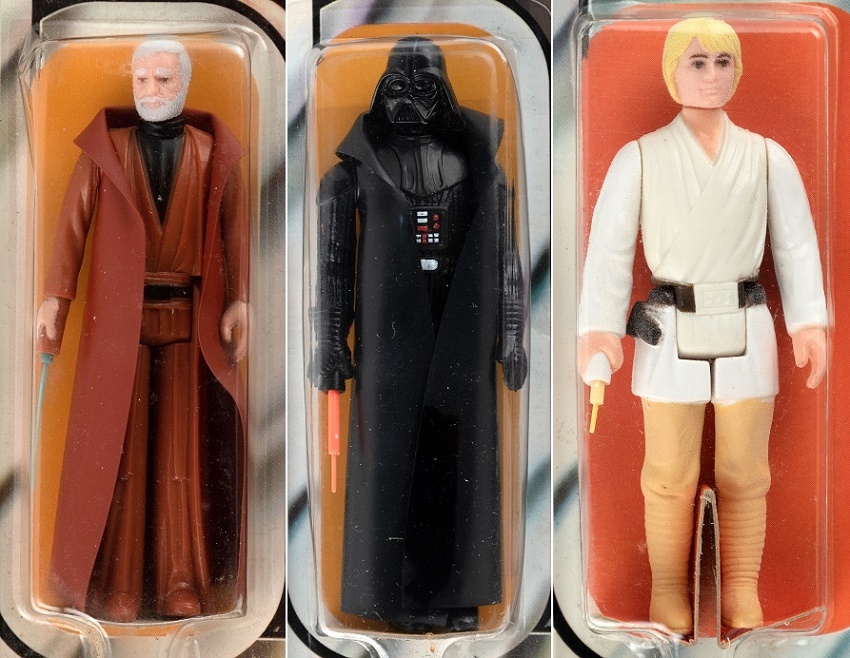 These pre-sale estimates are a clear illustration of how the market for rare vintage Star Wars figures has skyrocketed in recent years.
As the generation which grew up watching the films reaches middle age, a combination of childhood nostalgia and rarity has catapulted the toys into the realm of investment-grade collectibles.
Back in 2016 a French carded Boba Fett figure sold at Vectis Auctions in the U.K for £26,000 ($34,285), setting a then-world record for a Star Wars production figure.
Following a series of high-profile sales on both sides of the Atlantic, the current record for a production figure was set in 2018 by an Obi-Wan Kenobi figure which sold at Hake's for $76,000.
With the Obi-Wan Kenobi and Darth Vader figures now hitting the block valued at up to $100,000, the record could have potentially trebled in the space of just three years.
And the $500,000 top estimate of the Boba Fett prototype has elevated the figure into a league of its own, making it the 'Honus Wagner' of action figures.
Whether its reaches that price remains to be seen – but if it gets anywhere close, the world record price for an action figure will have been destroyed quicker than a fully-operational Death Star.