A masterpiece by the American artist Frank Frazetta could achieve a new world record when it goes up for sale at Heritage Auctions later this month.
Frazetta is one of the most renowned comic book and fantasy artists of all-time, and his 1969 work Egyptian Queen has been described as his "Mona Lisa".
The image helped him revolutionize the world of fantasy illustration, and was republished numerous times on the covers of comic books, paperback fantasy novels, album covers and best-selling posters.
Now Frazetta's original oil painting is heading for auction in Chicago on May 16-18, where it's expected to fetch a world record price of more than $5 million.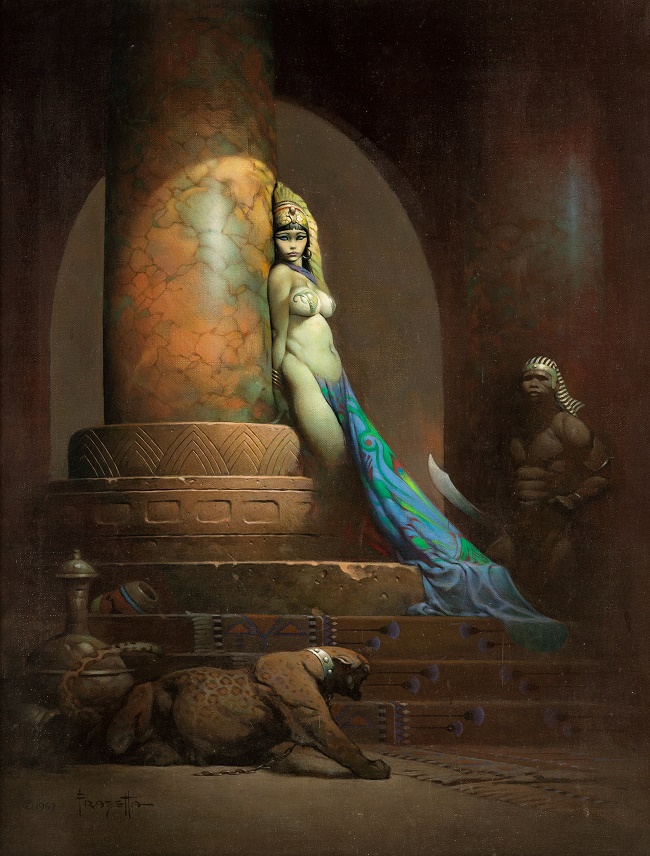 "Egyptian Queen is quite possibly the most popular painting Frank Frazetta ever did," said Todd Hignite, Heritage Auctions Vice President. "It is an iconic image, masterfully painted, and is without a doubt the most desirable work of art by the artist to ever be auctioned.
"The painting is extraordinary and can be the centerpiece of any collection, and having the unquestioned provenance of being in the artist's family ever since it was created makes this a truly once-in-a-lifetime opportunity for collectors."
Frazetta originally painted Egyptian Queen for the cover of Eerie magazine #23 in 1969, to illustrate the story 'Beyond Nefera's Tomb'. He later recalled creating the artwork in a 1995 interview with The Comics Journal:
"I'll never forget, the 'Egyptian Queen.' I got that whole painting done, in about a day and a half, and I looked at it. It was done as far as I was concerned. Then I looked at her face, and I didn't like it […] so I finally just settled for any face, and brought it in, and they printed it that way, and then I forgot about it.
"So, a couple of months later I get it back; now I was fresh again. And I just looked at it and 'Pow!' I whacked in the face you see in all the prints."
Frazetta's original oil painting remained in his private collection until his death in 2010, and will now be offered for sale by his family for the first time, 50 years after it was originally created.
The value of Frazetta's original artworks has risen significantly in recent years, with paintings now often fetching six or seven-figure sums and sparking bidding wars amongst collectors.
The current record price for a Frazetta work stands at $1.79 million, set at Heritage Auctions back in May 2018 by his 1990 painting 'Death Dealer 6'.
However, with demand for his paintings still soaring – combined by the iconic nature of Egyptian Queen – that record looks likely to more than double next week in Chicago.