A pocketwatch owned by Titanic Second Officer Charles Lightoller has sold at auction in the U.S for more than $170,000, setting a new world record for a Titanic timepiece.
The watch sold at Goldin Auctions for $173,500, beating the previous record of $154,000 set in 2008 by the watch belonging to ship's steward Edmund Stone.
Thanks to a miraculous escape, Lightoller was the highest-ranking member of the Titanic's crew to survive the sinking in April 1912, which claimed the lives of more than 1,500 passengers.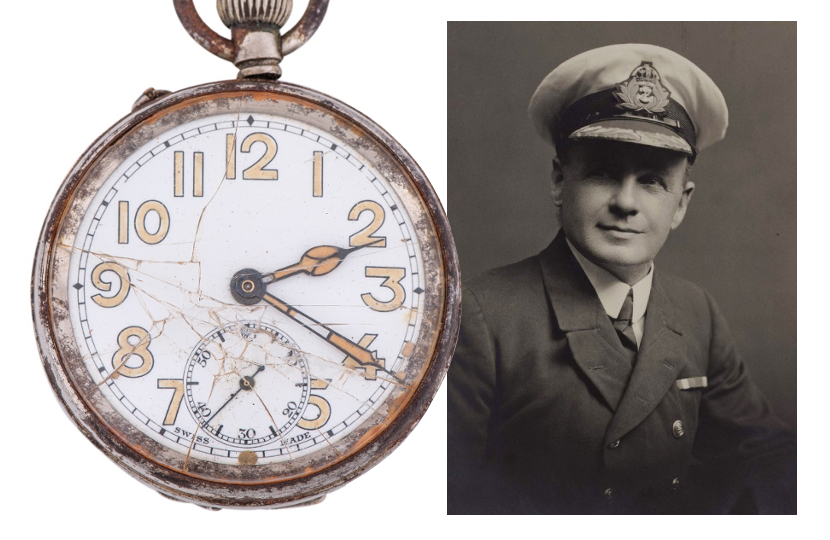 During the evacuation he remained in charge of the lifeboats, ensuring women and children were given priority
The hands of the cracked watch were frozen in time at 2:20am – believed to be the exact moment he entered the water.
As the ship sank Lightoller was sucked up against a grate and pulled beneath the icy waves – but a blast of heat from an exploding boiler below propelled him back up to the surface, and he was able to scramble aboard an upturned lifeboat.
Along with a group of survivors, he managed to keep the lifeboat afloat throughout the night until they were rescued, and he was the last survivor of the tragedy pulled from the ocean by the crew of the RMS Carpathia.
The Goldin Auctions sale also included a distinctive wooden deckchair originally used aboard the Titanic before the fateful evening of April 14.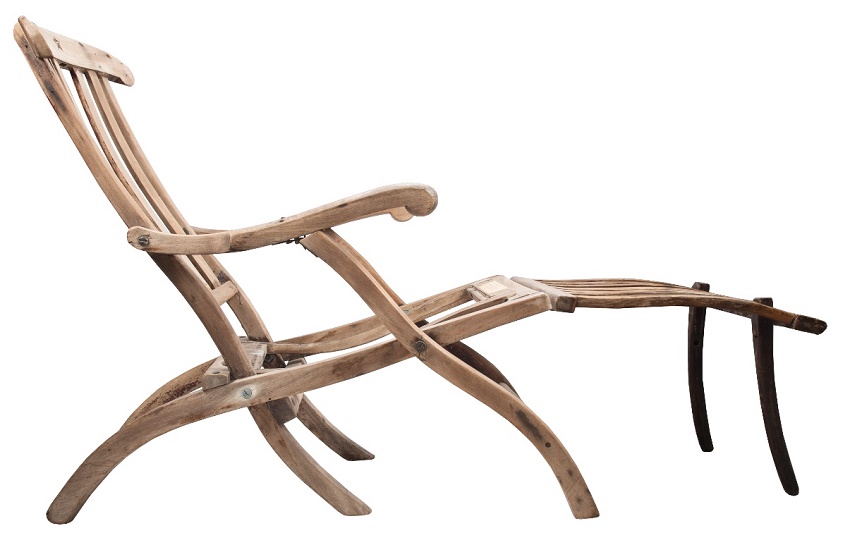 When the Titanic first set sail hundreds of the specially-designed deckchairs lined the ship's 10 decks, with the majority stamped with a star on the headrest to signify the ocean liner's parent company The White Star Line.
When the ship began to sink, and the lifeboats began to leave, many remaining passengers threw these wooden deckchairs and other buoyant items overboard with the hope of staying afloat on them.
The deckchair was amongst debris which eventually washed up more than 700 miles away in Nova Scotia, where it was discovered in Cooks Cove by Bessie Taylor.
Taylor kept the deckchair in a shed and it passed down through her family for more than 80 years before it was acquired by Walter Lord, author of A Night To Remember, considered by many to be the definitive account of the sinking of the Titanic.
It believed that less than 10 original Titanic deckchairs survive to this day, and examples have been previously known to sell for up to $150,000.
This example sold for $36,900, suggesting someone may have bought themselves a historic bargain.
Both historic pieces originated from the personal collection of Ken Schultz, a celebrated expert in ocean liner memorabilia who served as an advisor on the 1997 film Titanic and wrote numerous books on the subject.