A silver brandy flask which sank with the Titanic in 1912 has sold during an auction at Henry Aldridge & Son in the U.K for almost $100,000.
The flask was the top lot in the sale on April 27, achieving a price of £76,000 ($98,945).
It had originally belonged to First-Class passenger Helen Churchill Candee, a renowned American writer and women's rights activist, who escaped the sinking ship on one of its lifeboats.
Candee had been returning to New York aboard the Titanic's maiden voyage, following a successful book tour of Europe, when the ship struck the huge iceberg and began to sink.
Amidst the panic of the evacuation she had given the flask to fellow passenger Edward Kent, an architect whom she had befriended during her voyage.
As Kent helped Candee to the lifeboats she gave him the flask, along with a miniature portrait of her mother, claiming "You stand a better chance of living than I".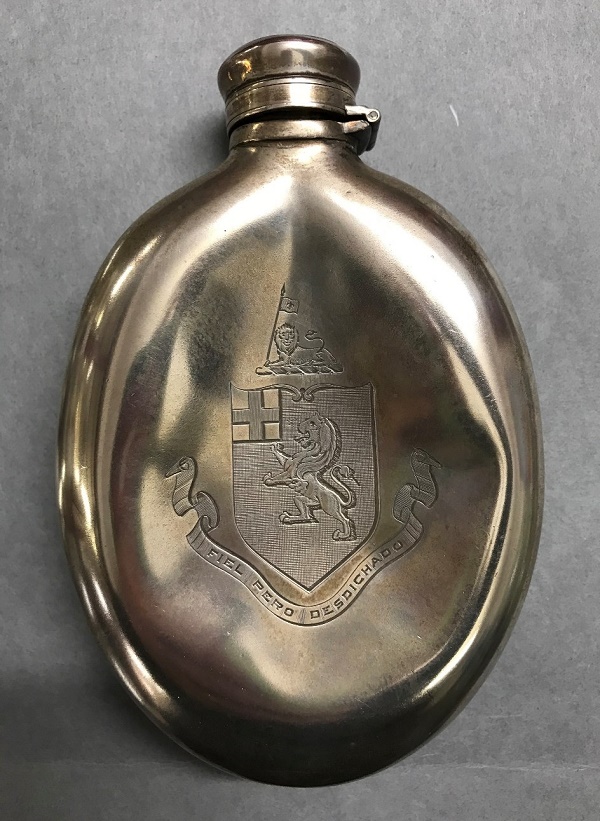 Sadly, Kent was amongst the 1,503 passengers and crew members who went down with the ship, and his body was later recovered from the frozen waters of the Atlantic by the C.S Mackay-Bennett.
His personal effects were removed from his pockets and sent to his family in New York, including the brandy flask which now featured a large dent – a chilling reminder of the violence and chaos he would have faced in his final moments on board the ship.
The silver flask was also inscribed with the Candee family motto "Fiel Pero Desdichado", which translates from Spanish as "Faithful but Unfortunate".
Kent's grieving sister Charlotte then sent the flask back to Candee, along with the miniature portrait and a letter which read "The flask is badly out of shape, the lovely miniature is not."
Both items remained in the possession of Candee's family until 2005, when the flask was sold through Henry Aldridge & Son for $44,000, followed by the miniature portrait which fetched $110,000 in 2006.
Last week's result was a clear illustration of the growth of the market for Titanic memorabilia, and marked an increase in value of 124% for the flask, which the auction house described as "one of the most powerful & emotive three-dimensional objects from the Titanic ever offered for auction".
Further notable sales in the auction included a cast brass lifeboat plaque believed to originate from Titanic lifeboat number 12.
The plaque had been purchased by an antique dealer in the 1960s from Third-Class survivor Margaret Devaney, and sold more than half a century on for £45,000 ($58,600).