Christie's is set to offer the world's rarest Chinese artwork during a highly anticipated auction in Hong Kong this November.
Dating from the 11th century, 'Wood and Rock' is the work of Su Shi – an artist and philosopher regarded by many as China's equivalent to Leonardo Da Vinci.
Today it's believed that there are fewer than five known artworks attributed to Su Shi in existence, making 'Wood and Rock' one of the rarest and most significant Chinese paintings in the world.
The artwork has remained unseen for decades, since it was reportedly acquired by a Japanese collector in the 1930s, with art scholars constantly listing it as "location unknown".
It will now appear on the open market for the first time in generations, and is expected to achieve a price of more than HK$450 million (US$51 million).
"It is something that I never expected to be able to see," says Chinese Paintings specialist Malcolm McNeill. "When I first set eyes on it, my initial reaction was one of shock. There was something overwhelming about it.
"The slow build of disbelief ultimately gave way to the realisation that I was looking at the visceral, tangible trace of someone at the core of the Chinese artistic tradition. It was an experience bordering on the sacred."
The ink-on-paper handscroll depicts a withered tree next to a rock, captured with almost 'Impressionistic' brush strokes that mark Su Shi's work out as far advnaced from other artists of the period.
The painting is accompanied by calligraphy by Mi Fu, a contemporary of Su Shi regarded as one of the most important calligraphers in Chinese history.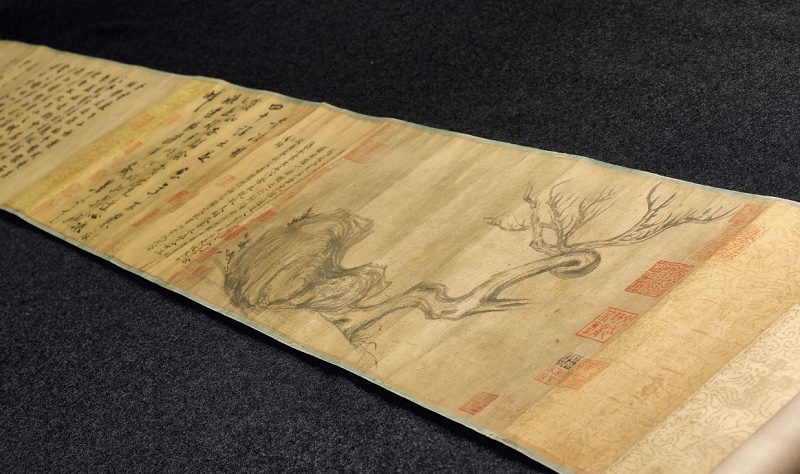 The rarity and important of the work, combined with its recent rediscovery, has led many to compare the sale with that of the 'Salvator Mundi' – the Leonardo DaVinci painting which sold at Christie's for a record US$450 million back in 2017.
"In terms of creative genius it's appropriate to draw analogies between the two," agrees McNeill. "Su Shi's name is synonymous with the maximum creative potential of the human condition — he is at the apex of creative possibility."
"He was so prolific in so many different fields that it is very tempting to think of him as a proto-Renaissance man," adds art critic Alastair Sooke, "even though he was born four centuries before Leonardo."
Su Shi (1037-1101) was a poet, politician and painter regarded as one of the leading scholars of the Song Dynasty, with a promising political career ahead of him.
He served as a government official until 1079, when he was arrested and imprisoned for writing poems satirising the reformist government.
"When he came out in 1080 he was a different man," says Christie's Chinese Paintings specialist Sophia Zhou. "He was more introspective and started to shy away from politics, and began instead to contemplate on life and philosophy."
He spent much of the rest of his life exiled from Beijing to remote provinces across China, where he lived in harsh conditions and relative poverty.
However, it was during these hard times that his creativity truly flourished and for the past 1,000 years his poems, landscapes and calligraphy have inspired countless generations of Chinese artists and writers.
With such few examples of his work known to have survived the past 1,000 years, Su Shi's 'Wood and Rock' is sure to attract bids from the world's wealthiest Chinese art collectors.
Some even expect it to surpass the US$64 million paid in 2010 for Di Zhu Ming, a Chinese calligraphy scroll by Su Shi's student Huang Tingjian, which remains an auction record for a Chinese Painting.
Jonathan Stone, Co-Chairman of Asian Art at Christie's in Hong Kong, describes the artwork as "the pure distillation of so much of Chinese culture [which] inspires a profound sense of awe among all those who come in contact with it".
"Being able to offer at auction a work of such historic and cultural significance as 'Wood and Rock' is the kind of moment that we live for at Christie's."