A remarkable letter by Mark Twain offering writing advice to a young author will be offered for sale at Bonhams in New York later this month.
The five-page letter is regarded as one of the finest ever written by an American author on the subject of their craft, and is expected to sell for $30,000 – $50,000 in the sale on September 25.
"The substance and sustained focus of the present letter is without equal in the auction records of the last 40 years," said Bonhams.
"It remains one of the most exciting and important Twain letters, as well as one of the most profound articulations of the writer's art, ever offered at auction."
Twain (real name Samuel Langhorne Clemens) wrote the letter October 21, 1881 after receiving a manuscript from the 21-year-old Canadian writer Bruce Weston Munro.
His reply pulls no punches and he offers some frank advice to the budding young author, based on his own personal experiences as a writer learning his trade.
"Experience of life (not of books) is the only capital usable in such a book as you have attempted … I don't see how any but a colossal genius can write a readable prose book before he is 30 years old.
"Moderate talent can produce a readable book at 30 or 40, after a good, honest, diligent pains-taking apprenticeship of 15 or 20 years with the pen … You will have to produce and burn as much manuscript as the rest of us have done before your mill will yield something that is really worth printing.
"Ours is a trade which has to be learned—there is no getting around that requirement…."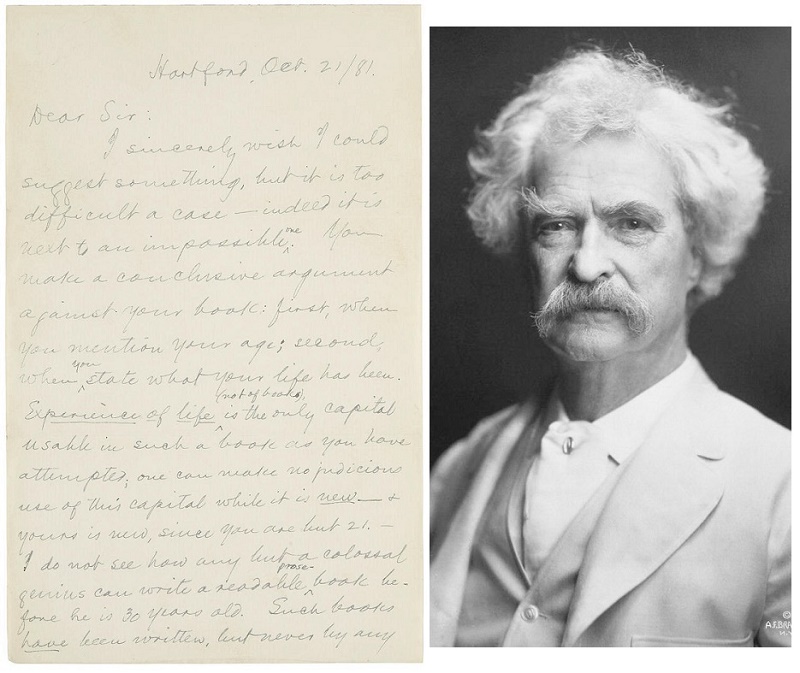 Twain was 30 when his first short story "The Celebrated Jumping Frog of Calaveras County" was published to great acclaim in 1865.
Prior to that he had travelled extensively across the U.S, working as a silver miner, steamboat pilot and a newspaper journalist.
By the time he received Munro's letter in 1881 he was one of the country's most famous writers, having published travel books including 'The Innocents Abroad or The New Pilgrims' Progress' and 'Roughing It', along with his acclaimed 1876 novel 'The Adventures of Tom Sawyer'.
However, it would take Twain another three years before the publication of his follow-up 'The Adventures of Huckleberry Finn', regarded as the first 'Great American Novel' and one of the most important works in modern literary history.
It was during his lengthy struggle to finish the book that he took time to reply to Munro – a break which he specifically mentions in the letter:
"I would not wound you for the world. But if I have nevertheless done it you have your revenge, since I have sacrificed my day to you: for he that desires to do the best work he can, doth not put a part of his day's steam into a letter, first & then work with a three-quarter head of it on a book afterward, you know."
"But no matter — the day is of no consequence, & I had a strong desire to say some things to you which I honestly believed might be of value & service to you."
According to research, Munro did go on to pursue his writing career, although sadly without much success.
Ignoring Twain's advice, he self-published several of his own books whilst still in his twenties. These included his first novel 'A Blundering Boy: A Humorous Story', and two collections of writing 'Splinters; Or, a Grist of Giggles' and 'Groans and Grins of One Who Survived in 1889'.
Munro may not have enjoyed any acclaim throughout his lifetime – but thanks to this important letter, his name will at least remain forever bound to one of the giant of American literature.