A newly-discovered painting by the celebrated British artist L.S Lowry could sell for up to £1 million when it goes up for sale at Christie's this month.
The 1943 painting, entitled 'The Mill, Pendlebury', had been owned by the same collector for over 70 years and was unknown to even to dedicated Lowry scholars.
The work will now hit the auction block for the first time in its history in London on January 24, with an estimate of £700,000 – £1 million.
"This is a remarkable discovery," said Nick Orchard, Head of Modern British & Irish Art at Christie's in London. "Very few people knew it existed."
The painting is a classic example of Lowry's work, and features a crowd of his stylized figures in front of The Acme Spinning Company Mill in Pendlebury, a region on the outskirts of Manchester.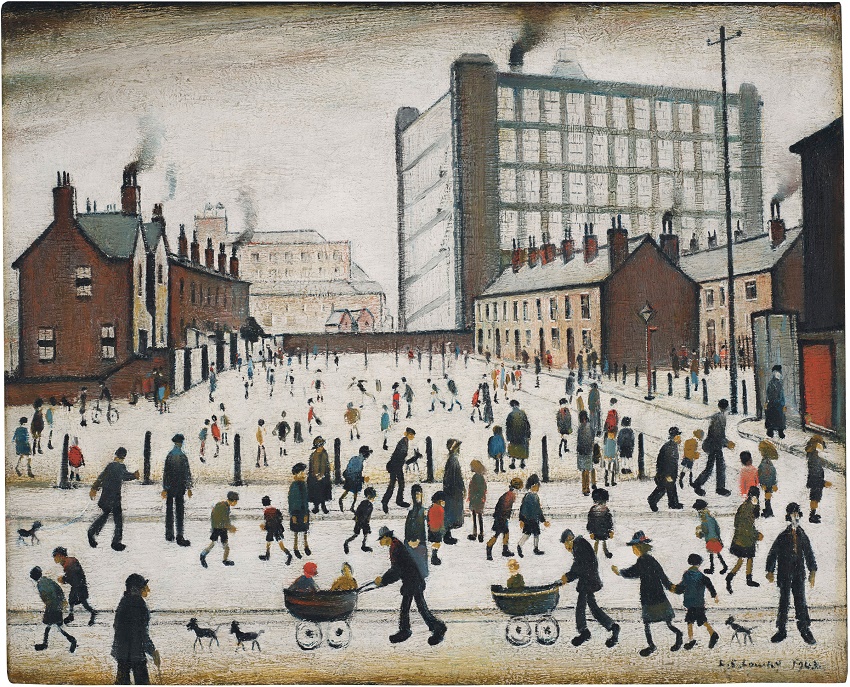 But whereas most of Lowry's factory paintings depict a sea of faceless people arriving or leaving work, 'The Mill, Pendlebury' depicts them on a rare day off.
The tone of the scene is altogether more cheerful, as parents push prams, children play cricket and women in their Sunday hats stop to chat to each other.
"This painting ticks all the boxes where Lowry is concerned," said Orchard. "It's a classic, industrial landscape from a peak period in the artist's career, the 1940s.
"Unusually for Lowry, this is quite a happy painting. The atmosphere is relaxed, and people are interacting with each other rather than streaming en masse into work."
The painting was purchased directly from Lowry himself by Dr Leonard D. Hamilton, then a medical student at Oxford, who had lived close to the mill in Salford as a child.
In 1949 Hamilton moved to the U.S and took Lowry's painting with him as a reminder of home, as he began his career at the Sloan Kettering Institute in New York.
Hamilton became one of the world's leading experts in DNA extraction and worked closely with Maurice Wilkins of King's College London. Using Hamilton's samples, Wilkins then worked in collaboration with James Watson and Francis Crick to discover the double-helix structure of DNA in 1953.
The trio were awarded the Nobel Prize for their efforts, and Wilkins later acknowledged the significant contribution of Hamilton, who he simply called "good old Leonard".
Hamilton remained a passionate art collector for his entire life, and passed away in 2019 at the age of 98, leaving artworks by Whistler, Matisse and Picasso amongst others.
And now his beloved Lowry painting, which remained his own personal secret for decades, will now head home to the U.K where scholars and collector alike await its return with excitement.