A gigantic T-rex skeleton named STAN has set a new world auction record, after it sold for more than $30 million at Christie's.
The 67 million year-old dinosaur sold on Tuesday evening (October 6) for $31,847,500, soaring far beyond its pre-sale estimate of $6 – $8 million.
Unusually, the skeleton was offered by Christie's as part of a modern art sale, rather than an auction of natural history specimens.
Prior to the auction, Christie's Head of Natural History James Hyslop commented "T. rex is a brand name in a way that no other dinosaur is. It sits very naturally against a Picasso, a Jeff Koons or an Andy Warhol."
The gamble paid off, and STAN achieved the third-highest price of the entire auction, outselling works by the likes of Pablo Picasso and Paul Cézanne.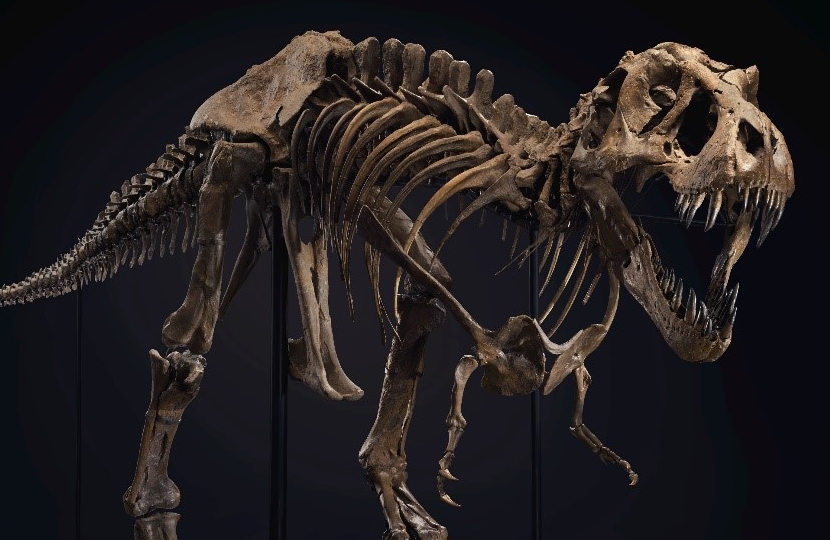 STAN was originally found back in 1987 by amateur paleontologist Stan Sacrison, in the fossil-rich Hell Creek Formation which spans North and South Dakota, Wyoming and Montana.
Standing 13 feet high and 40 feet long, the specimen includes 188 bones and is one of the largest and most complete T-rex skeletons ever discovered.
With casts taken from STAN's skeleton on display in dozens of museums, he is by far the world's most viewed dinosaur fossil. And following the Christie's auction, he is by far the most valuable as well.
The previous record had stood since 1997, when another T-rex skeleton nicknamed Sue sold at auction for $8.4 million.
It's unknown whether STAN's new owner is a private collector or a major museum – and the idea that the skeleton may disappear from public view will surely cause controversy in the scientific community.
But for Christie's, the sale further expands the idea of what a major art auction can be.
"Innovating and breaking with tradition is our new normal," said Alex Rotter, Chairman of 20th and 21st Century Art, following the sale.