One of the largest T-rex skeletons ever discovered is expected to sell for up to $8 million when it goes up for auction at Christie's next month.

Nicknamed STAN, the 67 million year-old dinosaur will be offered for sale as part of Christie's Evening Sale of 20th Century Art in New York on October 6.

"We are honoured to be bringing STAN to auction and to have been entrusted with the stewardship of such and iconic and important T. rex," said James Hyslop, Head of Christie's Natural History department.

"I'll never forget the moment I came face to face with him for the first time, after his remount in Colorado – he looked even larger and more ferocious than I'd imagined, a specimen that only further establishes the T. rex's position as the King of Dinosaurs."

STAN was originally uncovered in the Hell Creek Formation – a huge, fossil-rich geological area spanning large areas of North and South Dakota, Wyoming and Montana.

The specimen is named after amateur paleontologist Stan Sacrison, who made the remarkable discovery in 1987.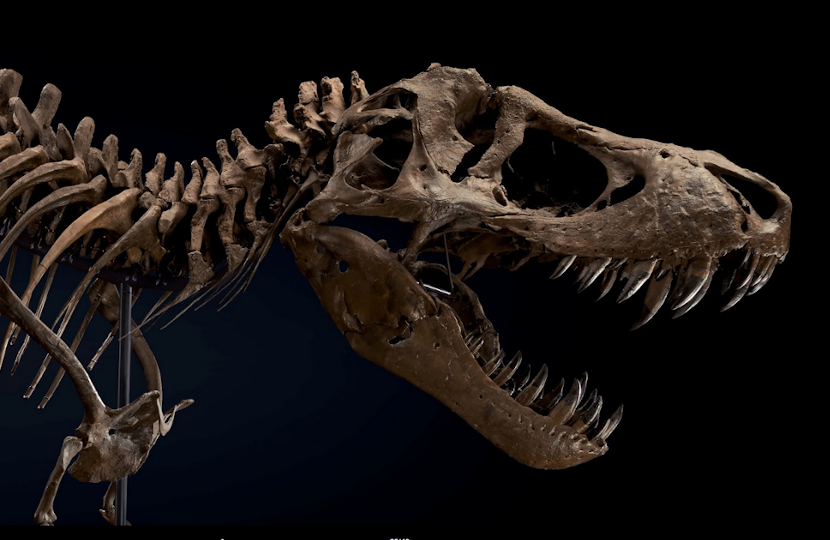 It took 30,000 hours of labour to excavate the skeleton which includes 188 bones, making it one of the world's most complete specimens.

STAN's skeleton stands 13 feet high and 40 feet long with the tail outstretched. Evidence shows that he suffered (and survived) a broken neck during his lifetime, and bite marks on his ribs point to a possible attack from another T-rex.

Casts of STAN's skeleton have been produced for dozens of for museums and institutions across the globe, making him the most viewed and widely exhibited dinosaur of all time.

Only a handful of T-rex skeletons have ever been offered for auction, and the sale is sure to cause controversy due to the scientific importance of the specimen.

The Christie's auction is also unusual as it places the skeleton in the context of a major art sale, rather than a dedicated natural history sale.

"T. rex is a brand name in a way that no other dinosaur is,' said Hyslop. "It sits very naturally against a Picasso, a Jeff Koons or an Andy Warhol.

"It is such an iconic piece of the 20th century, and fits so well in the context we are offering it. Archetype, movie star, pop-culture celebrity, it is fitting that STAN will make his auction debut alongside masterpieces of modern and contemporary art."