A rare copy of the first ever Spider-Man comic book, Amazing Fantasy #15, could sell for over half a million dollars when it goes up for auction next month.
The copy of the 1962 comic is one of the world's finest-known examples, and will lead Heritage Auctions' Rare Comics and Comic Art sale in Dallas on March 5 – 8.
The book on offer is graded CGC near-mint 9.4, and is one of only six known copies to have achieved the grade.
Amazing Fantasy #15 was published in August 1962, and introduced the world to Spider-Man, aka Peter Parker: a teenage superhero who struggled with the same problems as comic book fans, such as self-doubt, money problems and romantic relationships.
Featuring a story by Stan Lee, artwork by Steve Ditko and a cover by Jack Kirby, the book combines the talents of three of the comic book world's most legendary figures.
Spider-Man was an instant hit, and six decades on he remains one of the most iconic comic book superheroes ever created.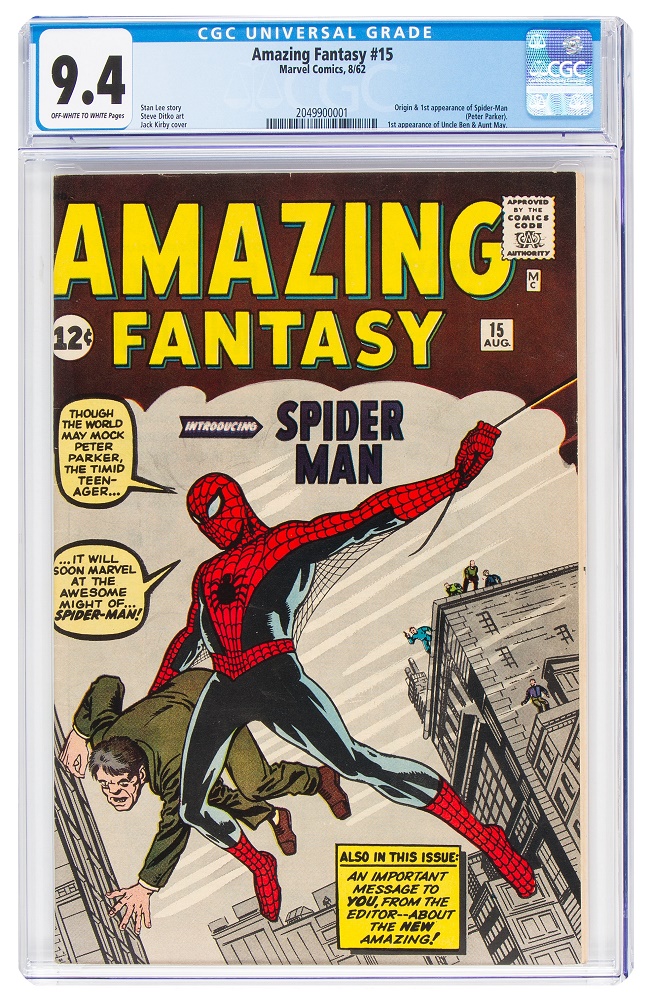 Until recently, Amazing Fantasy #15 was also the most valuable Marvel comic book ever sold.
A near-mint copy graded CGC 9.6 – one of only four in existence, with none higher – was sold by New York dealers ComicConnect in March 2011 for $1.1 million, and the record stood firm for eight years.
But in December 2019 a CGC 9.4 copy of Marvel Comics #1, the book that started it all back in 1939, sold at Heritage Auctions for $1.26 million to claim the record.
Amazing Fantasy #15 still remains the only book from the 'Silver Age' of comics (1956 – 1970) to sell for over $1 million, with the other seven-figure sales achieved by earlier 'Golden Age' titles featuring the 1930s debuts of Superman and Batman.
But in recent years more modern comic book heroes such as Iron Man, the X-Men and the Incredible Hulk have soared in popularity (and value) with collectors, fuelled in part by the box-office dominance of the Marvel Cinematic Universe.
Scarcity is also a major issue, with only a handful of near-mint copies of Silver Age key titles available to ultra-competitive collectors.
When issues with lofty grades of 9.2 and above hit the open market, they can often spark a bidding war before disappearing for years into a major private collection.
The most recent Overstreet price guide valued copies of Amazing Fantasy #15 graded 9.2 at $405,000, but in 2019 a CGC 9.2 copy sold through ComicConnect for $598,000, surpassing even the highest price ever paid for a 9.4 copy.
With this in mind, the CGC 9.4 book for sale at Heritage, which the auction house suggests "rivals the finest we've ever seen", could be expected to achieve an even higher price, and set a new record for the grade along the way.