A copy of the first-ever Spider-Man comic has sold for $3.6 million, setting a new record as the world's most valuable comic book.
The rare copy of Amazing Fantasy #15, published in 1962, marked the debut of Marvel's iconic webslinger.
And on September 9 it shattered the previous world record price during a sale at Heritage Auctions in Dallas.
The book was graded CGC Near Mint+ 9.6, making it amongst the finest-known copies in existence.
Only three other copies of the key Silver Age title have ever been graded at a 9.6, with none higher.
All had been locked away in private collections for years, with collectors speculating if and when they would ever appear on the market again.
"Heritage has been auctioning comic books for 20 years, and in seemingly every one of those 20 someone has reached out to us asking if we knew the whereabouts of one of the 9.6 copies of this book," said the auction house.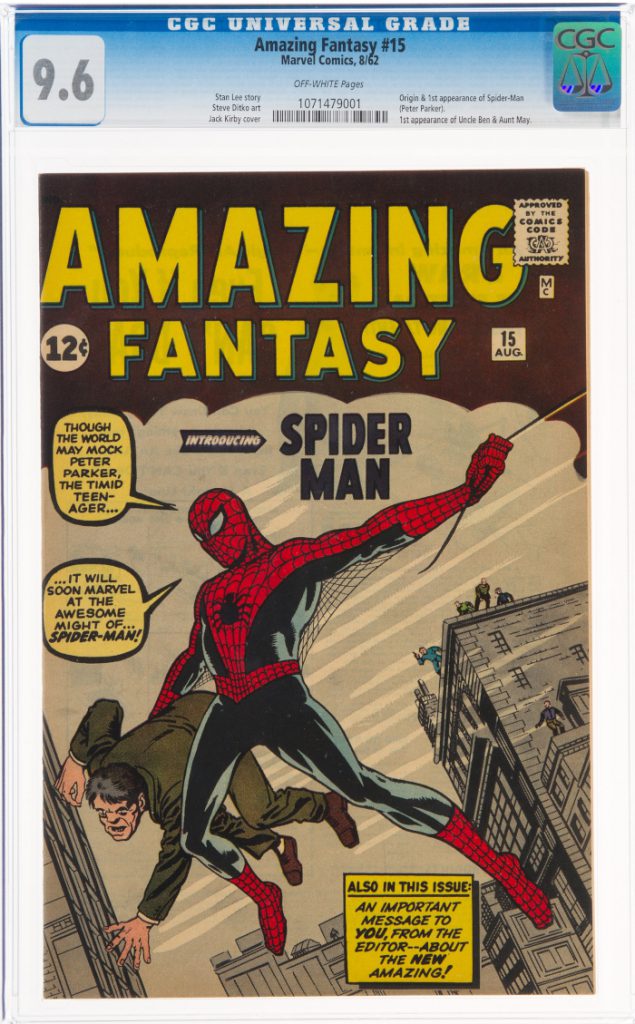 The last time one of the 9.6 copies surfaced was back in 2011, when it sold privately for $1.1 million.
The recent sale means the value of a copy in that grade has more than trebled in the space of a decade.
Prior to the sale on September 9, the world's most valuable comic book was Action Comics #1, published in 1938, which featured the first appearance of Superman.
It was the first comic book in history to break the $1 million mark, and in April this year a copy sold privately for a stunning $3.25 million.
Following that sale, ComicConnect's Vincent Zurzolo, who brokered the deal, said "The vintage comic market has never been stronger, and this sale showcases how hot it really is."
And the recent result turned up the temperature even further.
It also marks the first time a Silver Age comic book (one published between 1956 and 1970) has hit the top spot.
Until now, the most valuable books were earlier titles from the Golden Age (1938 – 1956) when superheroes first captured the public's imagination.
"What better book to break the record than the debut of Marvel's most beloved character, Spider-Man? said Heritage Auctions Vice President Lon Allen.
"Amazing Fantasy #15 is the Action Comics #1 or Detective Comics #27 of the next generation. I'm honored to have been a part of the most important comic book sale to date.
"In my 20 years at Heritage, to bring the most expensive book to market has been the pinnacle of my career."