A rare copy of Marvel Comics #1 could be the next comic book to break the $1 million mark, as it heads for sale at Heritage Auctions next month.
First published in August 1939, the book marked the birth of the Marvel brand which spawned dozens of iconic characters, and eventually grew into today's multi-billion dollar media empire.
It also featured the first appearance of classic characters such as the Human Torch and Namor the Sub-Mariner, making it one of the most important 'key' issues for Golden Age comic book collectors.
The copy is graded CGC NM 9.4 with off-white pages, making it the finest certified example in existence, with only two other copies graded as high as 9.0 in the official census.
Simply put, it's the best available copy of one of the most important comic books ever published – and that combination usually spells big business at auction.
Although Heritage Auctions hasn't placed an estimate on the book, the most recent Overstreet Price Guide listed the value of a 9.2 grade copy at $720,000.
Given that, in some cases, a simple grade increase from 9.2 to 9.4 has been known to almost double the value of a key Golden Age book, it's likely that bidding on this copy of Marvel Comics #1 will push it towards seven figures.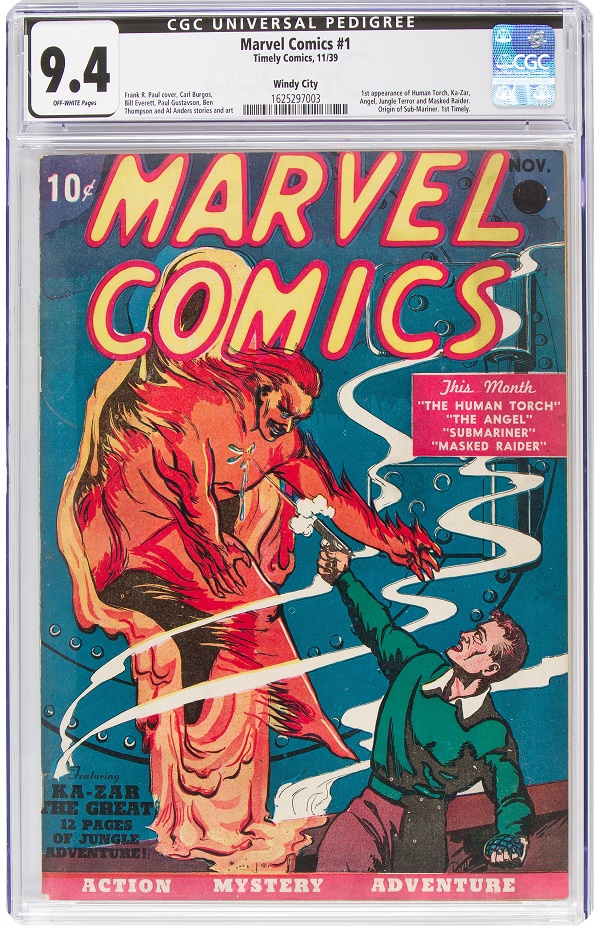 If so, it would become only the fourth comic book title in history to sell for over $1 million at auction.
Leading the pack is Action Comics #1 featuring the 1938 debut of Superman, which has seen four copies sell for over $1 million; most notably in 2014 when a CGC 9.0 copy sold on eBay for $3.2 million, setting a world record price for any comic book.
A copy of Amazing Fantasy #15, marking the first appearance of Spider-Man in 1962, sold in 2011 for $1.1 million, and a copy of Batman's 1939 debut in Detective Comics #27, sold in 2010 for $1.07 million.
Earlier this year a high-grade copy of Captain America #1, featuring the famous cover of Cap punching Adolf Hitler, came close to joining that list when it sold at Heritage for a record $915,000 (soaring above its pre-sale estimate of $750,000).
Not only is the book offered at Heritage the highest-certified copy, but it originates from the Windy City Pedigree: a collection of rare and important comic books renowned by high-end collectors.
The collection was originally assembled by a mailman in Uniontown, Pennsylvania, who spent 30 years acquiring the first issue of every new magazine and comic book from a newsstand on his route.
Years later in the mid-1970s, the son of the newsstand owner realized the collection could be valuable and attempted to contact the mailman, only to discover he had passed away.
However, his sister had retained his entire collection and sold them to the son, who in turn took them to be valued by Chicago dealer Gary Colabuono in September 1978.
According to legend it was Colabuono's first day of business in his new store, and he was immediately presented a comic book dealer's 'holy grail': a box containing copies of almost every significant Golden Age key comic book in remarkable condition.
It took years for the final deal to be struck between the three parties, but Colabuono finally purchased the collection in 1986 and introduced it to collectors at the Chicago Comic Convention that same year.
More than 30 years on, the Windy City Pedigree remains a stamp of quality for collectors, with few other collections matching its books for condition.
As the Marvel universe of characters continues to dominate the worlds of comic books, movies and television, collectors will continue to seek out their earliest origins.
And they don't come any earlier than the book that started it all back in 1939.