A copy of Amazing Fantasy #15, the first-ever Spider-Man comic book, has sold for almost $800,000 at Heritage Auctions in Dallas this week.
The rare book climbed to a final price of $795,000 – a record for a copy graded CGC 9.4, of which there are only six known examples.
The sale marked a significant leap up from the previous record of $454,000, and illustrates the ever-increasing value of the most important Silver Age comic book.
When Spider-Man was first introduced back in August 1962, he caused a sensation amongst comic book fans and helped establish the success upon which the Marvel media empire was built.
Here was a superhero dealing with the same issues as his readers, such as problems at school, money worries and troublesome teenage romance.
Almost 60 years on he remains one of the most iconic comic book characters ever created, and copies of his debut are amongst the most highly-prized in the entire hobby.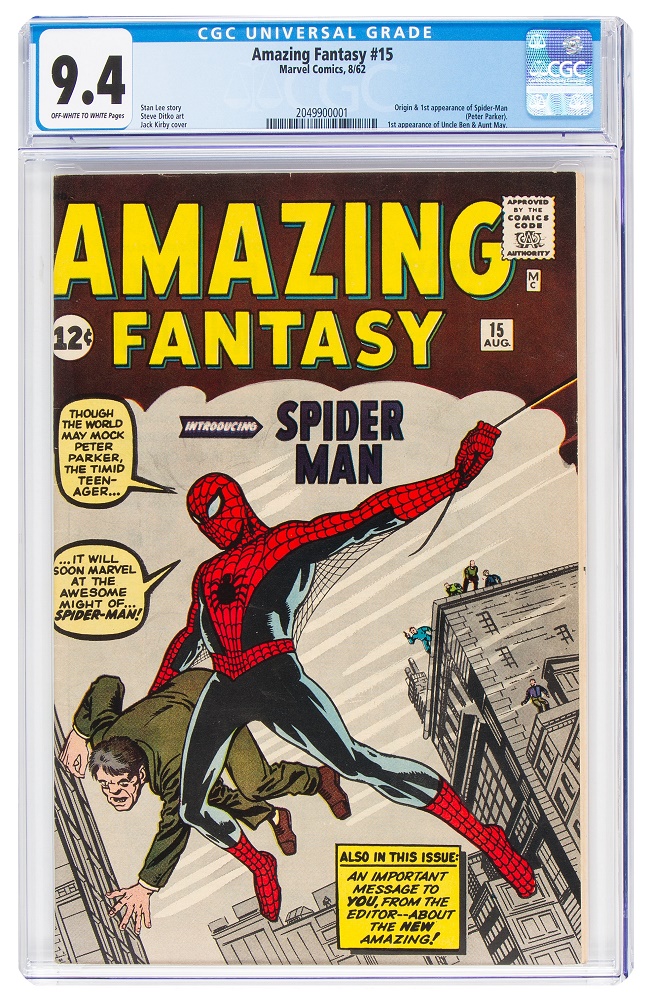 The highest price for Amazing Fantasy #15 was set back in 2011, when a near-mint copy graded CGC 9.6 was sold by New York dealers ComicConnect for $1.1 million.
There are just four unrestored copies of the book in that grade known to exist, and none have appeared on the market for almost a decade since that record-breaking sale.
With those 9.6 copies out of reach, locked away in long-term private collections, prices for copies graded 9.2 and 9.4 have shot up over the past couple of years.
In 2019 a CGC 9.2 copy sold through ComicConnect for $598,000, way beyond its Overstreet guide price of $405,000, and this week's sale at Heritage marked a similar leap up for copies graded 9.4.
The auction also featured some rare, original 1960s Spiderman cover art by John Romita Sr., one of Marvel Comics' most celebrated artists who helped swing the character into the mainstream.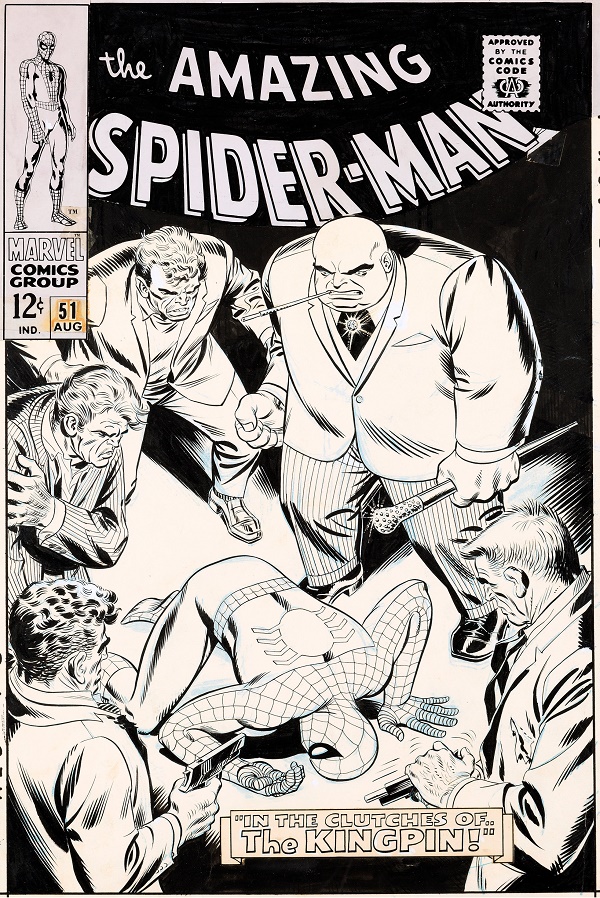 Romita Sr. took over from original artist Steve Ditko in 1966 and redefined Spider-Man as a more traditional muscular superhero, with a complicated love life and a backdrop of topical social issues.
He also created iconic Marvel villains such as Kingpin, who made his first cover appearance in 1967 in Amazing Spider-Man #51.
Romita Sr.'s original artwork for that cover was described by Heritage as "one of the finest Amazing Spider-Man covers we have ever had!", and soared to a final price of $312,000.
Another Romita Sr. cover from 1969, featuring the appearance of the Shocker in Amazing Spider-Man #72, sold for $84,000.
Further key titles to hit the block in Dallas included a 1939 copy of Superman #1 graded CGC VG-3.5, which sold for $288,000; a copy of Captain America #1 from 1941 graded CGC FN/VF 7.0 which sold for $186,000; and a 1940 copy of Batman #1 graded CGC VG 4.0, which sold for $117,000.