A black, signed, left-handed Fender Stratocaster played – and then smashed – by Nirvana singer Kurt Cobain is listed with a $60,000 – $80,000 estimate in Julien's Auctions current music sale.
The instrument was played on tour during the band's peak, after the release of the Nevermind album. It has been signed by Cobain and band mates Krist Novoselic and Dave Grohl, and by the late Mark Lanegan, then of Screaming Trees, to whom Cobain gave the guitar.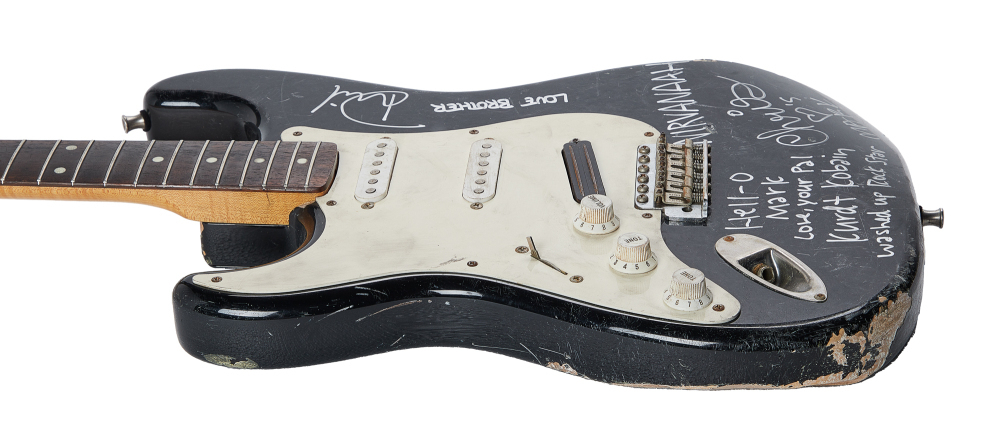 Kurt Cobain's black, Japanese Stratocaster with messages from the singer and his Nirvana bandmates.
The black Japanese-made Stratocaster with a white scratch-plate has been set up in Cobain's favoured live configuration. It comes with a strap and a hard case (decorated with the legend, "Abort Christ") and appears to have been extensively played. A letter of authenticity from the seller, Tony Palmer, adds to its provenance.
The estimate for this guitar, with its unique and interesting decorations (Lanegan and Cobain were close friends and collaberators), could be low.
Cobain's guitars are extremely desirable. The pickup-fitted Martin D-18E acoustic played on MTV's Nirvana Unplugged is the world's most valuable guitar, raising $6,010,000 in 2020. The Fender Mustang he played in the Smells Like Teen Spirit video made $4,550,000 in New York in 2022, comprehensively beating an estimate of under $1million.
Cobain's predilection for destroying his instruments needn't reduce their value. A 1973 Fender Mustang he played only twice before smashing it on Nirvana's 1989 Bleach tour raised $486,400 in a 2022 Julien's sale.
There is much to interest modern rock buyers in this sale. Among the top-valued items are guitars from Bono, Lenny Kravitz and Ronnie Lane. A Keith Moon drum kit and Keith Emerson Moog synth are also listed.
The top valued item is another guitar. A nondescript 1960s acoustic owned by Top of the Pops debut producer Johnnie Stewart and signed by many of the shows guests, including the Beatles and the Rolling Stone. Its estimate goes up to $200,000.
Julien's Auctions Music Icons sale runs from May 19th to 20th, and is open for bids now.