Watches made for the Sultan of Oman that are among the rarest ever created were star lots in a May 13th sale by Christie's in Geneva.
His Majesty Sultan Qaboos Bin Said Al Said (1940-2020) created one of the world's best collections of time pieces while ruling Oman for 50 years.
He also gifted several hundred watches, the first to SAS troops who helped install him in power in a British-engineered coup.
Some of these feature the Khanjar dagger that was his emblem, others have the Sultan's signature.
Such was the Sultan's generosity – he ordered several hundred special models to give away – that Sultanate of Oman watches are considered a category of Rolex in their own right.
A Jack of Diamonds gold Cosmograph went into the sale with a top end estimate of $1,558,099. It realised $1,262,060.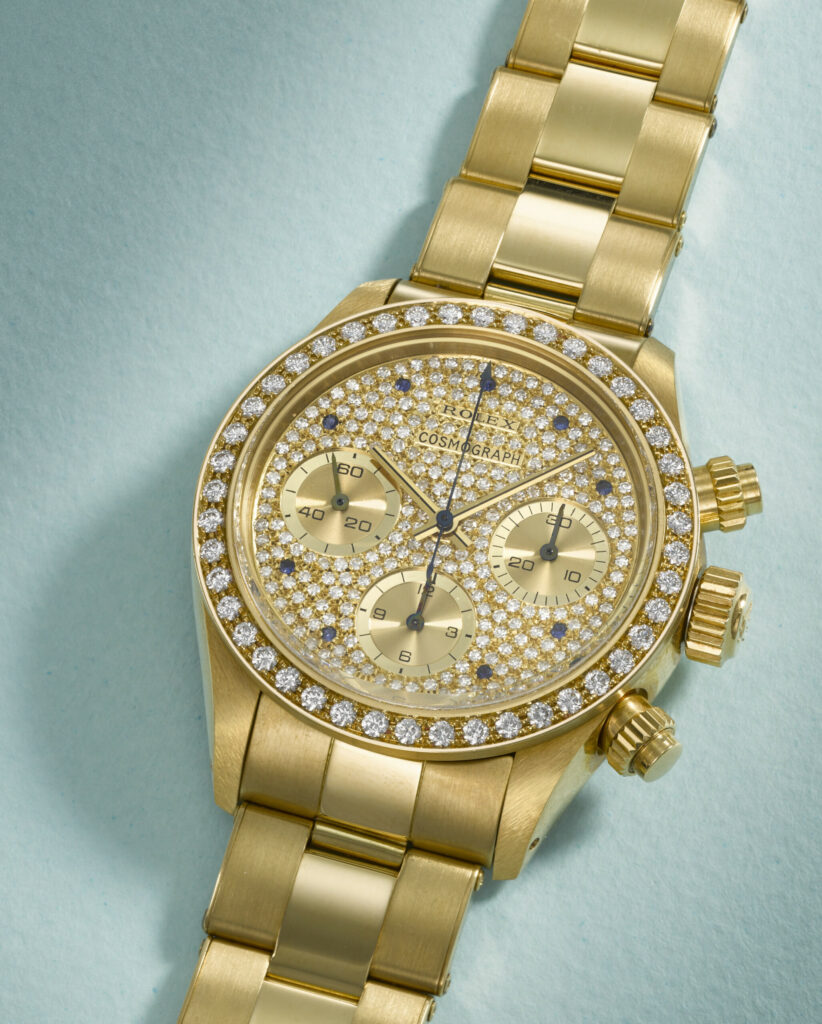 The Rolex Daytona 'Jack of Diamonds' made in 1985
The Sultan's watches were offered at Christie's in a 159-lot sale, alongside Patek Philippes, F.P. Journes, Cartiers and more.
The Sultan's models included 3 Daytonas, (Refs 6263, 6265, and 6269), a model closely associated with Paul Newman.
There was also a Sea-Dweller, the 1967 model that can survive underwater to depths of 4,000 feet. The Sultan's education at Sandhurst is thought to have introduced him to these watches, associated with the British military.
These time pieces, made in the 1970s, are extensively personalised. Each watch face is unique – some have standard Rolex rubrick removed – and all are in close to perfect condition.
The 1973 Sea-Dweller ref 1665 is described as "museum worthy" and the finest of its type ever sold. It realised $280,457 against an estimate of between $222,585 and $333,878.
The 1974 Daytona is one of only 4 of its type and has a signature from Asprey, the London jeweller who supplied all of these watches, as well as the Sultan's mark. It realised $925,510 against a top estimate of $1,335,513.
Lot 30 was another Daytona, Ref. 6265, made around 1978, in 18k gold. It came with two matching pens by Caran d'Ache.
A Rolex Cosmograph, estimated at $278,232 to $500,817, was originally sold via Asprey, Geneva, a store specifically set up to service Middle Eastern clients thriving as a result of the 1970s oil crisis. It realised $771,259.
It's likely that the buyers of these extraordinary watches will never wear them.
The investment market in luxury watches is booming. Boston Consulting Group surveyed the market for the three biggest brands, Rolex, Patek Philippe and Audemars Piguet. It rose by 20% annually in the 52 months to January 2023, comprehensively beating returns on stocks.
Around 1/3 of the $75 billion spent on luxury watches is on pre-owned models, most likely bought by investors.