The cardigan worn by Kurt Cobain during Nirvana's legendary performance on MTV Unplugged is up for sale at Julien's Auctions.
The iconic green cardigan will be one of the star lots of the Julien's Auctions Icons and Idols: Rock and Roll sale, which takes place in New York on October 25-26.
The cardigan comes with an estimate of $200,000 – $300,000, a price which would set a new auction record for any piece of Kurt Cobain or Nirvana memorabilia.
Nirvana appeared on the MTV Unplugged show in November 1993, and played an acoustic set consisting of obscure songs and carefully chosen cover versions, which contrasted with the usual 'greatest hits' sets most bands chose to perform.
The performance was later released as the live album MTV Unplugged in New York, and became Nirvana's second-biggest selling album after Nevermind with more than 25 million copies sold to date.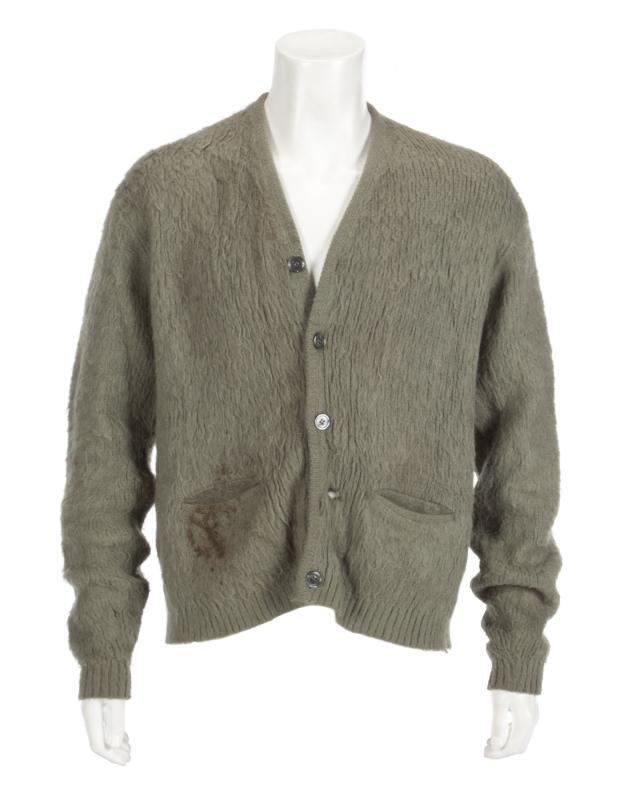 Cobain wore the green vintage woollen cardigan throughout the show, which was recorded just three months before his death in February 1994.
His frail yet intense performance, which came as he was suffering drug withdrawal during his battle with heroin addiction, became one of the defining moments of the band's career.
Now regarded as one of the most iconic pieces of Nirvana memorabilia to ever appear on the market, the cardigan first hit the auction block at Julien's back in 2015.
Initially estimated to sell for $40,000-$60,000, the cardigan reached a final price of $137,500 – setting a new auction record for a piece of Nirvana memorabilia.
Now four years on, the auction house believes the cardigan could have more than doubled in value, as Cobain's musical legacy and the market for his memorabilia continues to grow.
Earlier this year another of Cobain's cardigans, worn in July 1993 during Nirvana's last official photoshoot before Cobain's death, sold at Julien's for $75,000, smashing its original estimate of $20,000 – $30,000.
However, even if the cardigan achieves its top estimate, it could still be beaten into second place in the record books by another significant piece of Kurt Cobain memorabilia: his custom-built, left-handed Fender Mustang guitar.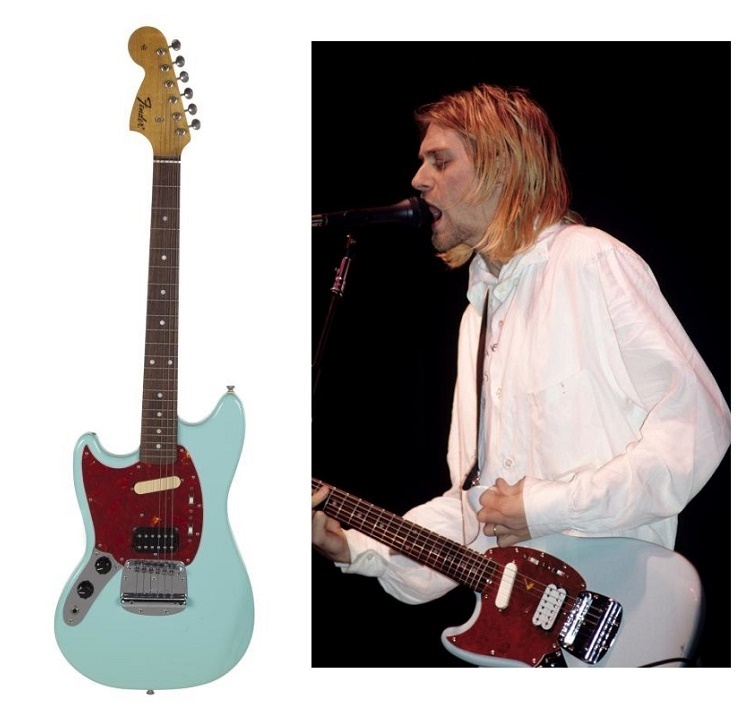 The turquoise guitar with a red mottled pickguard was made for Cobain in 1993 by Scott Zimmerman, in collaboration with Japanese instrument manufacturer FujiGen.
Cobain reportedly played the guitar on stage during the band's 1993 In Utero tour, and comes complete with a letter of authenticity from his widow Courtney Love, who states it was one of Cobain's favourite guitars.
Cobain's habit of destroying guitars during Nirvana gigs means that few stage-played examples remain intact today.
Up until now the most valuable Cobain guitar ever sold is his stage-used 1960 Mosrite Gospel Mark IV, which sold at Heritage Auctions in 2006 for $131,000, and is now on display at the Experience Music Project museum in Seattle.
But with the 1993 Fender Mustang estimated to sell for $300,000 – $500,000, that auction record could end up like many of Cobain's other guitars – completely smashed to pieces.