A remarkable collection of antique gambling memorabilia is heading for the auction block at Potter & Potter in Chicago this month.
The Tom Blue Collection includes a library of rare books on the subjects of poker, cheating and card manipulation, along with antique equipment designed to give crooked gamblers an edge.
"Tom Blue spent a lifetime pursuing books on gambling and associated subjects in a way perhaps no other collector has," said Gabe Fajuri, President at Potter & Potter Auctions.
"His library features all of the classics, alongside the rarities, and many of the works are represented by what I would call 'top copies' – superlative condition, signed, or otherwise unusual or fine in some way. Anyone interested in this subject should find something in the auction to make his or her head spin."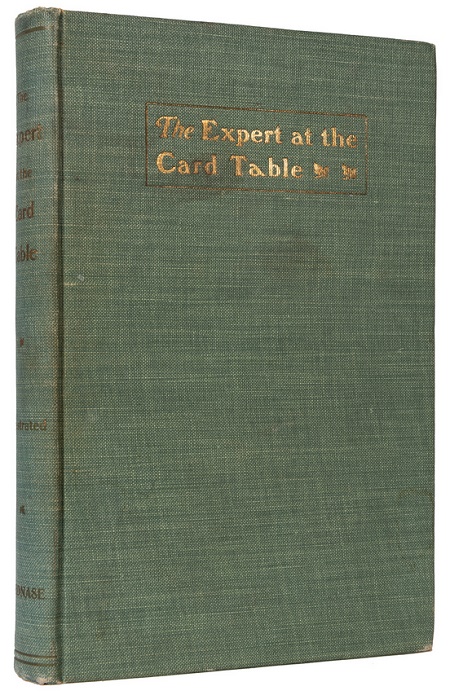 The collection offers a window into the murky world of professional card players through the ages, with titles including The Handbook of Swindling, How Gamblers Win, Inner Secrets of Crooked Card Players, and The Rogues and Rogueries of New York.
Leading the sale is a rare first-edition copy of The Expert at the Card Table, a treatise on card manipulation by S.W Erdnase which has remained in print since its first publication in 1902.
Fajuri described the book as "unquestionably the single most mythologized book related to gambling, cheating, and card sharping ever produced", and expects the copy to fetch up to $9,000.
Another important work on offer is FR Ritter's Combined Treatise on Advantage Card Playing and Draw Poker, estimated at $6,000 – $9,000.
Dating from 1905, this rare book includes the first-known published photograph of a Jacob's Ladder-style sleeve hold-out – a device worn by gamblers to deliver cards into their hands from inside their sleeves.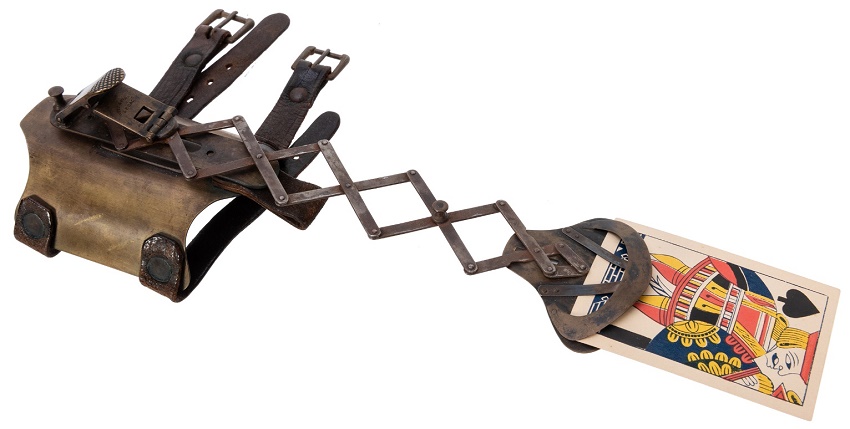 Bidders will also have the chance to acquire the real thing, as Blue's collection includes several antique hold-outs amongst a wide array of crooked gambling paraphernalia.
Many of these items were produced by Will & Finck, a San Francisco company which began life making knives and cutlery in the 1860s.
By the 1880s they had become the Old West's largest supplier of gaming equipment both crooked and clean, and professional gamblers were known to favour their devices which were more discreet and reliable than their competitors.
In an era when getting caught with a card up your sleeve often ended with a bullet, Will & Finck's products were notorious – and are highly sought-after by modern collectors.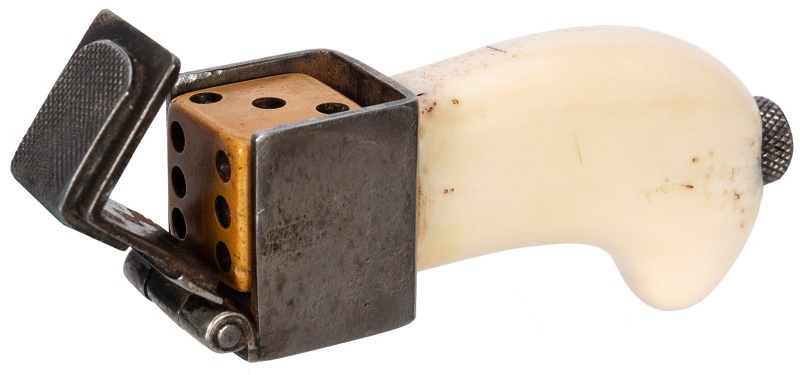 Notable lots include an extendable brass sleeve holdout with its original leather straps, dating from the 1880s and estimated at $4,000 – $6,000; and a pair of brass and steel card trimmer, used by Faro dealers to "gaff" decks by cutting marks into cards, estimated at $2,000 – $4,000 each.
Elsewhere the sale will include everything from loaded dice to antique playing cards and poker chips; vintage slot machines; and a variety of gaffed games, from pocket roulette to Keno.
'Gambling Memorabilia Featuring the Collection of Tom Blue' takes place at Potter & Potter's Chicago headquarters on March 30.