A copy of Richard Avedon's iconic photograph 'Dovima With Elephants' could fetch more than $1 million when it hits the auction block at Sotheby's next month.
Avedon's photograph, originally published in 1955 in Harper's Bazaar, depicts the American fashion model Dovima posing in a Christian Dior dress amongst the elephants of the Cirque d'Hiver in Paris.
Today the photograph is considered one of the most important of the 20th century, and a turning point in the history of fashion photography.
According to Christie's, "no other picture so magnificently illustrates Richard Avedon's genius in highlighting feminine elegance set off to perfection by haute couture."
Now a highly rare, monumental print of the image measuring more than four feet tall will be offered in Paris on November 9, with an estimate price of €600,000 – €900,000 ($690,400 – $1.03 million).
Just two copies of the photograph in such a large size were ever produced from Avedon's original negative.
The first was exhibited by Avedon as part of his one-man show at the Smithsonian in 1962, and is now part of the museum's permanent collection.
The second was presented as a gift from Avedon to a close friend, with the inscription "From my home to yours".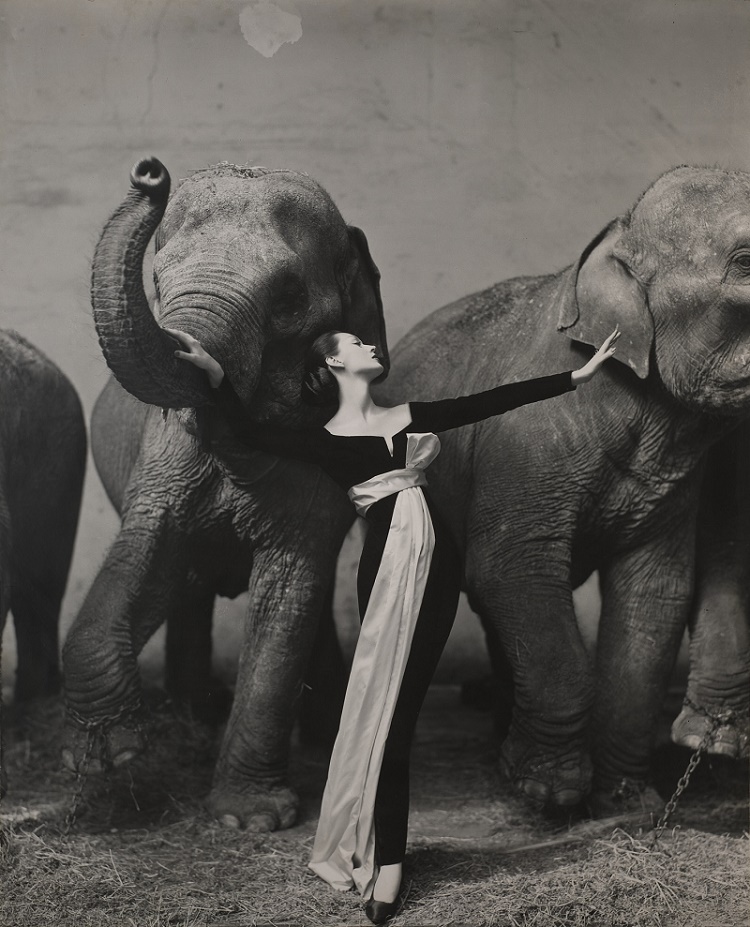 Both of these copies can be identified by a water stain at the top of the image, which was present on the original negative. After they were printed, the negative was rewashed to ensure further versions would not include the stain.
Although by their very nature photographs can be reproduced again and again, prints made by the photographer themselves from their own negatives are by far the most valuable.
These vintage prints are considered the 'originals', the closest to the photographer's vision, and are the 'holy grail' for collectors.
The record price for the photograph currently stands at $1.15 million, set by an even larger print of the photograph measuring seven feet tall which sold at Christie's in 2010.
The print had been produced for Avedon's fashion retrospective at the Metropolitan Museum of Art in New York, and was purchased by the Christian Dior fashion house.
Dovima (real name Dorothy Virginia Margaret Juba) was one of the world's first 'supermodels'. She was discovered on a New York sidewalk by an editor at Vogue, and later became the world's highest-paid model, known as the Dollar-a-Minute Girl.
Richard Avedon struck up a highly successful working relationship with Dovima, and described her as "the most remarkable and unconventional beauty of her time", and "the last of the elegant, aristocratic beauties".
Not only is the photograph an important image in its own right, but it also includes another piece of fashion history.
The elegant Christian Dior evening gown worn by Dovima was the first designed for the label by Dior's newly-hired assistant, Yves Saint Laurent, who went on to become one of the world's most celebrated designers.