Part of Quentin Blake's vast personal collection of his own work has sold for £768,625 ($1m).
All crossed the block as part of Christie's Valuable Books and Manuscripts sale, billed as Quentin Blake: A Retrospective; Forty Years of Alternative Versions.
As expected, the highest prices were reserved for Blake's work with children's author Roald Dahl. A portrait of Charlie Bucket, Willie Wonka and Grandpa Joe from Dahl's Willie Wonka and the Chocolate Factory realised a show stopping £50,000 ($66,300) against a valuation of £15,000 ($19,803).
Blake created the work in 2016, as part of a series to mark the centenary as Dahl's birth. He explains: "The Roald Dahl Centenary Portraits ask you to imagine that a number of Dahl's characters have been invited to come and sit for their portrait; they are depicted, not quite as they appear in the illustrations, but more formally…"
Another portrait, this time showing Matilda, achieved £43,750 against an identical estimate. Each is produced in pencil and watercolour and signed by Blake on the reverse.
The sale also featured an amazing array of alternate versions of iconic scenes from Dahl's books.
One of our top picks was this illustration of the Enormous Crocodile clambering out of a river, which made £13,750 ($18,153) against an estimate of £8,000 ($10,562).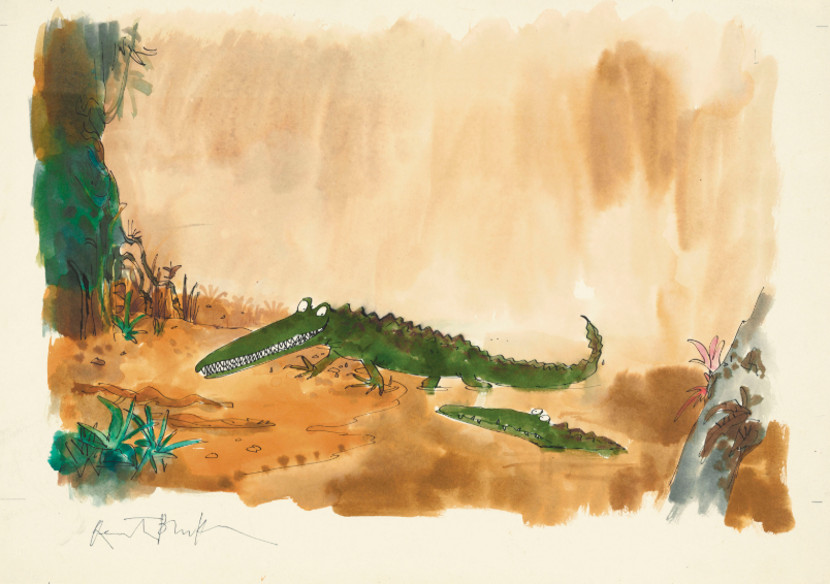 Blake creates several different versions of his illustrations before deciding which to select.
He said: "When I start work on a book I do roughs of everything I want to draw in it so that I get a sense of how the book goes.
"I've read the book like a book, then I read it looking for these moments. When I'm doing the roughs, I'm thinking I am that person. It is like performing. The roughs are the rehearsals, in a sense, and then you have to go on and do it."
The proceeds from the auction will benefit Roald Dahl's Marvellous Children's Charity and Survival International, a group that lobbies for the rights of tribal peoples around the world.