A highly rare complete copy of Shakespeare's First Folio, one of the world's most valuable books, will be offered for auction at Christie's in next month
The volume, published seven years after Shakespeare's death in 1623, contains 36 of his 37 plays and is widely regarded as the greatest work in the English language.
Just 235 copies of the book are known to survive, with the vast majority owned by major institutions, museums and libraries.
The copy heading for auction at Christie's is being will be sold on behalf of Mills College in Oakland, California, and is one of only six complete copies in private hands.
The last time a complete copy of the book appeared at auction was in 2001, when it sold at Christie's for $6.1 million – a record price which stands to this day.
The Mills College copy will be offered for sale in New York on October 14 with an estimate of $4 – $6 million, although it seems likely to exceed that valuation and set a new record in the process.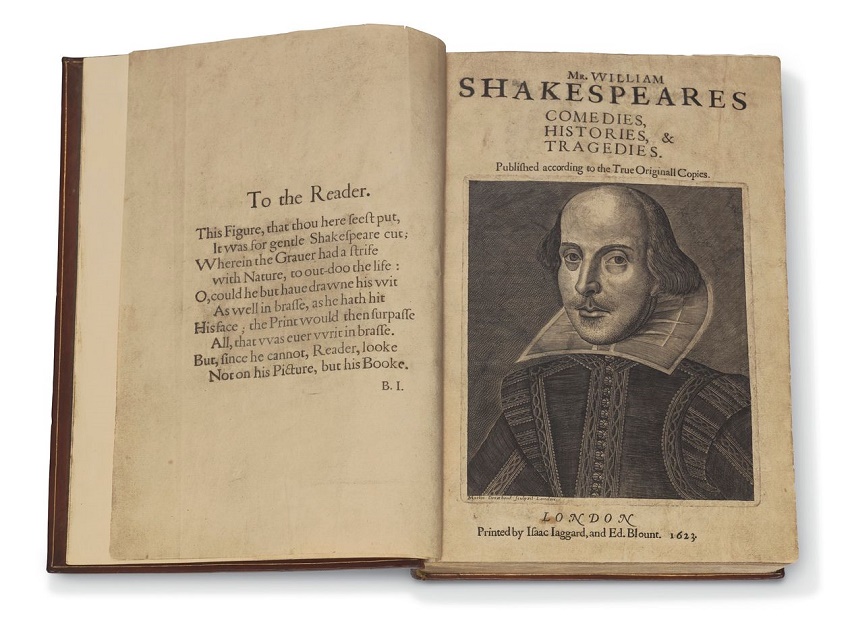 William Shakespeare's Comedies, Histories, & Tragedies – known commonly as the First Folio – was compiled and published in 1630 by his friends and fellow actors, John Heminge and Henry Condell.
It was the first time that Shakespeare's plays had been collected into a single volume, and in some cases the first time they had been published at all.
Eighteen Shakespeare plays appeared in print for the first time in the First Folio, including Macbeth, The Twelfth Night and Julius Caesar, and would likely have been lost forever if the book had not been published.
Heminge and Condell also organized the plays into the categories 'Comedies', 'Histories' and 'Tragedies' fir the first time, and published the book in a large folio format usually reserved for important volumes on religion and law.
The work secured William Shakespeare's legacy as the greatest writer of his (or any other) era, and almost 400 years on it still stands as the highpoint in the history of English literature.
"To handle a First Folio by William Shakespeare is always a privilege and even – given its tremendous significance and influence around the globe – a humbling experience," said Margaret Ford, International Head of Books & Manuscripts at Christie's.
"This copy is especially exciting as one of the very few complete copies surviving in private hands and knowing that it was once in the hands of the great Shakespeare scholar Edmond Malone, who himself affirmed its completeness already 200 years ago."