Bernie Wrightson's original endpaper illustration for the Marvel Comics adaptation of Frankenstein will be offered for sale at Heritage Auctions next month.
The artwork will cross the block as part of the company's Comics Signature Auction, which takes place on April 30 – May 2
"One of the books that is spoken of most reverently in the comic industry is Bernie Wrightson's Frankenstein," said the auction house. "This is a rare opportunity to purchase a seminal piece from a major publication by an industry legend!"
Bernie Wrightson (1948 – 2017) was renowned throughout his career for his work illustrating suspense and horror comic books, and was best-known as the co-creator of the D.C character Swamp Thing.
As a lifelong fan of Mary Shelley's novel, he described his Frankenstein adaptation as "a labour of love" which he worked on for seven years in-between paying jobs.
Wrightson's masterwork was finally published by Marvel in 1983, and was instantly acclaimed as a classic, which perfectly combined the original source novel with the artist's grand and gothic sensibilities.
Since then, however, Wrightson's original Frankenstein illustrations have rarely appeared for sale on the open market, and even his unused sketches are highly sought-after by collectors and can sell for tens of thousands of dollars.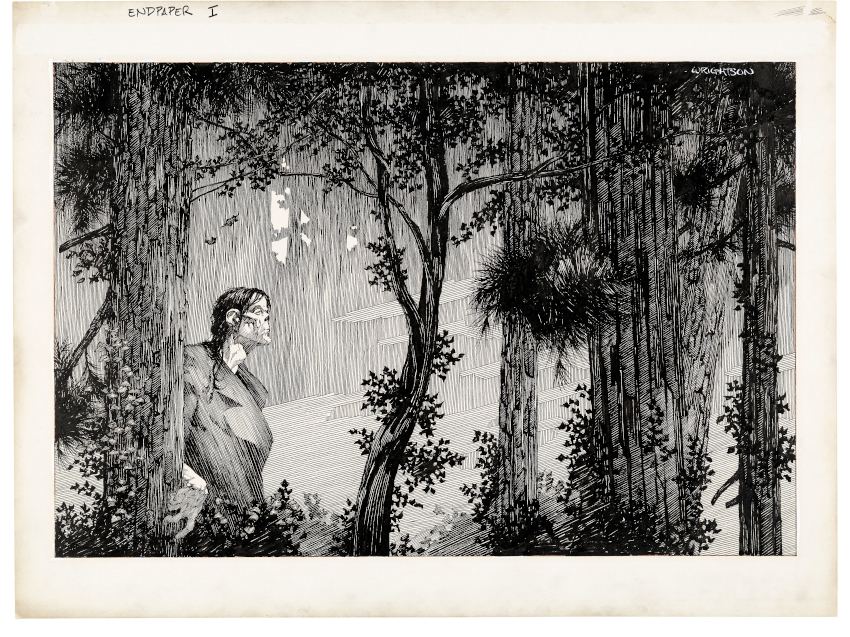 The artwork offered at Heritage Auctions is one of only three landscape format pieces created for the project and was used for the front end papers of the book, making it one of the first images to strike readers as they opened up the covers.
Wrightson created a portrait of the monster which is at once noble and sinister, and the amount of cross-hatching used to add depth to the dramatic image is, as the auction house aptly describes it, "mind-boggling".
What's even more remarkable is the fact that the artwork features no whiteout, meaning Wrightson completed the illustration which such mastery and control that he didn't make a single mistake.
The sale comes not long after another original artwork from the adaptation stunned experts and collectors alike in Lo Angeles.
In December 2019, Wrightson's wraparound Frankenstein cover illustration hit the open market after spending decades hidden from view in a private collection.
The artwork had been described as "the finest fantasy ink drawing of the 20th century", and sold at Profiles in History for a remarkable $2.1 million, setting a new record price for Wrightson's work.
It also established Wrightson as only the third American comic book illustrator in history, alongside Frank Frazetta and Robert Crumb, to break the $1 million mark at auction.
Whether this fresh illustration will achieve a similar sum remains to be seen, but Wrightson's Frankenstein illustrations certainly have the power to transcend the comic book genre and appeal to any collector of 20th century illustration art.