A sketchbook of drawings by a Kiowa Native American artist is among the more intriguing items featured by Heritage Auctions in its June 26 Ethnographic Art sale in Dallas.
The book (offered with a starting bid of $30,000) dates to the mid-1870s, when the US Army was engaged in a war with several tribes (including the Comanche, Southern Cheyenne and Kiowa) in North Texas.
It belonged to a man named Etahdleuh Doanmoe, who was captured and brought to a US fort in Florida. The book is a prime example of "ledger art". Prior to the mid-19th century, Native American artists made use of buffalo hide and natural pigments. With the arrival of whites, with their paint and paper, these artists were able to expand their repertoire.
The Red River War, as it was known, was sparked by white hunters decimating the Plains buffalo herds – a central food, fuel and source of textiles the Native Americans had relied upon for millennia.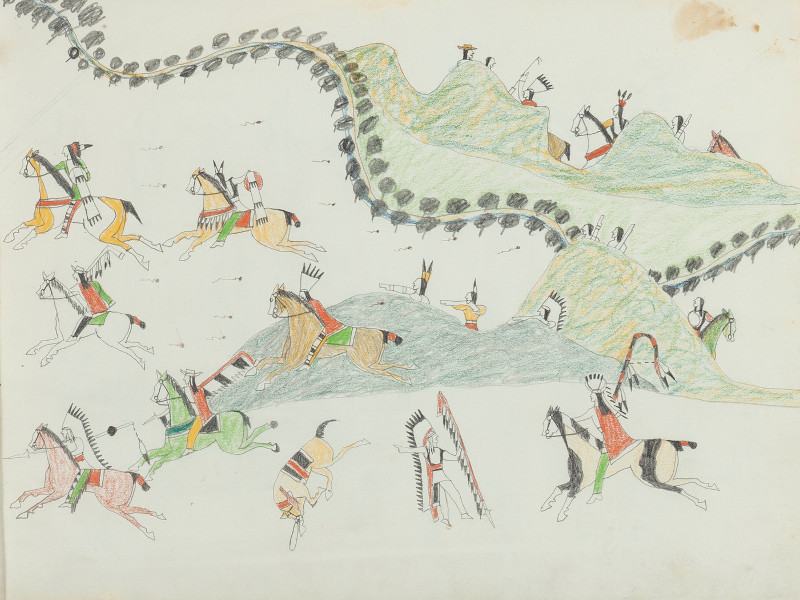 The tribes were swiftly forced into reservations. To ensure did not attempt to rise up again, the government removed key male figures. Etahdleuh Doanmoe was one of several Kiowa men to meet this fate.
He was taken to Fort Marion in Florida, where he was dressed in western clothes and tutored in English. When the violence in Texas died down, Doanmoe was permitted to return home. Instead, he elected to attend the Hampton Industrial Institute in Virginia.
He believed that Native American boys needed to adapt to this new order and went on to teach at the Indian Industrial School in Carlisle, Pennsylvania. This institution sought to westernise its students under the slogan "Kill the Indian: Save the man".
Doanmoe filled this sketchbook at Fort Marion. While some drawings explore his time at the fort, others celebrate the mounted warriors and hunts he remembered from his younger years.