A collection of Queen Victoria's black mourning jewellery will be offered for sale at Sotheby's in London this month.
The four items have remained in Victoria's family, and will be offered for sale on March 24 by her great-great-granddaughter.
Queen Victoria suffered several tragic losses during her life, and today her reign is heavily associated with her mourning of loved ones.
When her husband Prince Albert died in 1861 at the age of just 42, Victoria was distraught and never recovered from his loss.
She famously wore black every day for the next 40 years, which earned her the nickname 'the widow of Windsor'.
She also sadly lost three of her children during this period, and wore pieces of black jewellery to commemorate them.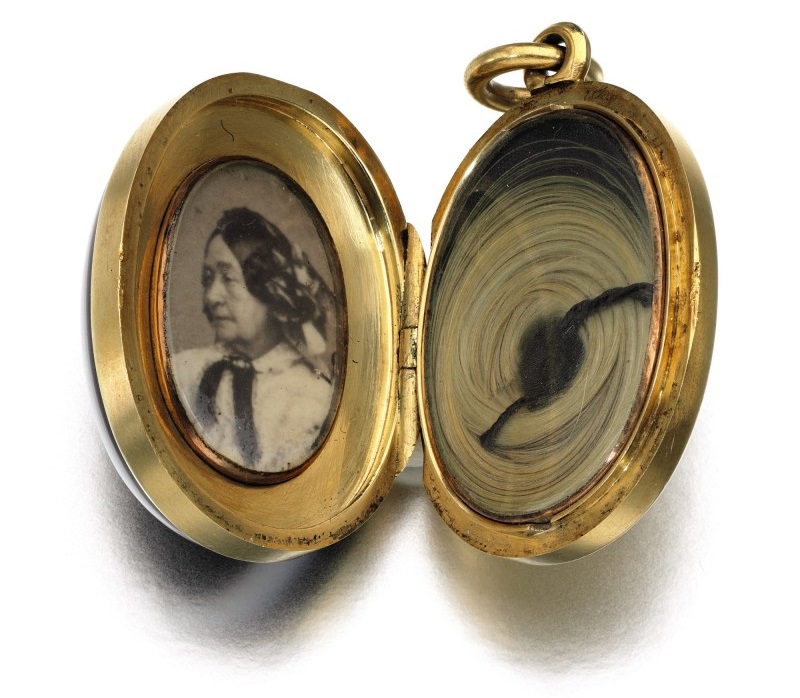 Many of these items also contained locks of hair, which were commonly used inside lockets and brooches in the Victorian era.
This sparked a trend which saw black mourning jewellery become a stylish accessory during the period.
The four pieces on offer all originate from the collection of Victoria's great-great-granddaughter Patricia Knatchbull, 2nd Countess Mountbatten of Burma.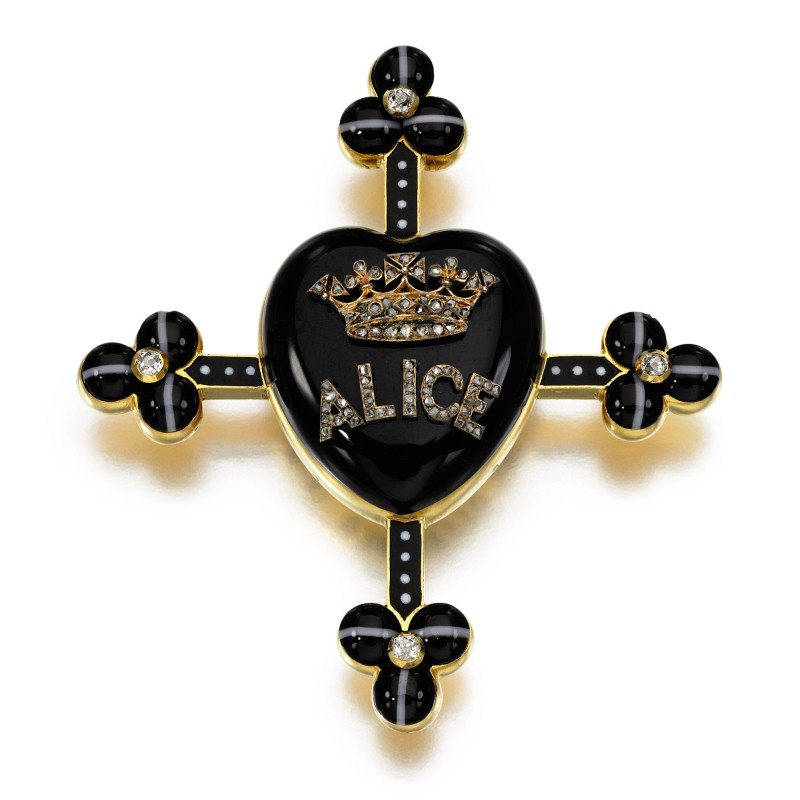 The earliest piece is an agate and diamond pendant, commissioned by Prince Albert in 1861 for Queen Victoria to mark the death of her mother.
The pendant features an image of Princess Victoria of Saxe-Coburg-Saalfeld along with an inscription from Albert, and is valued at £1,000 – £1,500.
The other three items were all made to commemorate Victoria's third child Princess Alice, who died of diphtheria in 1878 at the age of 35.
They include an onyx and seed pearl button commissioned by Victoria in 1879, with a portrait miniature of Princess Alice (est. £1,000 – £1,500); an agate and pearl pendant with a lock of hair gifted to Alice's daughter Princess Victoria, with the inscription 'from Grandmama VR' (est. £1,000 – £1,500); and a hardstone, enamel and diamond cross centring on an onyx heart with Alice beneath a coronet (est. £2,000 – £3,000).