A watch worn by Pablo Picasso as he painted in his studio will be offered for sale at Bonhams in Paris this week.
The vintage watch was made specifically for the artist in 1960, and features the 12 letters of his name instead of numbers.
Picasso had been frequently photographed wearing the watch in his studio, but its whereabouts had remained a mystery until now.
"This is an extraordinary find and we are thrilled to be offering this very special timepiece in our Paris Luxury sale," said Jonathan Darracott, Bonhams Global Head of Watches.
"Just occasionally I have had a chance to hold history and intrigue in my hands in the form of a watch and this has to been one of the most befitting to make a lasting impression – the like of which I will not see again."
The watch is a manual wind steel bracelet watch made for Picasso by the Swiss watch company Michael Z. Berger.
Picasso is known to have given two further watches bearing his name on the dial to his personal driver Maurice Bressneu, and today they are owned by the Picasso Foundation.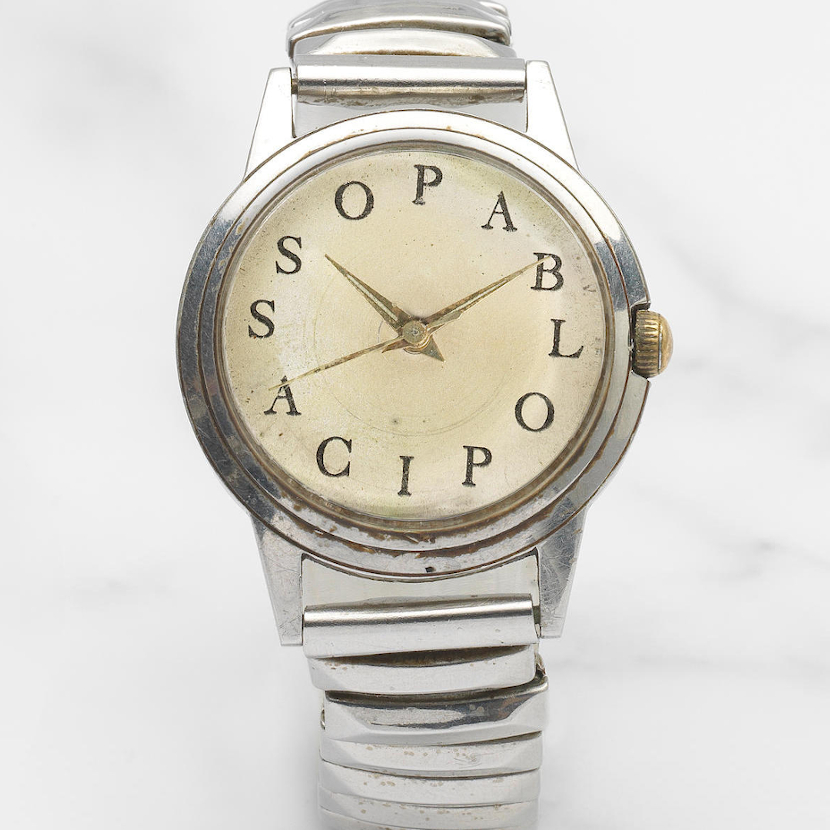 The example on offer at Bonhams was gifted to Greek sculptor Lela Kanellopoulou, who met Picasso at the Cahiers d'Art in the 1960s.
Picasso was fascinated by Kanellopoulou, who he affectionately called 'La Belle Helene', and gave her the watch along with ceramics of his wife Jacqueline.
As the only example in private hands, the watch is set to attract major attention from collectors when it hits the block on May 20.
The watch will be offered with a pre-sale estimate of $14,500 to $22,000, but seems likely to fetch a far higher sum.
"This is of great interest not only to watch connoisseurs but also to collectors of Picasso and we very much look forward to seeing how it is received in the saleroom," said Daracott.
Picasso was well-known to favour expensive timepieces throughout his life.
His collection was said to include a Jaeger-LeCoultre Triple Date Moonphase, a GMT-Master Rolex and a Patek Philippe triple Date Moonphase.
However, these watches went missing after his death in 1973 and to date their whereabouts remain unknown.