A vintage Hank Williams poster is now the world's most valuable music concert poster, after it sold at Heritage Auctions this week for $150,000.
The incredibly rare poster was designed to promote country legend Williams' show at the Canton Memorial Auditorium in Ohio on January 1 1953.
That show is now famous because it never took place, as Williams tragically died of a heart attack in the back seat of a car on his way to the show, at the age of just 29.
The poster has long been regarded as one of the hobby's 'holy grails', and was described as "the Babe Ruth, Michael Jordan and Tom Brady of 20th century vintage concert posters".
Just three copies are known to exist, with the other two in elite private collections – neither of which have ever appeared at auction.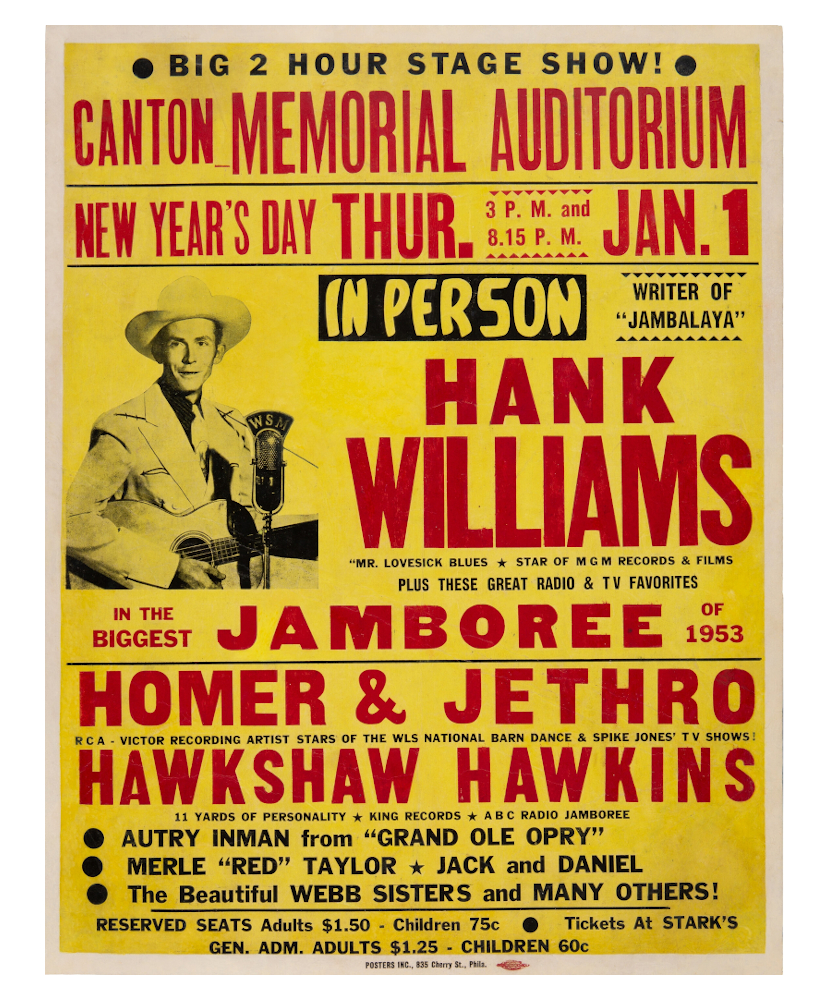 The example sold at Heritage was discovered in a barn in Ohio back in 1981, and had never previously been publicly offered for sale.
The poster included mentions of Williams' two biggest hits: 'Jambalaya (On the Bayou)' which had been #1 for three months on the country charts in 1952, and 'Lovesick Blues' which held the same #1 spot for four months in 1949.
"I'm pleasantly surprised but not shocked at all that this magnificent beast set a new world record," says Pete Howard, Heritage's Entertainment & Music Memorabilia Consignment Director.
"It's not often I use a term like 'Smithsonian piece' for a concert poster, but this is not only one of those, it's probably the one.
"Really, if that museum called me and asked what concert poster they should put on their walls, I'd fly right past Elvis, Buddy Holly and the Beatles and tell them, 'This one.'"
The auction record had previously been held by a poster for The Beatles' show at Shea Stadium in August 1966, which sold at Heritage in April 2020 for $137,500.