The original cover artwork for Led Zeppelin's classic first album could sell for up to $30,000 when it goes up for auction at Christie's this week.
Designer George Hardie's artwork will cross the block as part of an online sale of rare books and manuscripts which concludes on June 18.
The eponymous 1969 LP has been described as "one of the most iconic album covers of all time", and for over 50 years the image has appeared on countless posters, T-shirts and items of Led Zeppelin merchandise.
Led Zeppelin were predominantly an 'album' band who redefined the music industry by refusing to release individual singles, and placed all emphasis on their long-playing records.
The cover of their debut album invoked the heavy, explosive nature of their music, and helped propel them to almost instant success on both sides of the Atlantic.
The group originally formed in the summer of 1968 following the break-up of the Yardbirds, in which Jimmy Page played dual lead guitar alongside Jeff Beck.
Following the departures of Beck, drummer Jim McCarty, vocalist Keith Relf and bassist Chris Dreja, Page found himself as the sole surviving member – and still contractually obliged to complete tour dates in Scandinavia.
He assembled a new line-up including singer Robert Plant, drummer John Bonham and bassist John Paul Jones, and the four musicians instantly discovered a spark which would change rock history.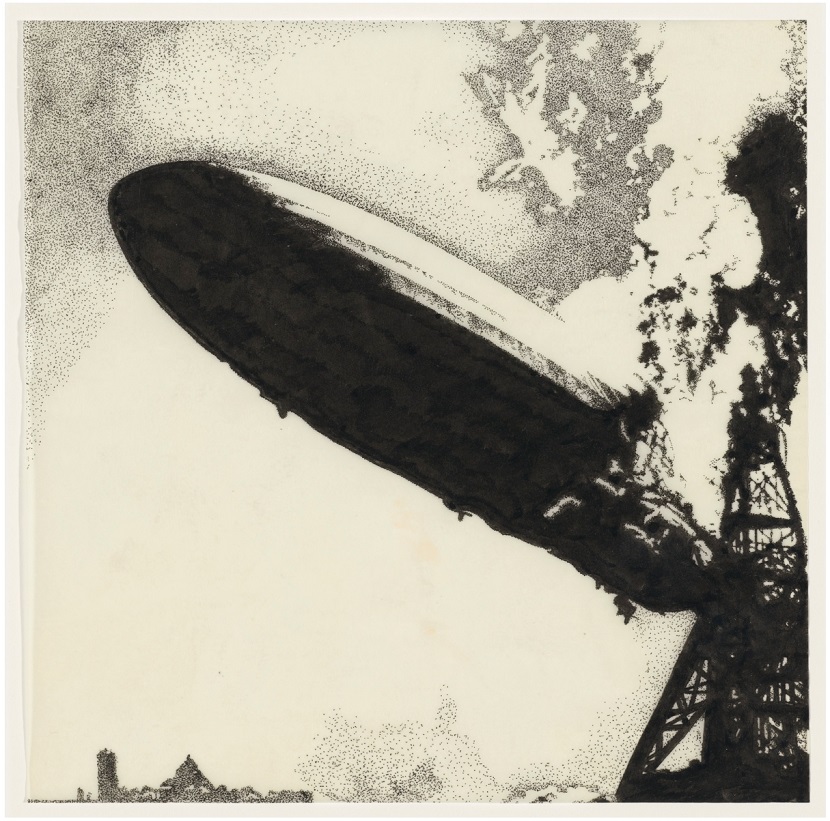 After completing the dates, and facing legal action from former bandmates, the New Yardbirds renamed themselves as Led Zeppelin.
According to legend, the name arose after Jimmy Page suggested forming a supergroup with Jeff Beck, along with Keith Moon and John Entwistle from The Who.
The latter pair thought the band would go down "like a lead balloon" with fans, and the imagery stuck with Page, who changed the term 'balloon' for 'zeppelin'.
According to music journalist Keith Shadwick, he thought the name suggested "the perfect combination of heavy and light, combustibility and grace" – and the cover of their debut album completed the picture.
The famous artwork was the work of student George Hardie, who was still studying at the Royal College of Art when he was recommended to the band their mutual friend, photographer Stephen Goldblatt.
Page rejected Hardie's early ideas, and suggested he use Sam Shere's dramatic 1937 photograph of the Hindenburg airship disaster.
Hardie produced a delicate stipple tracing of the photo, creating an image similar to a low-resolution newsprint photo, and was paid £60 for his work.
He then filed the artwork away, and went on to enjoy a career designing album covers for the likes of Pink Floyd, Black Sabbath, Wings.
Decades he later he rediscovered the Led Zeppelin artwork in his archives, along with a prescient note he attached to it, which read simply "George's pension fund".