David Bowie's handwritten lyrics to hit song The Jean Genie have auctioned for £57,000.
Bowie penned the lyrics in black ballpoint on lined notebook paper in 1972.
They achieved the strong showing thanks, in part, to their excellent provenance. 
Bowie had gifted the sheet to Neal Peters, who founded the musician's official fan club in 1973. 
The sheet was accompanied by a letter from Peters detailing its history.
The lyrics had previously sold for £9,375 at Christie's in 2010, representing a 508% increase in value. 
The numbers are further evidence of the upward trajectory at the top-end of the music memorabilia market, and the impact Bowie's death in 2016 has had on the value of his personal history.
The price is especially impressive considering it's uncertain whether these are the working handwritten lyrics Bowie used while composing the track.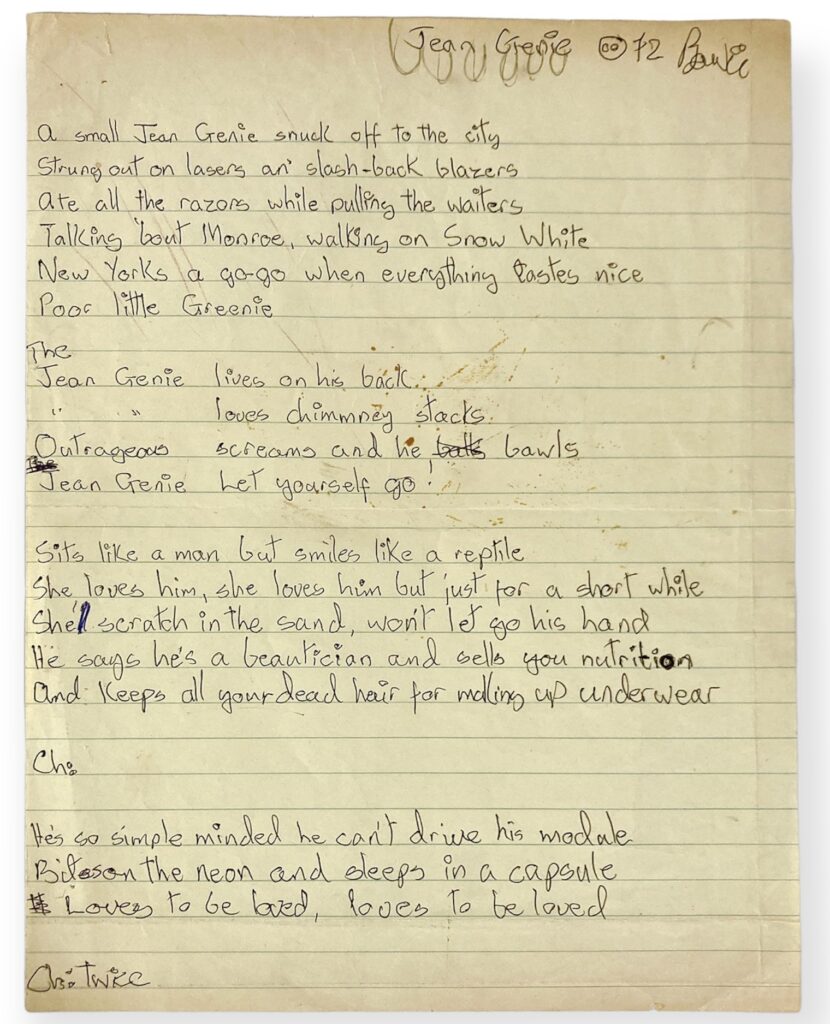 "We're well pleased with the price achieved for this historic set of lyrics," said Paul Fairweather from UK auctioneer Omega after the February 7 sale.
The auction follows the September 2022 sale of Bowie's handwritten lyrics to Starman for £203,500 with the same auction house. 
Fairweather explained the Jean Genie seller had been "in possession of this incredible set for a few years and decided to sell after seeing the amazing price achieved when we sold the Starman lyrics last year".
The Jean Genie was one of the standout tracks on Bowie's 1972 album, Aladdin Sane. As a single it peaked at number 2 in the UK charts. Its title is a pun on author Jean Genet's name although the inspiration for the character of The Jean Genie is widely held to be close friend Iggy Pop.
The most valuable set of handwritten lyrics remains Bob Dylan's Like a Rolling Stone, which sold for $2 million at Sotheby's New York in 2014.