Demand for original paintings by iconic fantasy artist Frank Frazetta is at an all time high, following the sale of Death Dealer 6 for a record $1.7m earlier this year.
While the top prices are reserved for his sword and sorcery paintings, you can bet on there being strong competition for a pair of covers for war themed comic book Blazing Combat at Hake's Americana (closing on July 12).
The first is from Blazing Combat #2 in January 1966, offered with a valuation of $75,000-100,000.
It's a suitably gory affair, showing a cigar smoking American soldier running a Nazi through with a bayonet.
Blazing Combat was an interesting publication. Far from the blood and glory themes the cover might initially suggest, the stories focused on the human costs of war. Writer Archie Goodwin wanted to show how people were damaged and corrupted by the malign influence of conflict.
One particularly controversial issue (Landscape – issue #2) told the story of a Vietnamese farmer who is caught up in the fighting between the Americans and the Viet Cong. It was published in 1966, when support for the Vietnam War was at an all time high in the US. Newsstands across America refused to stock it and the publication was forced into closure less than a year after the release of its first issue.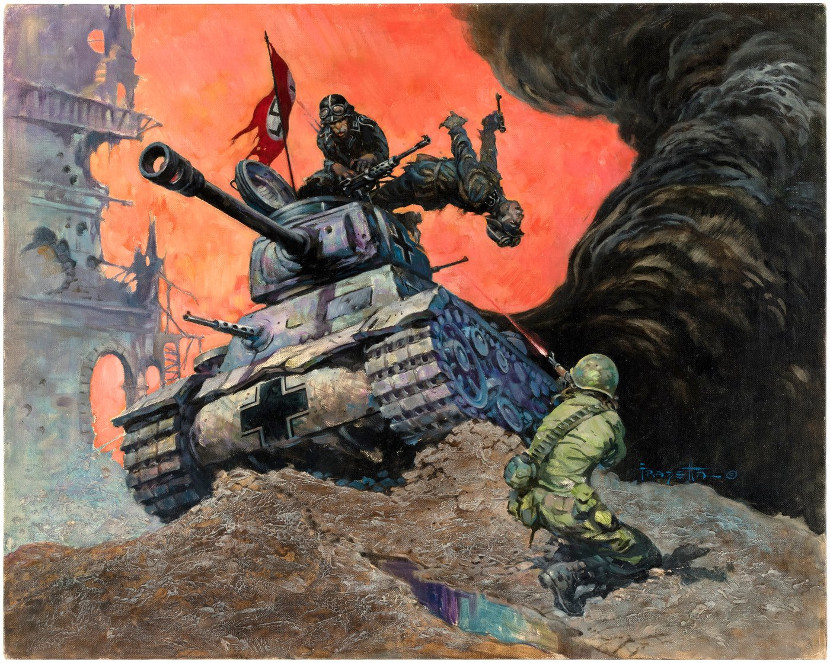 Frazetta's granddaughter Sara comments: "My grandfather continues to surprise me with his ability to capture and create worlds through his use of bold colors, unique human expressions and understanding of how to use empty space.
"The artwork Frank Frazetta created for the 'Blazing Combat' war story covers is in my opinion, some of his greatest work he ever created."
The other cover, showing the end of a Nazi tank crew, carries an identical estimate of $75,000-100,000.