A baseball signed by Babe Ruth the night before he died has sold for a world record price at Grey Flannel Auctions in the U.S this week.
The ball was believed to be the last baseball Ruth ever signed, and sold for $183,500 after sparking an online bidding was between collectors.
According to sports authentication company PSA, who graded the autograph a perfect 10, that's the highest price ever paid for a single-signature personalized baseball.
"We were excited about it from the first moment we set eyes on it," said Grey Flannel's Director of Operations, Michael Russek. "The autograph appeared impeccable. It was definitely the finest Ruth autograph we had ever seen on any item of sports memorabilia, not just baseballs.
"I would be very surprised if a better example ever were to appear in the marketplace. Obviously our bidders felt the same way, because it was a fight to the finish."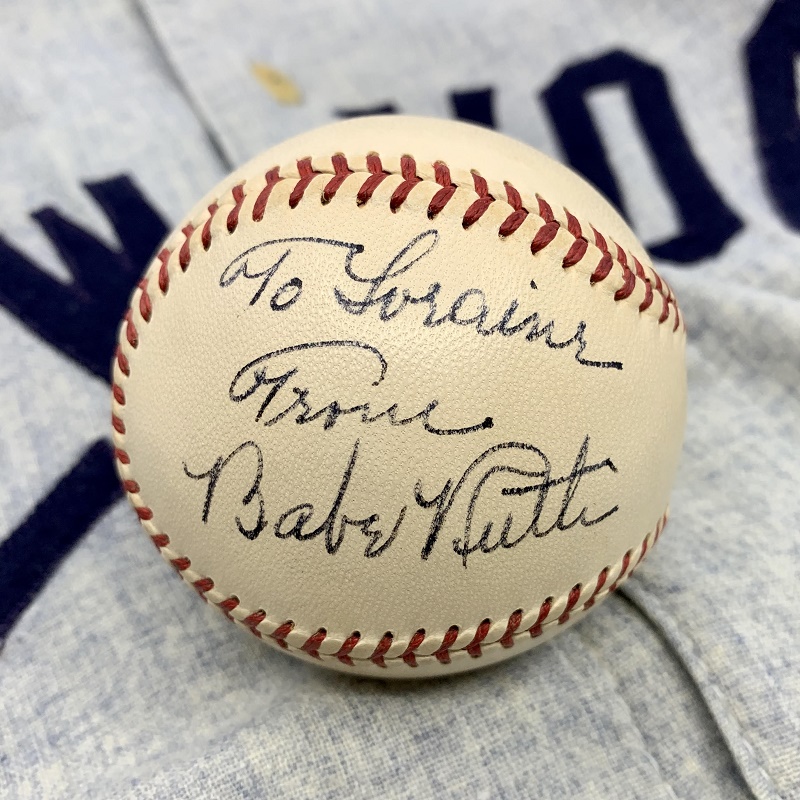 Adding to the value of the ball was the touching story behind it, which illustrated Babe Ruth's generosity up until the very end.
According to the story, related by Ruth's daughter Julia Ruth Stevens, her father was nearing the end of his battle with cancer in the summer of 1948 and had spent weeks at Memorial Hospital in New York.
Following an appointment with his doctor, he stopped off on the way back to the hospital at a nearby restaurant where he dined alone.
During the meal a waiter asked him to sign a ball for his daughter on her birthday, but Ruth initially refused. However, after leaving the restaurant he clearly felt guilty, and returned from his car to sign the ball "To Loraine".
He then returned to his bed at Memorial Hospital in New York, and passed away the following evening on August 16, 1948.
Ruth's daughter told the owner of the ball it was likely the last baseball her father ever signed.
For autograph collectors a personalized inscription usually decreases the value of the piece, particularly when it comes to signed baseballs.
The auction record for a Babe Ruth baseball signed without an inscription was set back in 2012, when an example graded PSA/DNA Mint+ 9.5 sold at Heritage Auctions for $388,375.
That's more than double the price of the higher-graded ball with a personalization.
But even that pales into comparison with a ball sold in 2018, signed by the first inductees into the Baseball Hall of Fame back in 1939.
Bearing the autographs of legends such as Ruth, Ty Cobb, Cy Young and Walter Johnson, that ball sold at SCP auctions for a world record $623,369.