The last baseball ever signed by Babe Ruth could sell for more than $75,000 when it goes up for sale at Grey Flannel Auctions later this month.
The ball is said to have been signed by the baseball legend on August 15, 1948, the night before he sadly passed away following a two-year battle with cancer.
The ball also features one of the finest-known examples of Ruth's signature, given the highest-possible grade by sports authenticators PSA/DNA.
"The autograph on the Babe Ruth-signed baseball in this auction is PSA/DNA-graded a MINT 10," said Michael Russek, Director of Operations at Grey Flannel Auctions.
"It's the best example of Babe Ruth's autograph we have ever seen and would be impossible to improve upon."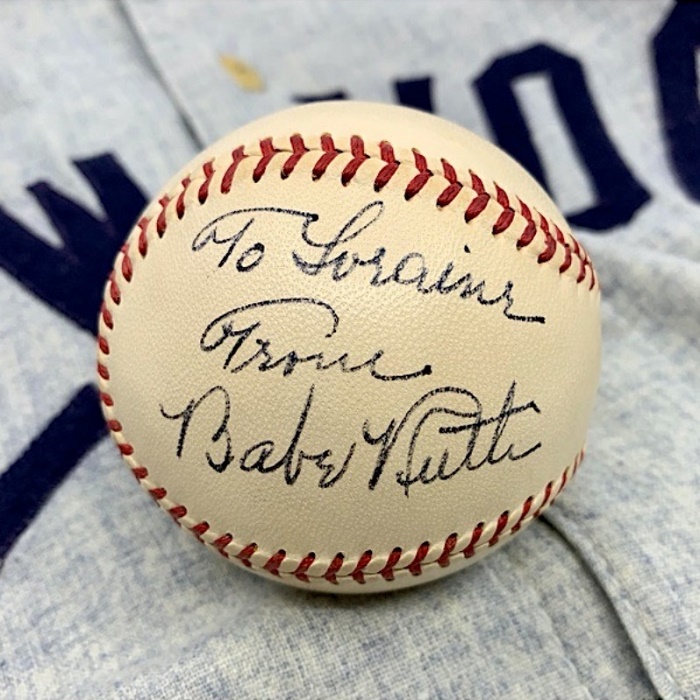 The touching story behind the ball only adds to its value, and illustrates how the big-hearted Ruth was generous even in his final hours.
The letter of provenance which accompanies the ball recounts its history, as told to the consignor by Ruth's daughter Julia Ruth Stevens.
On August 15, having spent weeks in and out of Memorial Hospital in New York, Ruth left his bed for the final time to visit his doctor, accompanied by his wife and daughter.
Following the appointment, Ruth asked to be dropped off at one of his favourite restaurants near the hospital where he dined alone.
During his meal a waiter approached Ruth to sign a baseball for his daughter who was celebrating her birthday, but in his frail state he declined the autograph.
However, after leaving the restaurant the ever-generous star had second thoughts, came back from his car and signed the ball with the added inscription "To Loraine".
He then returned to the hospital, and when his family came back to see him later in the day he recounted the story of the baseball, which Julia believed to be the last her father ever signed.
The next evening Babe Ruth passed away in his sleep at 8.01pm, as thousands of fans stood vigil outside, and when his open casket was placed on display at Yankee Stadium an estimated 77,000 people turned up to pay their respects.
More than 70 years on Babe Ruth remains the biggest name in baseball history; a man who almost single-handedly changed the sport forever with the power of his bat and the size of his personality.
For sports collectors, baseballs signed by Ruth are amongst the most sought-after in the entire hobby.
And this rare example, from his final hours on Earth, is sure to attract some serious bids when it hits the block on January 22.