A 206-year-old newspaper featuring the first dated printing of U.S national anthem 'The Star-Spangled Banner' is up for sale at Christie's this week.
The incredibly rare copy of the Baltimore Patriot and Evening Advertiser was printed on September 20, 1814, and includes the original lyrics to the song written by Francis Scott Key.
The newspaper is one of only three complete examples known to exist, and is valued at between $300,000 and $500,000.
Key was inspired to write his original poem after witnessing the British attack on of Baltimore during the War of 1812.
The 35-year-old Maryland attorney was onboard a British naval ship at the time, negotiating a prisoner exchange, and watched from eight miles out at sea as the city was bombarded with shells.
The brutal attack lasted 27 hours, yet the city never fell, and in the morning Key spotted the American flag still flying over Fort McHenry.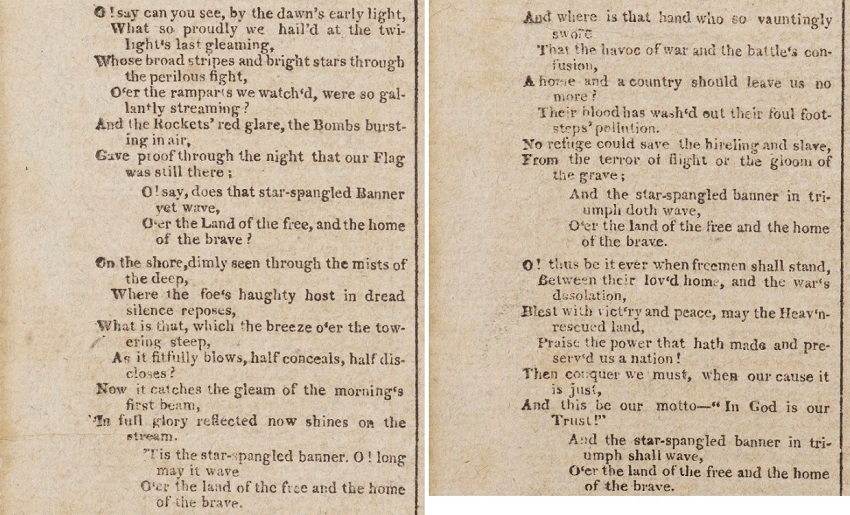 This triumphant sight stirred him to write the first draft of his poem on the back of a letter, and he completed it at Baltimore's Indian Queen Hotel a few days later, having been released by the British when they abandoned their assault.
He set the poem to the tune of the popular British drinking song To Anacreon in Heaven, and initially printed the lyrics onto handbills circulated around the city.
One copy reached the office of the Baltimore Patriot and Evening Advertiser, and when they fired up the printing presses for the first edition following the attack they included the poem with its original title 'The Defence of Fort M'Henry'.
In a preface to the poem, the newspaper wrote that destined to long outlast the occasion and outlive the impulse which produced it'.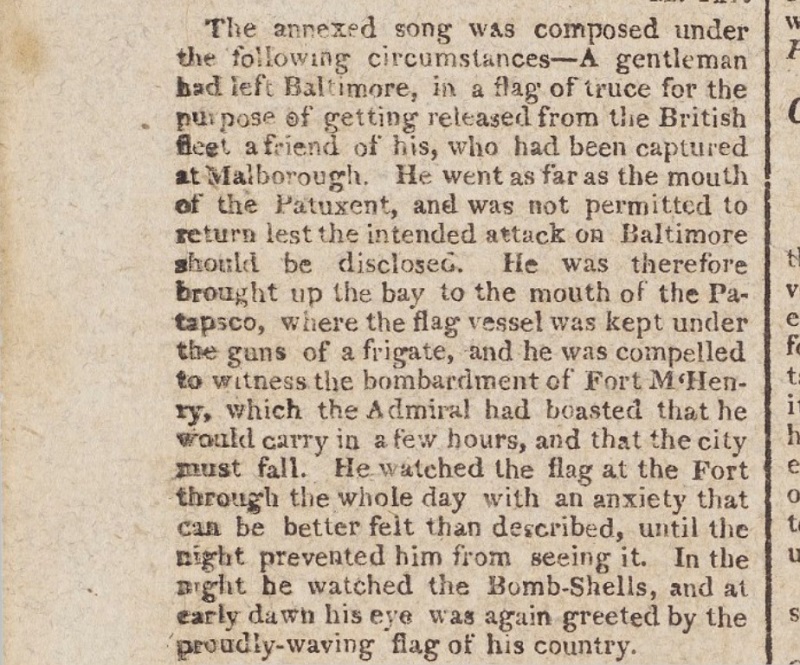 Over the following years it gained popularity across the nation, and was played regularly by bands during patriotic celebrations such as Independence Day.
By 1899 it had been recognized for official use by the U.S Navy, and in 1931 it was officially declared the U.S national anthem by a congressional resolution.
The historic newspaper is being offered for sale by the American Antiquarian Society, which owns almost three million printed books, pamphlets, newspapers and manuscripts spanning centuries of American history from the first European settlers to 1876.
The society owns two of the three known copies of the newspaper, and the sale will be used to generate funds for future acquisitions.
In 2018 Christie's sold a clipping of the poem from the newspaper for $75,000, but the present sale marks the first time a complete copy of the newspaper has ever been offered for auction.