A set of Noel Gallagher's handwritten lyrics from the Oasis album '(What's the Story) Morning Glory?' could fetch up to £10,000 at auction later this month.
The collection features Noel Gallagher's lyrics for 10 of the album's classic songs, including Wonderwall, Don't Look Back in Anger, Roll With It and Some Might Say.
The lyrics will cross the block at Omega Auctions in Newton-Le-Willows on February 22 – 23, with a pre-sale estimate of £6,000 – £10,000 ($7,780 – $13,000).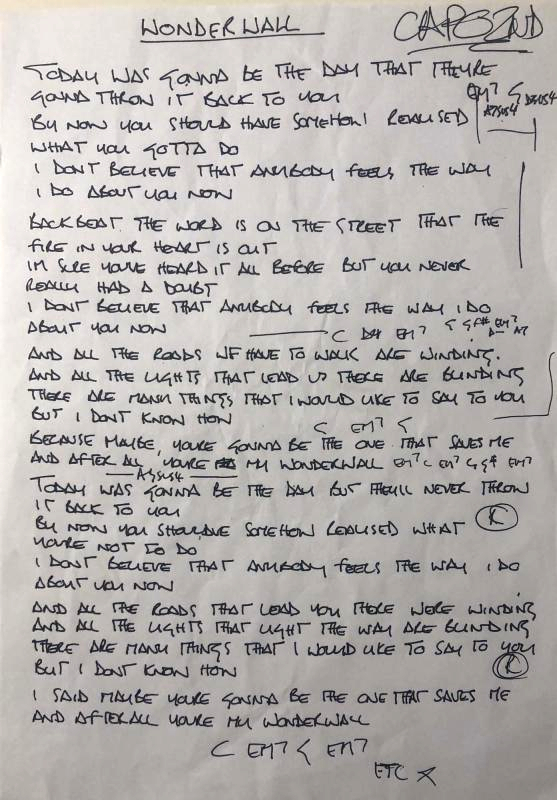 Released in October 1995, '(What's the Story) Morning Glory?' is one of the most successful British rock albums of all-time, with worldwide sales of more than 22 million copies.
It's also considered one of the most seminal albums of the 1990s, and was named the greatest British album since 1980 at the 2010 Brit Awards.
Noel Gallagher wrote most of the album's songs in 1995, following the critical and commercial success of their 1994 debut album Definitely Maybe.
"Whilst [Definitely Maybe] is about dreaming of being a pop star in a band, What's the Story is about actually being a pop star in a band," he later told Rolling Stone magazine.
The collection includes individual A4 sheets featuring Noel's handwritten lyrics for the tracks Hello!, Roll With It, Wonderwall, Don't Look Back In Anger, Hey Now, Some Might Say, Cast No Shadow, She's Electric, What's The Story.. and Champagne Supernova.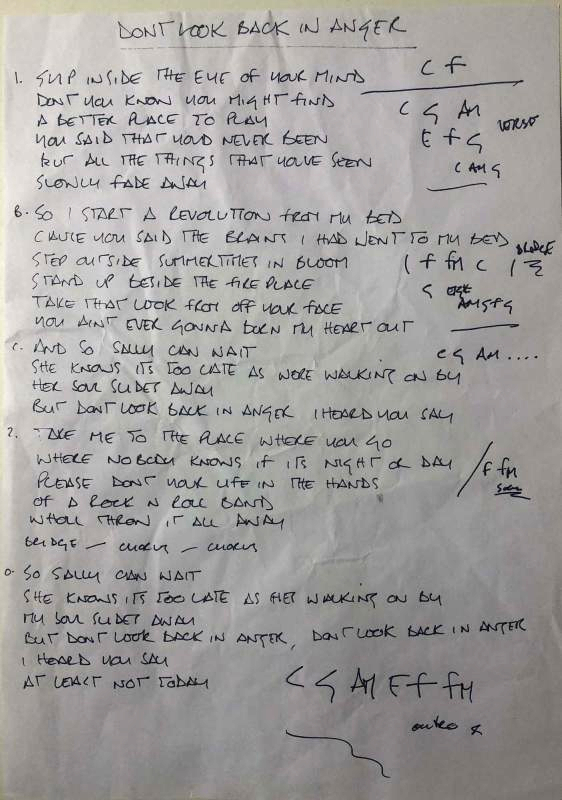 It's believed the lyric sheets were written out by Gallagher for use as tour or recording prompts, and the majority also include guitar chord changes for each of the tracks.
Following the release of the album Oasis embarked on a 103 date world tour, culminating in two concerts at Knebworth House in front of a record 250,000 people, which many believe to the pinnacle of the band's career.
Although Oasis finally split in 2009, following years of acrimony between Liam and Noel Gallagher, the legacy of the band continues to influence a generation of new artists.
And the pair continues to dominate music headlines, both for their successful solo projects and their bitter feud, which continues more than a decade after they last shared a stage.
According to recent reports, Liam Gallagher claimed Noel recently turned down a £100 million offer to reform the band, calling him a "greedy soul".
Noel Gallagher replied on Twitter: "To whoever might be arsed: I am not aware of any offer from anybody for any amount of money to reform the legendary Mancunian Rock'n'Roll group Oasis.
"I am fully aware though that someone has a single to promote so that's maybe where the confusion lies."